We analyzed vehicle trip, volume, and safety trends in 10 major U.S. cities to better understand how traffic and overall activity has changed in urban downtown cores as workers return to the office.
Many employers such as Google, Meta, Microsoft, Bank of America, and others announced their "back to office" plans to bring some people back into the workplace between late February and May of this year.
Using the INRIX IQ mobility intelligence platform we analyzed vehicular trips and volumes at more than 2000 intersections across 10 different downtowns, ranging from Nashville to New York, to determine whether people were returning to the office – and whether the trends indicate a new normal. Using traffic signal data, we provide specific intersections to monitor and what intersections should be watched for potential safety concerns. 
Our findings reveal what downtowns are doing right and what others can do to reimagine a downtown beyond the workplace. 
Download this free report to get the complete findings and learn how location-based data can help understand the "new normal".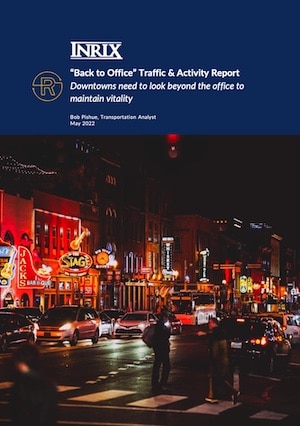 What You'll Learn:
> How "back to office" policies of large companies have impacted traffic volumes in downtown areas.
> Where the largest increases in weekday delay per vehicle occurred (did your city make the list?).
> The changing dynamics and key considerations with respect to public safety.
> How location-based data can be used to provide insight into economic activity.