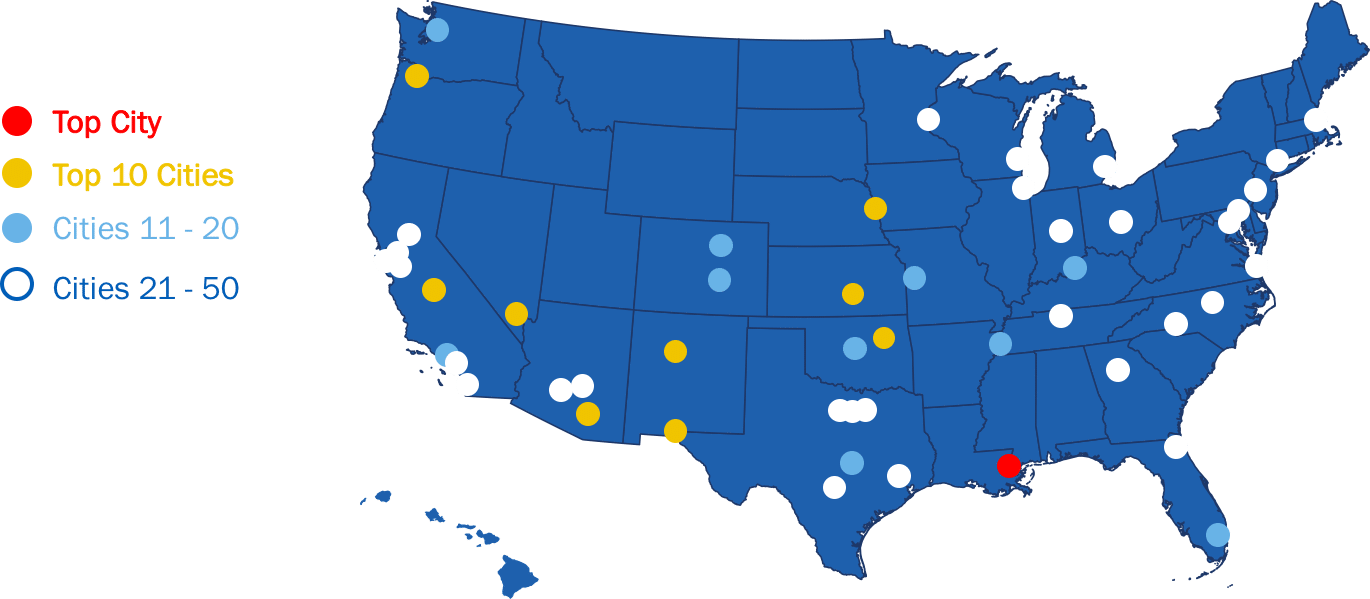 Kirkland, WA – March 9, 2017 – The deployment of highly autonomous vehicles (HAVs) is expected to deliver substantial benefits: reduced traffic congestion, decreased emissions, lower-cost of mobility and safer travel. It is crucial for public officials to proactively plan for autonomous vehicles using a data-driven approach aimed at tackling specific urban area needs. Without smart planning, this technology could clog roads, increase pollution and further stratify mobility options. INRIX, the global leader in connected car services and transportation analytics, has identified two key findings derived from the hundreds of millions of data points collected about population movement, congestion and parking in urban areas across the U.S.
"Shared-use vehicles will be a highly effective deployment of autonomous vehicles, where shorter, intra-city trips can maximize occupancy and efficiency, which means safer, faster and more convenient travel for users," said Avery Ash, autonomous vehicle market strategist at INRIX.
Intra-City Trips Lay Ground Work
To see what urban areas could have the greatest proportion of vehicle travel replaced by HAVs, INRIX looked at one year's worth of travel – nearly 1.3 billion trips – in and around the top 50 U.S. cities by population. Combining INRIX data and StreetLight InSight, an industry-leading mobility analytics online platform from partner StreetLight Data, INRIX Research analyzed trips that began and ended within a 25-mile radius of each downtown and compared this to aggregate regional trips (including outbound, inbound, and passing-through trips) to establish a percentage of intra-city travel. INRIX then looked at the percentage of a city's intra-city trips, 10 miles or less, and combined these two metrics to score each city out of a possible 100 points.
Top 10 U.S. Cities Primed for Autonomous Rollout
| | | |
| --- | --- | --- |
| RANK | CITY | INRIX HAV CITY SCORE |
| 1 | New Orleans | 90.33 |
| 2 | Albuquerque | 89.85 |
| 3 | Tucson | 89.35 |
| 4 | Portland | 89.32 |
| 5 | Omaha | 89.20 |
| 6 | El Paso | 89.12 |
| 7 | Fresno | 89.07 |
| 8 | Wichita | 89.06 |
| 9 | Las Vegas | 88.99 |
| 10 | Tulsa | 88.09 |

Leveraging Big Data to Plan for Autonomous Vehicles
As cities prepare for autonomous vehicles, planners need to prioritize deployment strategies to maximize potential benefits. The mobility goals of cities vary, such as reducing congestion and emissions, expanding mobility to underserved and lower income populations, and reducing cost-intensive capital infrastructure improvements.
"Big data is a powerful tool that should be used as cities explore HAVs, and mobility data and analytics are more powerful when multiple layers are added into the equation," said Bob Pishue, transportation analyst at INRIX. "Using data-driven insights to inform public planning will allow city officials to proactively leverage HAVs to solve key mobility and societal challenges while mitigating potentially-negative side effects of this technology."
Leveraging aggregated INRIX trip data from millions of connected cars, parking availability and restrictions, and U.S. Census demographic data, INRIX created a scalable and customizable scoring system to analyze and visualize priority corridors for HAV deployment.
Trips: Electric and shared-use vehicles are best designed to fill shorter travel needs in more heavily trafficked areas. In these environments, the upside of electric drivetrains is maximized while range and charging infrastructure limitations are minimized. Additionally, high-trip concentration increases the opportunity for ride-sharing by pairing users traveling along the same route, while minimizing passenger-less travel.
Parking: Up to 30 percent of urban traffic congestion is caused by drivers looking for parking. HAVs deployed in shared-use fleets can operate continuously and don't require parking, making them ideal for areas where parking is scarce. While HAVs don't require parking spaces, they do benefit from restricted parking areas for pick-ups and drop-offs.
Demographics: Beyond moving people from Point A to Point B, HAVs can be leveraged by cities to deliver expanded, cheaper and faster mobility options to target populations. INRIX identified three key demographic indicators to include in our census block scoring, including age, household income and mode share.
For example, a city that wants to leverage HAVs to expand mobility options for seniors could give greater weight to areas with higher concentrations of residents aged 65-years and older or a city wanting to decrease congestion downtown could give greater weight to parking utilization. Once areas have been identified, city planners could facilitate private sector deployment through proactive policies – regulatory support for deployment, dedicate HAV lanes or establish pickup/drop off zones – or public deployment of HAVs for shared-use as a supplement to existing public transit.
To demonstrate a city's readiness for highly autonomous vehicles, INRIX ran an analysis and constructed heat maps to score and visualize results for Austin, Texas. Additional city analyses for New York and San Francisco are available in the full report. https://www2.inrix.com/2017-autonomous-vehicle-study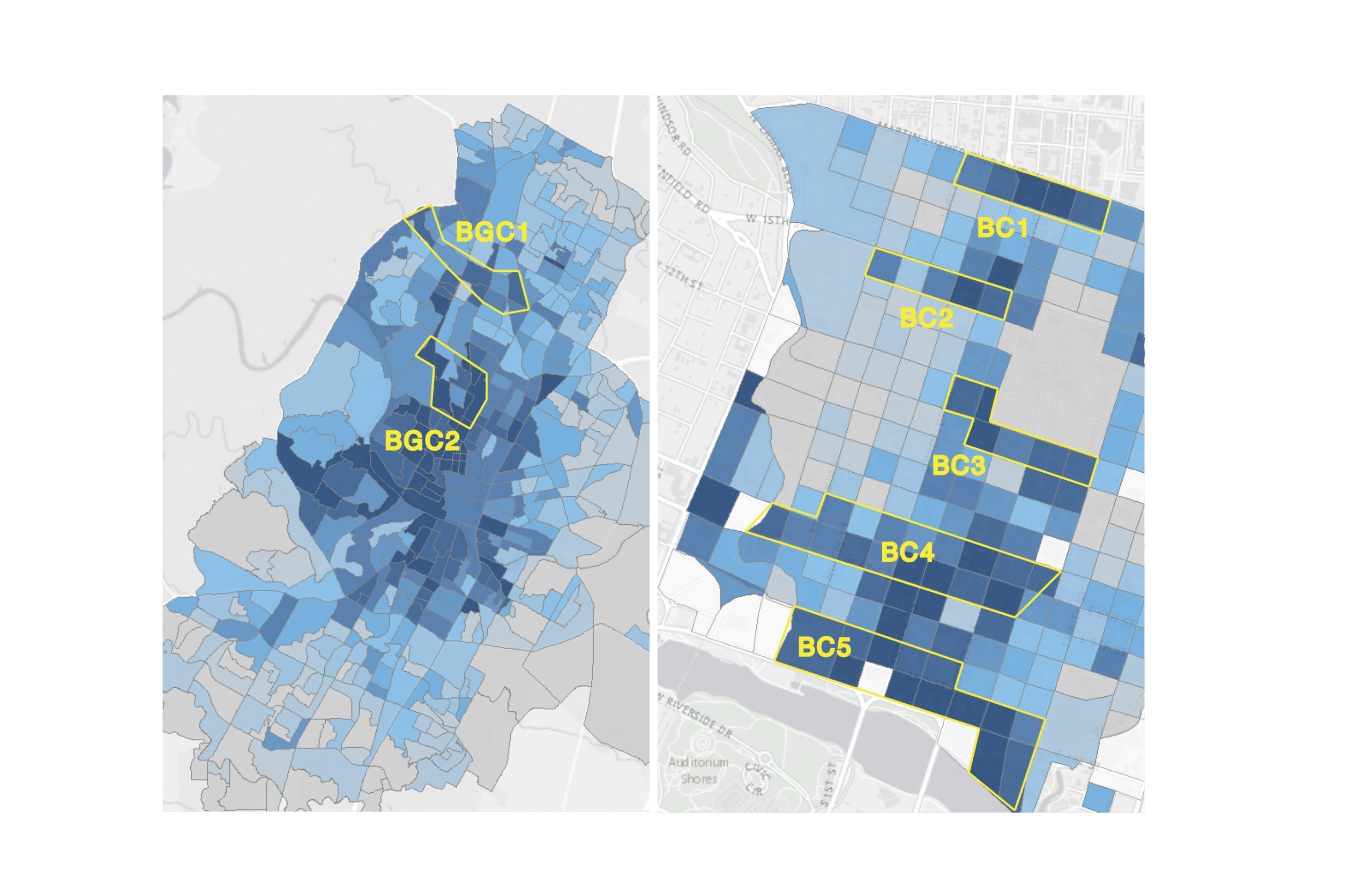 The city of Austin has established itself as a hub for HAV research and testing, including its place as one of the four cities where Google's self-driving car project, recently renamed "Waymo," is testing on public roads. The two maps visualize millions of data points on travel patterns, parking scenarios and demographics, with darker shading denoting an area likely to benefit most from HAVs. The map on the left includes trip and demographics data only. The map on the right adds parking utilization.
Looking at the full city map for Austin (Map A) there is a clear concentration of high-scoring census block groups in and around downtown, where unsurprisingly the concentration of origin and destination trips per zone are high. However, there are several areas outside of downtown that would be worth further exploration for HAV deployment. This includes Spicewood Springs Road from the North Capital of Texas Highway toward Crestview (Block Group Chain 1), and Rosedale, just north of Central Austin (Block Group Chain 2).
A closer look at the downtown civic district at the census block level (Map B), accounting for parking utilization and supply, yields several areas (highlighted in yellow) where corridors of high-scoring zones are well positioned to benefit from HAVs. This includes the southern boundary of the University of Texas Austin (Block Chain 1); West 15th Street (Block Chain 2); 11th Street south of the State Capitol (Block Chain 3); 5th and 6th Streets (Block Chain 4); and along the Colorado River in Downtown (Block Chain 5). As Austin city planners continue to prepare for HAV deployment for public use, leveraging big data will help to identify target corridors to maximize benefits for the city and its residents.
Many cities are currently considering autonomous vehicle deployment on public roads within their footprint. Big data analysis and a deeper understanding of mobility will help public sector stakeholders strategically plan to bring this technology to market in a way that benefits citizens, businesses and the city.
By leveraging hundreds of millions of trips, parking availability and restrictions, and demographic data, INRIX provided city-level recommendations for autonomous vehicle deployment by current travel patterns. To see the complete INRIX Highly Autonomous Vehicles City Evaluation, please visit https://www2.inrix.com/2017-autonomous-vehicle-study
Full INRIX Highly Autonomous Vehicle City Evaluation report
New York City and San Francisco HAV analysis
Ranking of the top 50 U.S. cities primed for HAVs
Complete methodology