London – April 10, 2017 – This year's Easter period will see more than 20 million cars on the UK's roads, with traffic forecasts for Maundy Thursday and Easter Monday showing a 20% increase in the average number of cars being driven, according to INRIX, the global leader in connected car services and transportation analytics.
With peaks set to reach 28.4% above average traffic levels at 5pm, up 30% on last year, Maundy Thursday will be the busiest getaway day this Easter bank holiday, with drivers setting off early for the long weekend.
Table 1: Volume increase/decrease of vehicles on UK roads over the Easter period

The worst affected roads on Maundy Thursday will be the major motorways, with some journeys taking as much as three times longer than on an average Thursday evening. Drivers between junctions 9 and 21 on the M25 (both ways) should expect delays of up to 1 hour and 30 minutes, extending a typical journey from 40 minutes to over two hours, with the average speed falling to 17 miles per hour.
Drivers heading in both directions on the M6 and southbound on the M5 towards the West Country on Maundy Thursday should be prepared for delays of almost an hour and average speeds of less than 25 miles per hour.
Table 2: Maundy Thursday, 13th April – UK's most delayed routes, average journey times and suggested alternative routes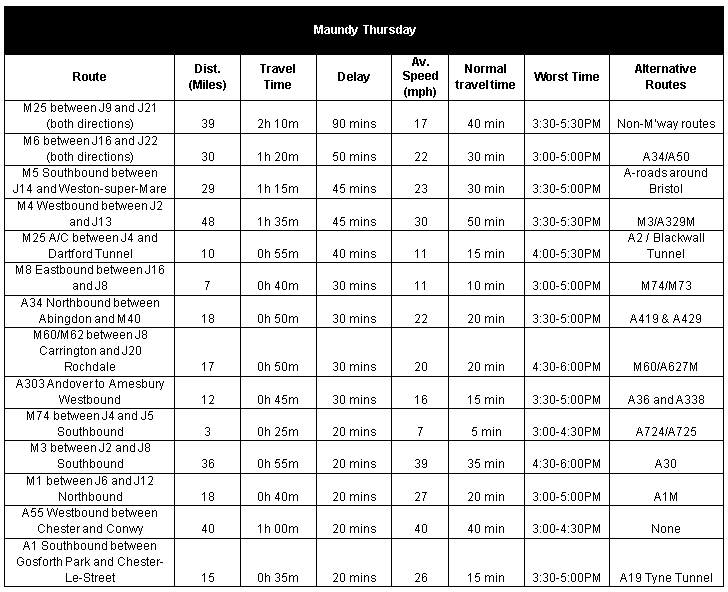 Those driving on Maundy Thursday are advised by INRIX against using major roads between 4pm and 6pm to avoid the worst delays; but those that do need to travel during these times should seek alternative routes, as the shortest distance will not always be the fastest.
With major roads expected to experience peaks of 8% above average traffic levels by 1pm on Good Friday, drivers are advised to avoid roads during 10am and 2pm. Major motorway journeys may take twice as longer than usual; particularly on the M25 between J9 and J21 which will see delays of up to 55 minutes around lunchtime extending journey times from 40 minutes to 1 hour 35 minutes.
Table 3: Easter Getaway – best and worst times to travel on Maundy Thursday, Good Friday and Easter Monday

With many shops expected to be closed, Easter Sunday remains the quietest day for cars on the road, with 25% less vehicles expected compared to an average Sunday.
For those choosing to drive back home on Easter Monday, INRIX advises avoiding travelling between 12pm and 5pm, with journeys expected to take up to twice as long as usual during this period. In particular, the M6 between J22 and J16 Southbound is expected to see delays up to 40 minutes on a route which usually takes 30 minutes on an average Monday afternoon.
Table 4: Good Friday, Easter Saturday and Monday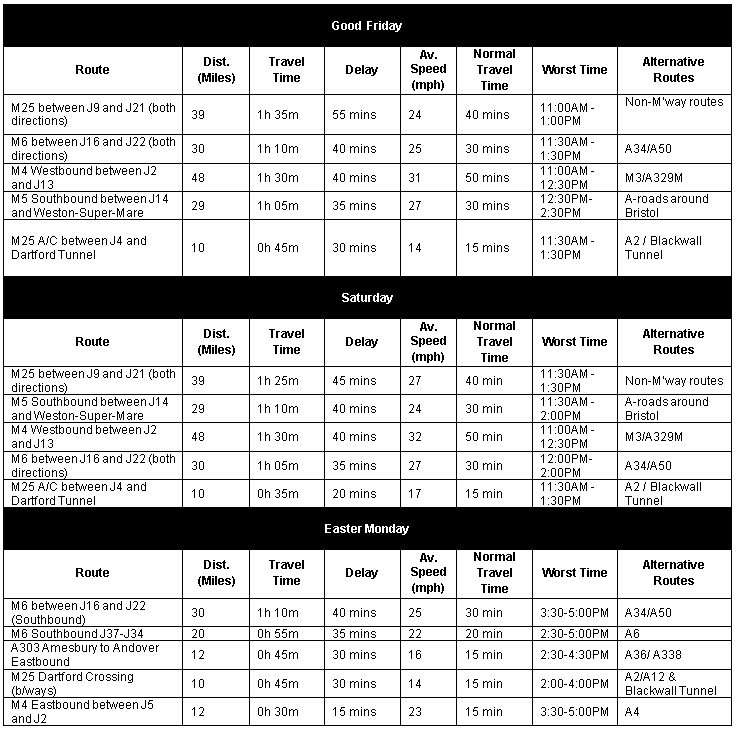 "With UK drivers spending an average of 30 hours in congestion last year, they are no stranger to sitting in traffic." said Graham Cookson, Chief Economist & Head of Research, INRIX. "We expect significant delays over the Easter period due to a combination of factors, including the regular post-work peak, the start of the school break, people going on holiday, railway engineering works and Tube closures. Our advice to drivers is to consider alternative routes or avoid peak times altogether. By checking live traffic data drivers can ensure they reach their destinations in good time."
Railway Engineering Works and Tube Closures will Impact Traffic Levels
There will be significant disruption on train lines this Easter with major engineering works on services to/from London Cannon Street, London Charing Cross, and London Liverpool Street. Train services throughout South East London will be affected and planned closures on major Tube lines, including the Circle, District, Hammersmith and City and Victoria lines, will likely contribute to a higher number of vehicles in and around the capital, especially on major routes like A205. Works between London Liverpool Street and Ingatestone and London Liverpool Street and Wickford will see increased traffic on the A127 and on major routes in and out of the capital such as A12 and A13.
Outside of London, engineering works and amended services will cause traffic delays on major routes between Manchester Victoria and Liverpool Lime Street, Birkenhead North and Liverpool Central, Bath Spa and Glasgow Central, York and Blackpool North and Church Fenton and Leeds/Selby.