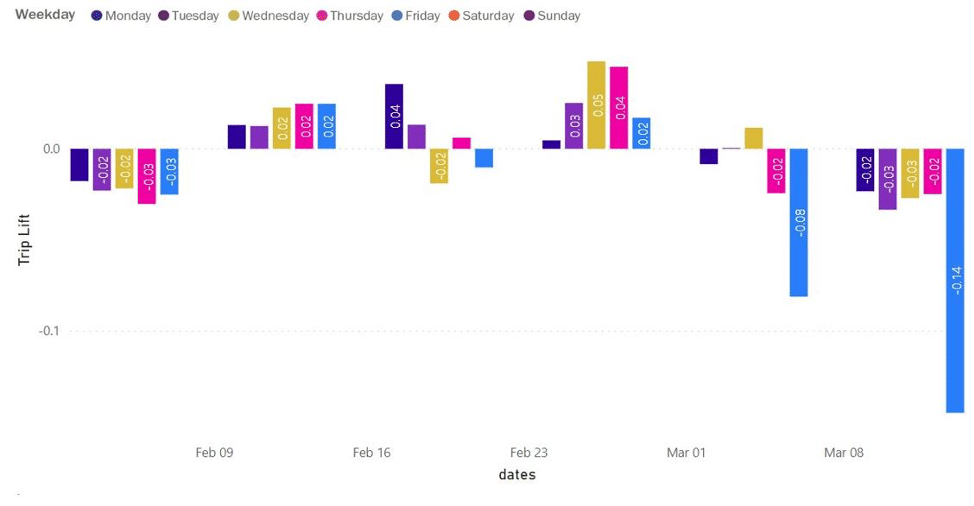 Using  INRIX Trips and Visits platforms, I analyzed commuter and consumer behavior in the Seattle area following the outbreak of COVID-19, and our increasingly severe measures to curtail its spread. Two weeks into the crisis, peak periods have stabilized in terms of congestion and trips to major employment centers in the area.
Morning commutes have been the most impacted by the COVID-19 outbreak, with trips declining by up to 30 percent compared to normal volume when compared to a typical week. The trend started on Tuesday, March 3rd and has largely been increasing since, peaking with at 30 percent for Friday, March 13th.
AM Trip Lift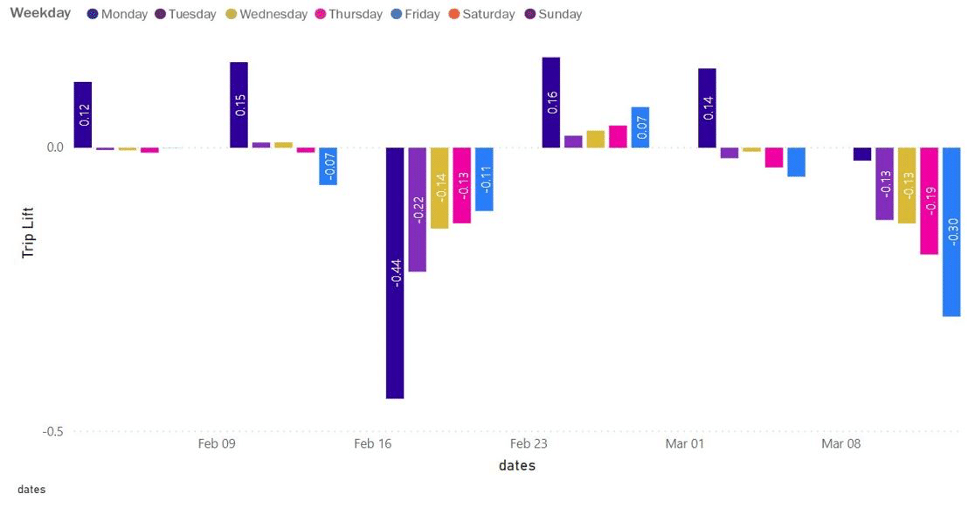 Off-peak trips are exhibiting less responsiveness, initially. For the week of March 9th, the first full week of work from home guidance, trips reduced by 2-3 percent, excluding Friday, which saw a 14 percent decline. The moderate changes, excluding Friday, indicate individuals are still carrying out errands, while curtailing social trips as indicated by Friday's much more sever reduction.
Off Peak Trip Lift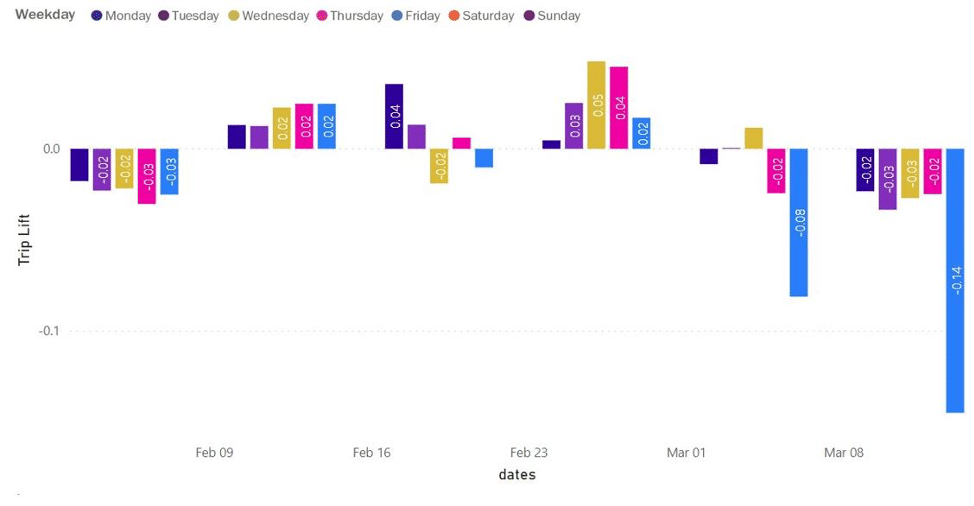 PM commute period trips so far indicate the least amount of change over normal, with the Monday proceeding work from home guidance actually witnessing an eight percent uptick in trips. However, the decline since has been precipitous, dropping by 17 percent from Thursday to Friday for the week of the 9th.
PM Trip Lift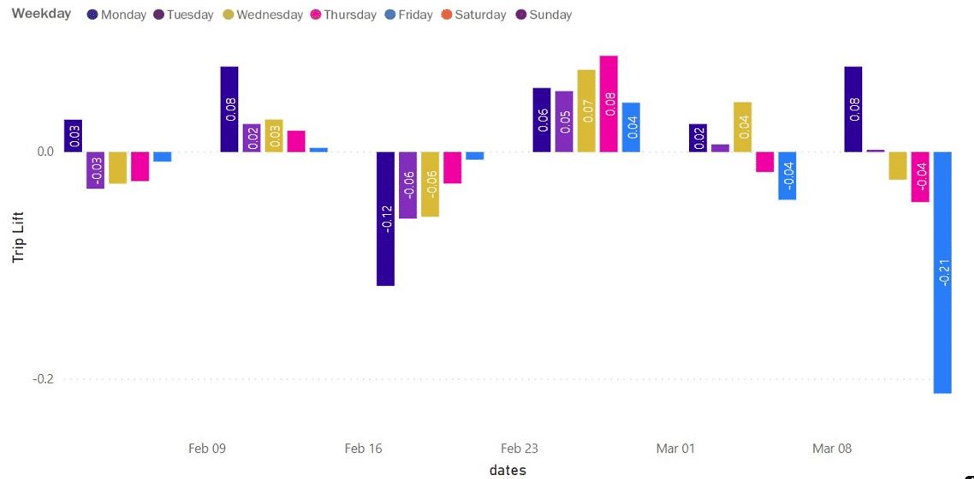 Over the past week trips have reduced to less than 50 percent or more in Seattle, San Francisco, and Los Angeles. The graph below shows trips for each of the past seven Mondays. Monday, March 8th exhibited largely normal overall trip behavior. However, as of Monday, March 15th there was a precipitous decline in trips amongst the eight surveyed metro areas.
Trips Compared to Normal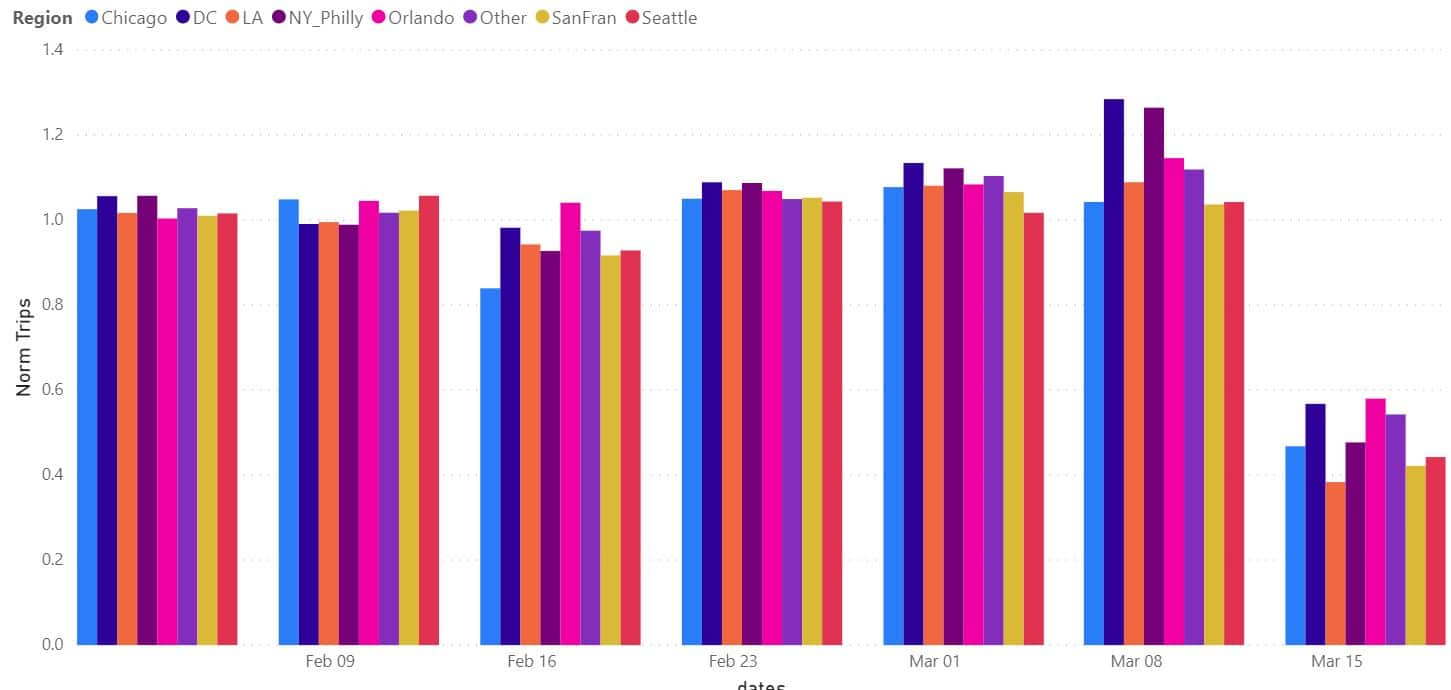 General Findings
Overall, the outbreak of COVID-19 has already had dramatic changes for driver behavior throughout the Seattle metropolitan area. These major changes are likely to only grow more severe as social distancing and business closures pass from being a recommendation to being a requirement. While there likely is a floor as to how far trips and distances traveled can go, the initial data indicates we have yet to reach that point.