HAR.com (CoreLogic customer) allows buyers to search for homes based on typical drive times
INRIX Drive Time takes the uncertainty out of one of the most important factors in buying a new home – how long it will typically take to drive to/from work, school, daycare or shopping.
It just makes sense. When considering a new home, you don't guess at the number of bedrooms, bathrooms, year built or school district, so why should your commute be any different?
Some realtors simply provide the distance to work or drive times based on the speed limit or worse, real-time roadway traffic conditions. INRIX Drive Time enables homebuyers to quickly see accurate drive times for different homes over different times of the day or days of the week, facilitating and shortening the sales cycle for realtors by prioritizing suitable homes.
In fewer than four years, INRIX Drive Time has reached an incredible milestone – more than 1 Million US Real Estate agents have contracted to help buyers find homes using "minutes over miles." INRIX Drive Time has been adopted by the leading real estate agencies nationwide (US) to facilitate the sale of homes to new home buyers. Our reselling technology partners include: Booj, CoreLogic, Gabriel's Technology Solution, HomeSpotter, MoxiWorks, Real Estate Digital, Real Estate Webmasters, Reliance Network, Tribus and Xome
"HomeSpotter strives to provide the absolute best agent mobile experience possible. Searching for homes based on typical, not real-time, drive times to work is an important criterion for agents serving their home buying clients" said Aaron Kardell, Founder and CEO of HomeSpotter. "We are pleased to be the first real estate platform to include INRIX Drive Time as part of our standard base offering.
"Joyce Realty has been on the vanguard of bringing leading technology via JoyceRealty.com to our customers in the New York Hudson Valley and Northern New Jersey markets since 1994," said Kevin Joyce, President and Founder, Joyce Realty. "Searching for homes based on typical drive times to work reinforces our technology leadership position and provides enormous value to our home buyers."
INRIX Drive Time has proven to be a game changer. According to the National Association of Realtors, 73 percent of home buyers say drive times to work is a "key" decision criterion when purchasing a home. As you know, real estate has always been about "location, location, location."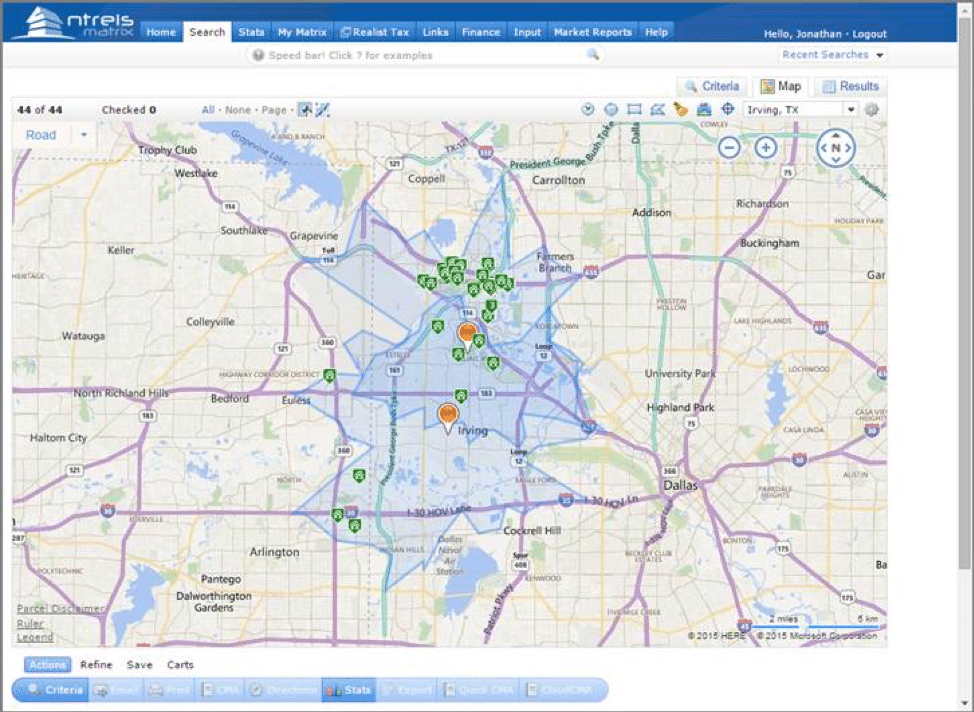 NTREIS is one of the dozens of MLSs that uses INRIX Drive times on the CoreLogic Matric platform
"We would like to thank our technology partners, brokerages, MLSs, and agents who have make it possible to reach this incredible milestone. Few technology features ever reach 1 million agents and we did it in just four short years," said Kevin Foreman, Vice President and general manager, INRIX. "We look forward to shrinking the real estate sales cycle even further by taking the guess work out of home buying."