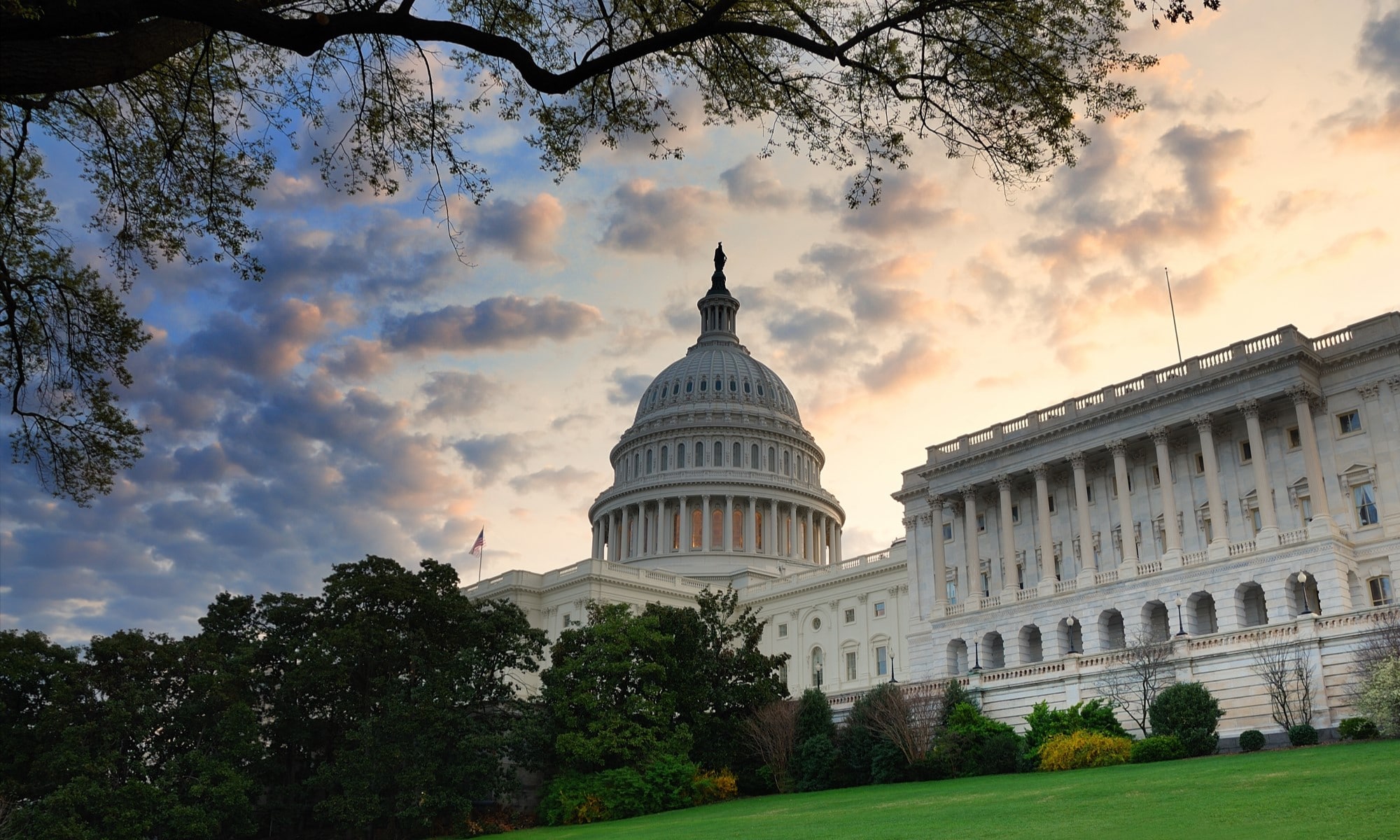 Over the next five years, and in support of the Bipartisan Infrastructure Law's (BIL/IIJA) objectives, the US Department of Transportation (USDOT) will publish a series of documents commonly referred to as Notice of Funding Opportunities (NOFOs). The purpose of NOFOs is to solicit applications for discretionary grant programs, and understanding these documents and their various components is key for submitting competitive applications for federal funds. 
Responding to NOFOs can be a challenge, especially for agencies unfamiliar with how they work or for entities that are newly eligible to participate in the federal funding process. The guide below is designed to help potential applicants effectively navigate the discretionary grant process. For more information, please refer to the USDOT's discretionary grant website or reach out to INRIX.
What

I

s a

Notice of Funding Opportunity (

NOFO

)

?
A Notice of Funding Opportunity (NOFO) is the formal announcement that an awarding agency issues in support of discretionary grant programs. This announcement invites the submission of applications and provides key information, including but not limited to:
Description of the opportunity

 

Whom the NOFO is open to

 

Evaluation and eligibility criteria

 

Submission deadline

 

Funding priorities and preferences

 

How to submit an application
The NOFO process is designed to be straightforward; however, the issuing agencies do provide technical assistance and are generally open to hearing questions or comments from potential applicants.
What's

G

enerally

I

ncluded

in a

Notice of Funding Opportunity (

NOFO

)
Information about the awarding agency/entity

– describes which governing body (or bodies) oversees the application process and distributes funds. When it comes to the BIL/IIJA, the operating administration or office can vary, so we encourage you to pay close attention to which entity is listed in the NOFO.




 

Summary of the NOFO and Key Dates

– a brief description of the program, including important dates and application deadlines. Additionally, NOFOs may also include a summary of programmatic goals and an overview of how the program connects to the Administration's larger goals and priorities. It is worth keeping these things in mind, both as you're preparing to apply and engaging with key stakeholders.




 
Overview of Eligible Applicants

– describes who may submit applications for funds. It is important to note that this will vary based on the program and may also include geographic or other limitations based on population, etc.




 

Funding and Cost Sharing

– outlines the circumstances and limitations for awarding funds, which could include reimbursement or a varying percentage of cost sharing. The NOFO will outline which activities are eligible for cost sharing and many include information on whom to contact in order to receive more details about funding or cost-sharing.




 

Application Instructions

– provides a detailed, step-by-step walkthrough of the application process, including any requirements around documentation, data, forms, financial statements, or the like.




 

Contact Information

– email addresses, websites, and phone numbers to agencies (sometimes individuals) that can answer questions or provide additional clarity.
Understanding How Applications Are Evaluated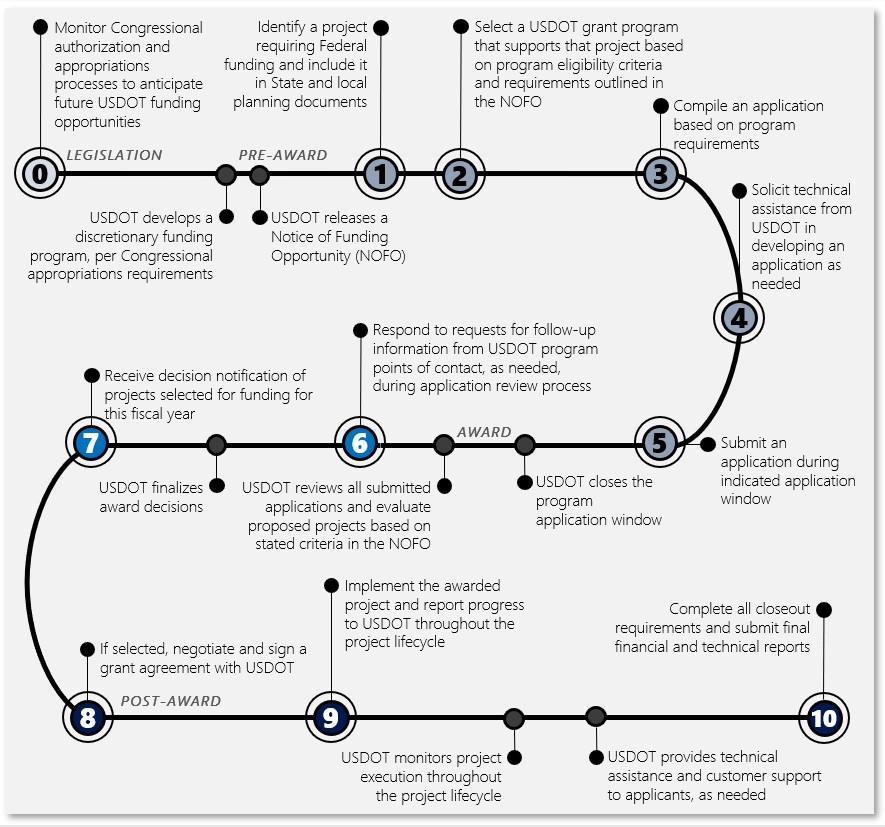 Image courtesy of https://www.transportation.gov/rural/toolkit/usdot-discretionary-grant-process
Once an application has been successfully submitted, it goes through a review process which is done in several steps:
Applications are reviewed to ensure they are complete and meet the basic requirements

 

The applications that pass this stage are forwarded to the grant manager who will dive deeper into the contents of the application

 

The grant manager examines project relevance, as well as whether the project details align with grant requirements, are achievable, and can be measured

 

Applications that pass this stage are forwarded to the Office of the Chief Financial Officer (OFCO), who does a final review where the organization is examined for financial capability and fiscal integrity

 

Successful applications are identified, and the applicants are notified

Technical Assistance and Applying for a Discretionary Grant
The website grants.gov provides many resources for applicants and prospective applicants. A chatbot answers frequently asked grant questions 24/7 while more complex issues can typically be resolved through their support center. This website also includes tools that allow organizations to apply as a team as well as grant writing tips and a grants learning center.
What to Expect After Submission
The timeline of the grant process from application submission to award can vary. This is because the reviewing agency must review all submitted applications and evaluate them based on the criteria outlined in the NOFO.
Awarding bodies begin the review process after the application window closes. At this point they may reach out for follow-up questions regarding the application. Applicants should respond promptly to all follow-up requests in order to ensure a timely evaluation process.
The Award Process
Once the decision has been made regarding the award recipient, the awarding agency or office will reach out to you regarding awards.  Please note that depending on the NOFO you may not be able to start using the funds immediately, and you may have to enter into a written agreement or satisfy additional requirements.
How to

Prepare for

a

NOFO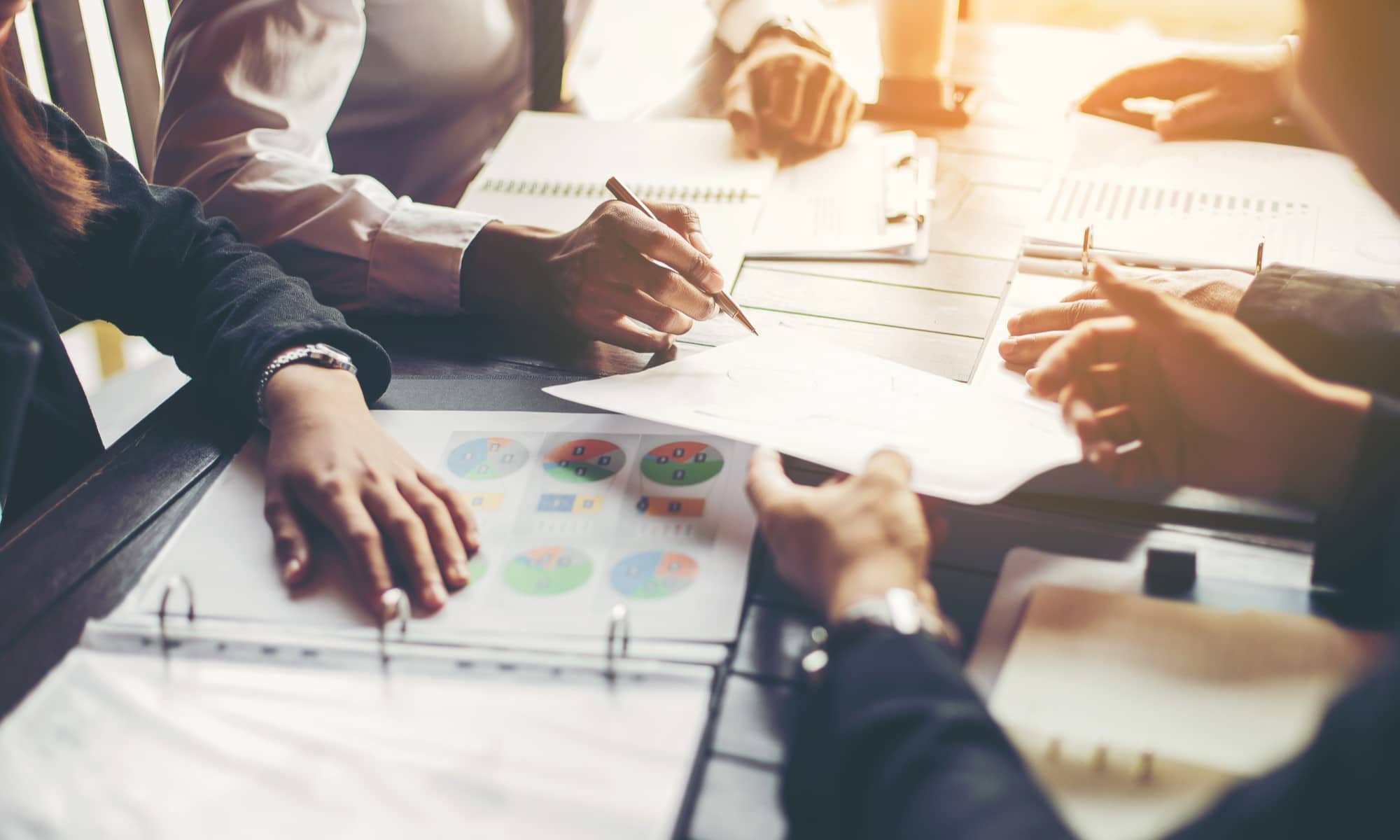 There are a number of things interested applicants can do in advance of the NOFO's publication. Here are a few recommendations based on our experience working with public sector stakeholders:
Obtain a Unique Entity Identifier (UEI)
Any business, individual, private company, organization, or institution that does business with the federal government is required to have a Unique Entity Identifier (UEI). The UEI replaces the DUNS Number which was used up to April 2022. 
Applicants must have a UEI to apply for any opportunities that are posted on Grants.gov. It is important to note that it can take as long as a month to get a UEI number so the earlier you apply, the better. If you had a DUNS number, you were automatically assigned a UEI, and it can be accessed on SAM.gov.
Create Calendar Invitations for Key Dates and Deadlines
Not only is this a good way to remember deadlines, mapping out important dates will help give insight into how agencies should be budgeting their time, as they execute against any number of requirements during the application process.
Develop a Strategy for Sharing Information with Key Stakeholders
Collaboration is key for a timely application process and can sometimes involve coordinating with several separate agencies or organizations. Creating an effective strategy for communicating with various stakeholders proactively, especially in regard to meeting key deadlines, will help to ensure no surprises are met along the way.
What Are the Current and

Upcoming

Discretionary Grant Opportunities
Several US DOT discretionary grant opportunities are on the horizon:
At INRIX We're Here to Help
At INRIX we have a long history of working with the public sector and constantly develop products and offerings designed around intelligent mobility. INRIX can help connect the dots between what programs will work best and how technology solutions can support the application and qualification process.  
Experts in the transportation and policy spaces are available at INRIX to provide the following:   
Technology solutions that help agencies execute against federal program requirements

 

Deep dives into new and updated programs

 

Ongoing funding analysis

 

Additional resources for states and localities

 
Contact INRIX for a free consultation!