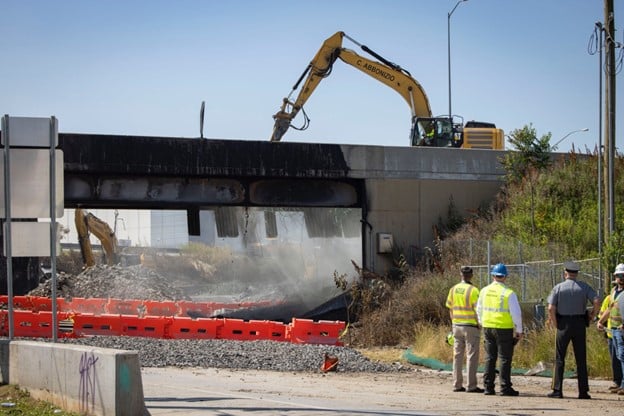 When a section of a major Interstate collapses, it can cause feelings of fear and anxiety. Yet lately, planners, government officials, and the private sector have managed to reduce that animosity by repairing and building these sections of road rapidly. Creative solutions, along with emergency declarations and cutting red tape, are quickly becoming standard practice when we're hit with an infrastructure disaster.
Such collaboration and innovation were evident by the response to the Philadelphia I-95 bridge collapse, which reopened just two weeks after it collapsed. Unfortunately, this wasn't the first bridge collapse in the US, and it won't be the last. This blog set out to learn from I-95 collapse and how the response compared to others around the country, and what is important to consider with similar situations moving forward.
About six years ago, a massive fire collapsed a section of Interstate 85 in Atlanta, which was reopened to traffic after 43 days. The expected fallout of "Carmageddon" were highlighted in headlines like "Atlanta Interstate Collapse Sends City's Commute into Chaos," prepping drivers and freight movers for the worst. Yet over the course of a few weeks, a replacement span was put into place and traffic began moving. Agencies like Atlanta's Regional Commission used INRIX data to help provide insight into the impact to traffic and how disasters like this can be mitigated in the future.
Similarly, a section of I-5 over the Skagit River in Washington State collapsed in 2013, severing an artery between Vancouver B.C. and Seattle. With huge impacts to personal travel and commercial freight activity, Governor Jay Inslee declared a state of emergency for the surrounding counties. The section of Interstate was able to reopen to traffic 27 days later with temporary replacement spans. This reconstruction used innovation around modular freeway construction to begin rolling in a replacement span just one day after the debris had been cleared.
Following the I-95 collapse in Philadelphia, Governor Josh Shapiro signed an emergency declaration to mobilize resources quickly and efficiently. Further, the state used innovative solutions to restore I-95 quickly, like "NASCAR equipment, recycled glass, and police escorts," to speed up the project.
It's clear that leveraging innovative solutions and reducing red tape have achieved better-than-expected results in the face of disaster. It's also likely that many of the innovations used during disaster recovery efforts could work during normal times, lowering costs and improving outcomes.
But not all red tape is bad. For example, NEPA/SEPA rules have been in place for decades to ensure that projects do not have a negative (or overly negative) environmental impact. While this takes time and adds to costs, the public has generally accepted the tradeoffs.
All things considered, whether fixing a bridge collapse or building new transit lines, it's important to consider the balance between necessary oversight and minimizing excessive bureaucracy, while making sure we foster, utilize, and implement the latest innovations.