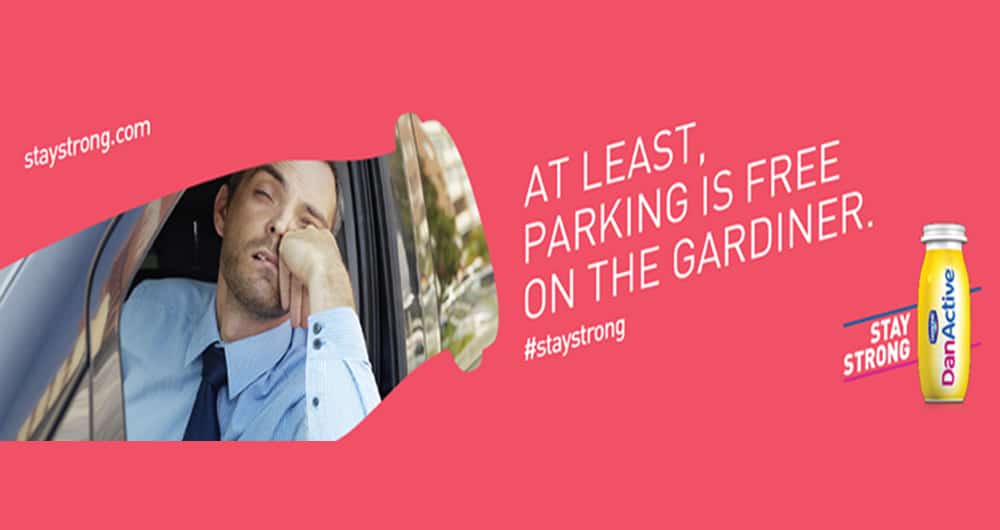 Today marks an important milestone in the digital Out-of-Home Advertising (aka billboard) industry. For the first time, Dannon Yogurt is optimizing its drinkable yogurt, DanActive, ad campaign based on four different real-time traffic congestion levels of the roadways in which the digital billboards are located on.
The advertising campaign is running in Toronto and Montreal, created by Y&R (Montreal) on behalf of Dannon Yogurt's advertising agency, Carat (Montreal).  Carat commissioned the campaign with leading Canadian out-of-home media operator, Dynamic Outdoor, whose digital advertising display system has the ability to pull real-time traffic data from INRIX. The campaign started running on June 6 and will run through July 26 in both English and French.  The real-time traffic triggered campaign utilizes an XML feed, which pings the INRIX server on each ad rotation and displays the appropriate creative based on the up-to-the-minute traffic data.  Relevant brand messaging was created by Y&R to captivate their target audience in a fun and humorous way.
FOUR different ad copies
1) Gridlock = <20% of speed limit 
When traffic is running at less than 20% of the speed limit, Dynamic Outdoor triggers this relevant humorous ad copy:

Or on specific locations, such as the Don Valley Parkway, this ad copy:

Or this ad copy on the Gardiner Expressway:

2) Very Slow = 20-34% of speed limit
When the traffic is between 20 and 34% of speed limit, Dynamic Outdoor automatically triggers this ad:

3) Slow = 35-64% of speed limit
When the traffic is between 35 and 64% of speed limit the content management system runs the following:

4) Free Flow = >65% of speed limit
When the traffic is greater than 65% of speed limit Dynamic Outdoor displays a countdown measuring days until the weekend.  Here is the creative which runs on Friday's during free flowing traffic:

Many US-based Out-Of-Home media operators, such as Lamar, Clear Channel Outdoor and JCDecaux have been triggering their digital ad copy based on two real-time roadway traffic conditions. Dynamic Outdoor is the first to use four different traffic speeds to trigger the most relevant ad copy possible for the viewing audience.
With Dynamic Outdoor's INRIX-powered content management system, built by Ayuda, now every advertiser in Canada has the opportunity to create the most relevant advertisements that match the exposure time and location of their viewing audience.
As a big data company, INRIX analyzes billions of real-time data points crowd-sourced from over 275 million vehicles and devices to provide up-to-the-minute traffic information via in-car navigation systems, mobile navigation apps and transportation agencies worldwide.
Today's milestone furthers the INRIX goal by bringing real-time conditions and context to the out-of-home advertising industry.  After all, it is 2016.