In wake of the I-95 bridge collapse, INRIX analyzed Interstates, Freeways, and Arterials throughout the Philadelphia Metro Area to understand the impact to travel habits. Utilizing INRIX IQ Roadway Analytics, we found that travel times during the morning and afternoon around Philadelphia jumped 25% in the week following the collapse.
Major hotspots during the peak morning commute (6:00-9:00 AM) include Pennsylvania Turnpike (#1), I-76/I-295 Interchange and I-295 Northbound (#2), and I-476/I-95 Westbound / Southbound (#3). These corridors are illustrated in Image 1.
Image 1: Morning Commute Traffic Hotspots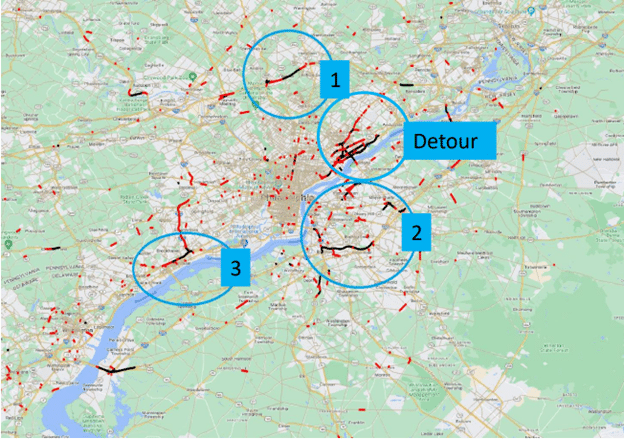 As for the afternoon commute (3:00-6:00 PM), the effected traffic hotspots are highlighted in Image 2, which include Pennsylvania Turnpike (#1), I-476/I-95 Westbound / Southbound (#3), I-295 Northbound (#4), Route 202 & Turnpike (#5), I-95 at Wilmington (#6).
Image 2: Afternoon Commute Traffic Hotspots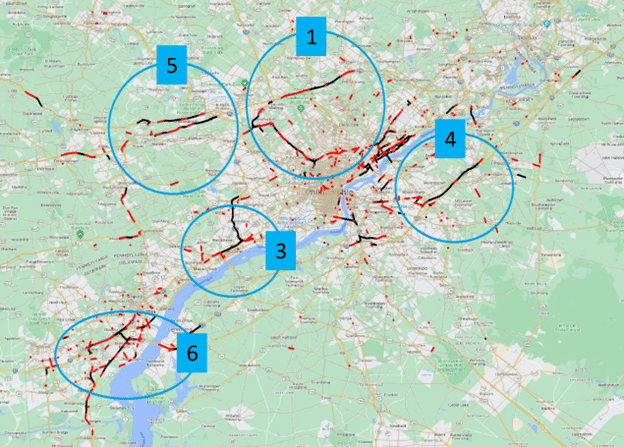 INRIX identified two corridors with the largest delay increases: I-295 Northbound (#2), between Bellmawr and Haddonfield-Berlin Rd, and I-476 Westbound (#3), from Conshohocken to Chester. Drivers on both corridors experienced nearly a 20 mph drop in speed in the morning. Interestingly, the impact of the closure had varying effects during the mid-day and afternoon. For example, the afternoon peak on I-295 moved up an hour but drivers still experienced a 10-mph reduction in speeds. In comparison, mid-day speeds on I-476 dropped 10 mph compared to previous weeks, while there was minimal impact to the afternoon commute.

Following the bridge collapse, it is important to note that traffic speeds on detour routes also experienced significant reduction. With the sudden increase in vehicles volumes diverting from the affected area, congestion and slower-moving traffic were expected. Some of these major detour/surrounding route hotspots around the new construction site include US-1 and Torresdale Avenue. Drivers on US-1 experienced a 20-25% drop in speeds throughout both commuting peak periods and roughly a 15% reduction midday. The chart below depicts both southbound and northbound roadway orientation.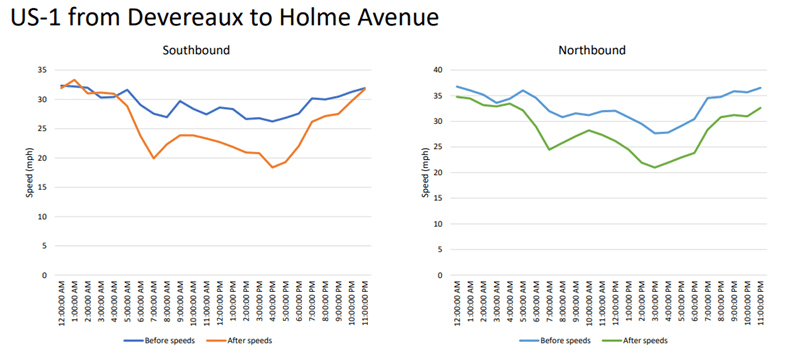 The detour on Torresdale Ave also had reduced speeds during peak commute periods. Westbound drivers were impacted the most, with speed dropping nearly 30%.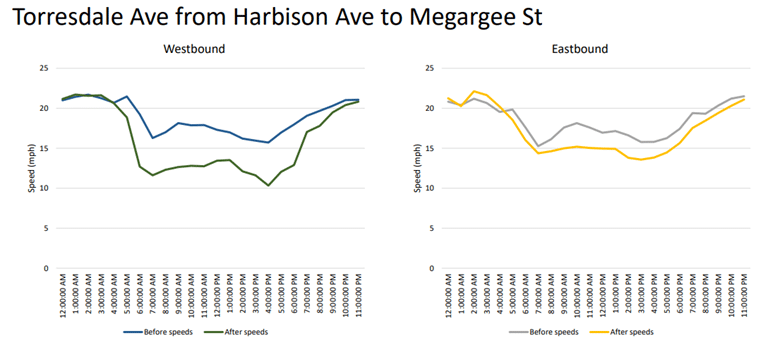 In conclusion, the analysis conducted by INRIX following the I-95 bridge collapse provides valuable insights into the change of traffic patterns across the Philadelphia Metro, including the identification of hotspots as drivers explored new routes to bypass the closure and impact of higher volumes vehicles on the detour routes. Leveraging transportation data and tools, like Roadway Analytics, helps provide agencies and accurate look into the impact planned or unplanned infrastructure projects.
To learn more about how INRIX can help agencies monitor, measure, and manage their transportation network, please click here.