Being able to understand buyer behavior, the next big trend or potential threats are critical to fueling growth for businesses. Understanding the "Who, What, When, Where, How and When" can be difficult without fresh, reliable and flexible location data.
Leveraging hundreds of millions of anonymous data points, INRIX can provide answers to important questions like where to open your next store, how effective a marketing campaign was or even what other stores your customers like to shop at.
Fill out this form to learn how INRIX Visit Analytics can help you:
Uncover trends about your customers
Get competitive insights
Find your most valuable, loyal customers
Streamline the site selection process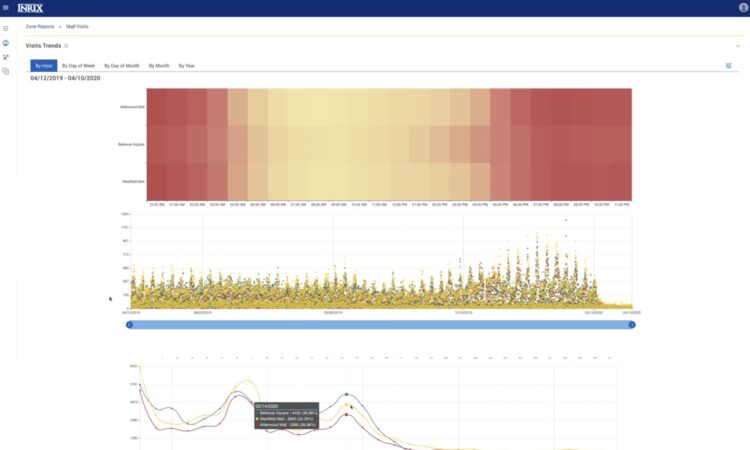 Key Features:
Visit Trends Report
Easily visualize the total number of visits to each location your interested in grouped by the year, month, day of month, day of week, and hour of day.
Home Neighborhoods Report
Visitors are matched to their home neighborhood at the census block level. This makes it easy to characterize visitor travel distances and trade areas associated with each location, as well as to match visits to demographics data.
Cross Shopping Report
Understand customer loyalty and the amount of competition between two locations, the rate of same-brand cannibalization, the success of cross promotion.
Custom Polygons
Define up to 1,000 areas on the map to analyze (a circle, rectangle, or polygon that is up to square mile in area. )
API & Data Downloader
Get easy access to the underlying data to conduct custom analysis beyond the basic reports provided on the Visit Analytics Platform.
Data Visualization Dashboard
For quick visuals and analysis, our Visit Analytics platform helps users see the big picture and easily export reports and raw data.
Sign Up To Learn More & Get Free Demo