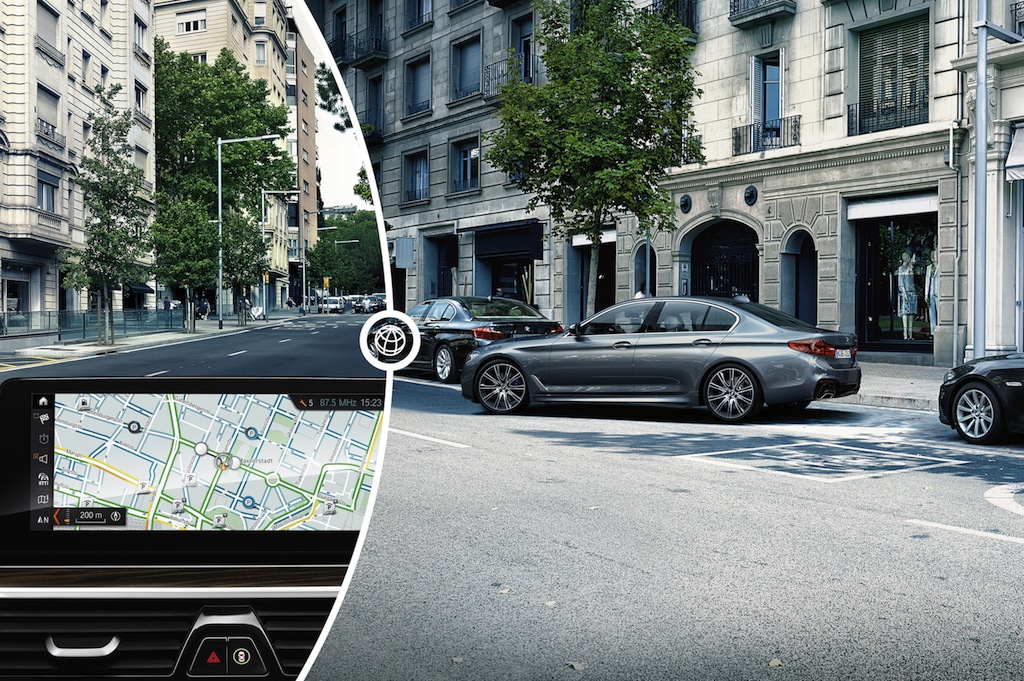 Kirkland, WA – July 6, 2017 – INRIX, Inc., the world leader in connected car services and transportation analytics, today announced the availability of its On-Street Parking service in the new BMW 5 Series Sedan. INRIX delivers the industry's first real-time on-street parking service in a connected car, which uses historical and up-to-the-minute parking data to predict the availability of parking spaces.
According to the recent INRIX Connected & Autonomous Vehicle Consumer Survey1, 72 percent of respondents said real-time parking availability is the navigation feature they desire the most.
"Real-time parking is the most sought-after navigation feature because it addresses a pain point that affects everyone," said Joe Berry, vice president and general manager of automotive at INRIX. "The first automotive deployment of INRIX On-Street Parking solidifies BMW's position at the forefront of connected car technology with a focus on delivering the services drivers want the most."
The BMW 5 Series also includes a real-time traffic service, powered by INRIX in North America, for up-to-the-minute and predictive traffic flow information for routes, travel times, and alerts to crashes and incidents on over five million miles of roads. INRIX Traffic incorporates information from its network of more than 300 million connected vehicles and devices in over 40 countries.
Notes to Editors
The INRIX On-Street Parking service is live with BMW Group in 16 cities in Germany and the U.S., with more cities set to launch in 2017. Initially, the service is available in Germany (Berlin, Cologne, Dusseldorf, Frankfurt, Hamburg, Munich and Stuttgart), and in the U.S. (Boston, Chicago, Los Angeles, New York, Philadelphia, Phoenix, San Francisco, Seattle and Washington, D.C.).
INRIX Parking provides the world's largest parking database with more than 35 million spaces in 100,000 locations spanning 8,700 cities in more than 100 countries. Addressing a key customer need, dynamic occupancy information is also available for nearly 20,000 lots spanning more than 2,000 cities in 67 countries. Additionally, the patented INRIX On-Street Parking service leverages machine learning to deliver ground-truth tested dynamic occupancy predictions in nearly 40 cities globally, covering more than 200,000 individual street segments. INRIX is the preferred provider of parking information and services to leading automakers and app providers, as well as transportation agencies and drivers around the world.
###
About INRIX
INRIX is the global leader in connected car services and transportation analytics. Leveraging big data and the cloud, INRIX delivers comprehensive services and solutions to help move people, cities and businesses forward. Our partners are automakers, governments, mobile operators, developers, advertisers, as well as enterprises large and small.