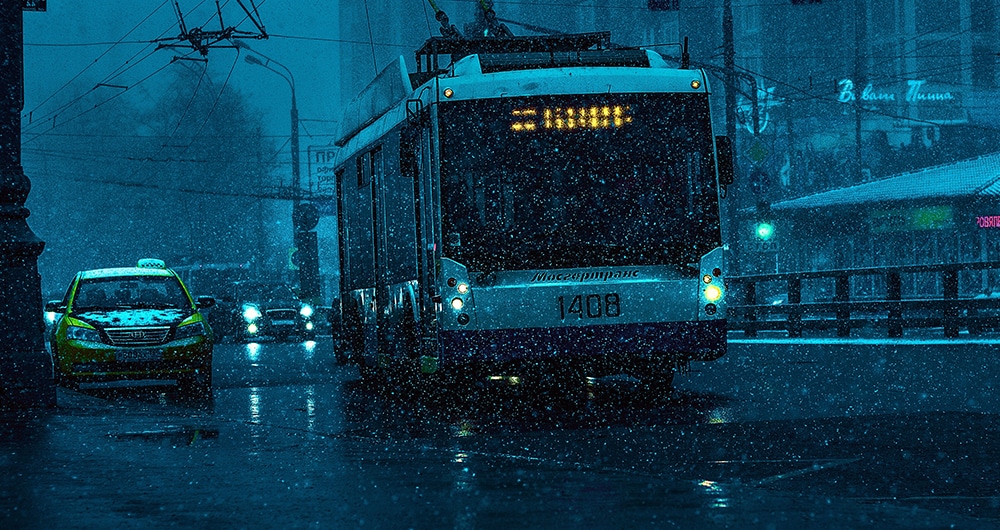 Guest Author: Uri Lavee, Core Technology Product Manager, INRIX
I'll never forget the first time I drove onto a patch of black ice. I was 20 years old, and I was crossing the Alps on a busy highway from France to Switzerland. For an Israeli guy who never experienced severe cold weather, this was a terrifying experience. When my car encountered the black ice patch, I was caught completely by surprise and momentarily lost control over the car, not to mention my senses. Luckily I had been driving slowly so the event did not end in a disaster.
But even experienced drivers would have been caught off guard in this situation, as black ice is notoriously hard to spot. It was a sunny morning and although temperatures were below freezing, the road seemed dry and clean. It had been an outgrowth of unique local geographic conditions that had allowed that ice patch to remain there from the night before. In fact, this is true for most severe weather road conditions – they take drivers by surprise. Even when general weather conditions are bad, it is very hard to anticipate where exactly one would hit a patch of black ice or start hydroplaning. That is why 25% of US crashes and 30% in Europe are weather-related.
Wouldn't it be extremely beneficial from a driver's perspective to be given a timely warning in advance and to be able to reduce speed – or even avoid a route – before you encounter a hazardous condition?
In an era when anyone can access 10-day forecasts via smartphones, tablets and in-car systems, it seems like an easy problem to solve. Well, it's not. Traditional weather forecast algorithms are focused on predicting general atmospheric conditions rather than the meteorological situation of the road surface itself; and although these things are connected, they may be quite different at times.
Being at the forefront of providing useful and timely information for connected cars, it was a natural extension for INRIX to also look into how it could use its technology and experience to improve driver safety on the roads. When INRIX decided to focus on this goal for drivers, we partnered with Global Weather Corporation (GWC) for its expertise in predicting weather's effects on road surfaces. GWC, the world's most accurate temperature forecaster in 2013 and 2014, developed a unique set of prediction algorithms that are designed to accurately predict the pavement and road conditions.
But having the right set of algorithms is not enough. Weather forecast algorithm must include highly accurate measurements such as temperature, barometric pressure and humidity. Such measurements are typically available from national and local weather services, but they have three major limitations in the context of Road Weather:
–          The weather stations providing these measurements are usually positioned on top of buildings and therefore do not provide measurements of the road surface.
–          Measurements are typically published once an hour, constraining the temporal granularity of the forecast.
–          As traditional weather forecasts are usually focused on large areas (cities, neighborhoods) weather stations are often located quite far from each other, resulting in a low spatial granularity of these measurements.
In some places (e.g.  Germany, Austria, some highways in the US) road authorities try to provide more granular measurements by positioning sophisticated weather sensors along roadways themselves (known as Road Weather Information Systems, or RWIS stations). These sensors can be expensive to install and maintain so coverage is often limited to select set of highways. Additionally, RWIS stations are placed roughly 2,500 meters apart, which is too far from the spatial granularity one would need for a true road weather service that offered a much broader (and thus more useful) coverage.
That's why at INRIX we're excited about the potential of an innovative data source that many weather experts would say is a complete game changer – the connected vehicle itself.  A good portion of cars from which we are leveraging anonymous GPS data as the basis for our traffic information are also equipped with advanced sensors that can provide weather-related measurements such as ambient external temperature or barometric pressure. These measurements are by their nature closer to the road surface and provide both high temporal and spatial resolution in comparison to existing weather stations. A single vehicle can cover miles of roadway in an hour, providing the forecast algorithms with hyper-granular input that enables us to produce even more accurate, hyper-local and more frequent forecasts. In fact, in many cases, we no longer rely on forecasts, but can provide accurate estimates of the road condition based on measurements gathered by vehicles that passed the exact same spot only minutes before. This gives us the opportunity to increase the temporal resolution of our product down to 15 minutes and the spatial resolution of our predictions down to 500 meters. By adding more data sources over time we can improve these temporal and spatial resolutions even further, providing even more value to drivers on the roads.
A snapshot from the INRIX Demo site showing road weather conditions around the Puget Sound
But it doesn't end there.  Weather models can only predict the likelihood of certain weather conditions to occur, but they can't really measure to what extent these conditions actually affect drivers. This is where our unique data sources come into effect again. By gathering additional measurements from vehicles such as hard braking, ABS traction and accelerometer data (which is also available from mobile phones) we can detect (and alert) the exact spot where drivers had to perform emergency maneuvers. In combination with the hyper-accurate road weather measurements and predictions, we are able to confirm the existence of black ice patches, hydroplaning on roads and even where a burst of heavy rain is severely affecting driving conditions.

It's essential to be able to perform all these forecasts in close to real-time. Without delivering the alerts back to drivers in timely fashion, they are actually worthless. Here again, our experience in providing real-time traffic information to users over broadcast, connected cars and mobile applications becomes handy. INRIX already has all these delivery channels providing real-time information to millions of users every day, so applying all these delivery mechanisms to assist drivers comes to us naturally. Furthermore, by pushing this information into our Analytics platforms we are also able to provide valuable insights to road planners, and state and local authorities to assist in planning and maintaining their road network.
Well, it all seems quite simple, doesn't it? It's not as easy as it sounds – in order to get to that level of granularity on major roads in the US (Functional Road Classes 1,2,3) we have to run our accurate prediction models across hundreds of thousands of miles along the road network. And this will have to run in close to real-time in order to provide drivers with the most up-to-date alerts. This is definitely another classic application of Big Data science, which luckily, we are quite familiar with from our legacy Traffic business. Together with Global Weather Corporation, we have taken 10+ years of experience in the connected car space, combined with a deep knowledge of weather and a set of world-class prediction models and successfully combined it to create this exciting new product which will help drivers avoid being surprised by severe weather and road conditions in the future.  With INRIX Road Weather, I'll certainly feel much more prepared the next time I attempt driving over a mountain pass in the winter.  This kind of solution couldn't come soon enough.
Author: Uri Lavee
Core Technology Product Manager
INRIX