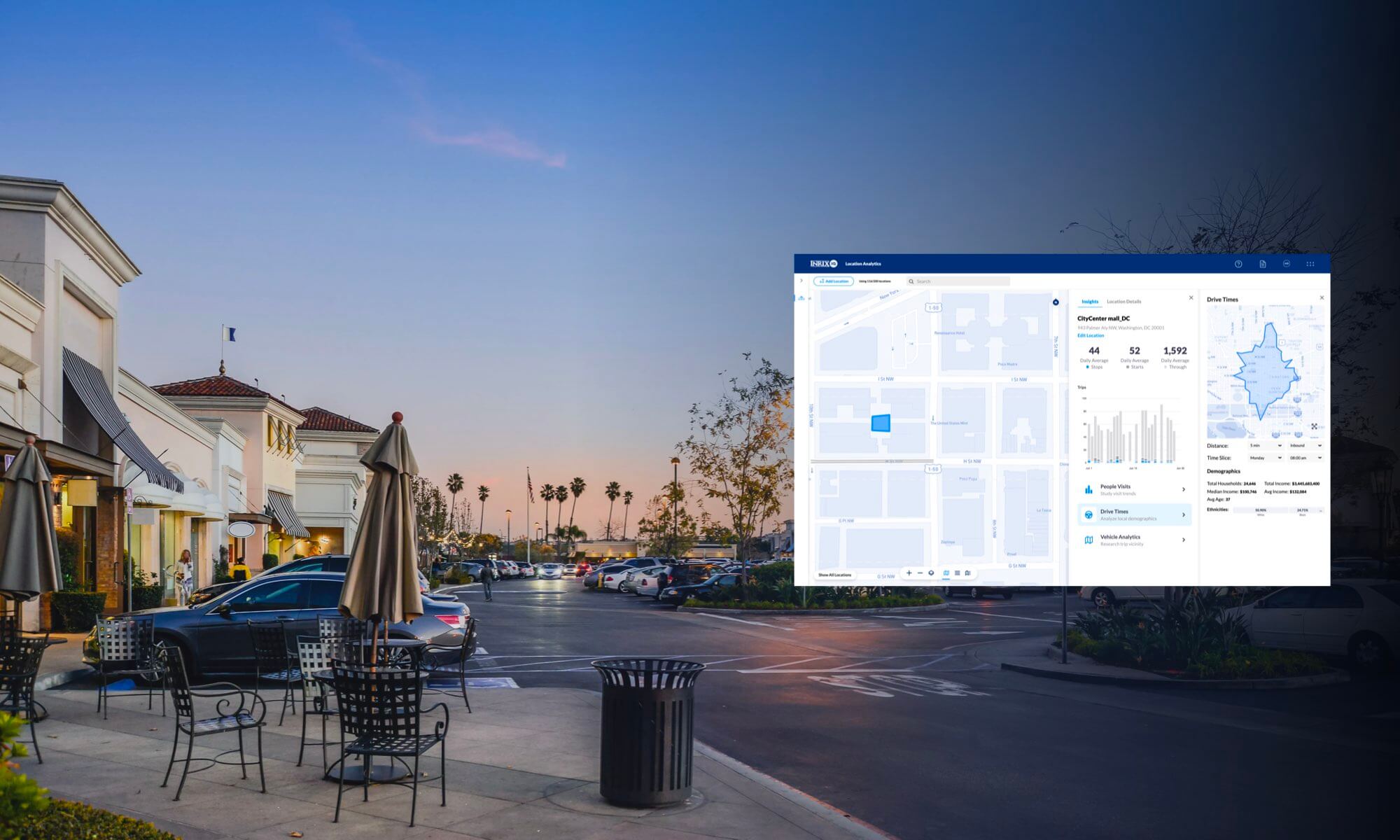 Businesses today are having to face new challenges, resulting from both the pressure to maintain a competitive edge through technology and the accommodation of changing consumer dynamics as the world emerges from the COVID-19 pandemic. 
Companies that have done well can attribute success to a willingness to adapt to shifting paradigms of business and technology, with many taking a data-led approach to strategic decisions, such as site selection, competitive analysis, and portfolio optimization. In order to take full advantage of the insights data can provide, however, businesses need the right tools, which is why we are very pleased to announce the release of INRIX Location Analytics. 
Location Analytics is our newest cloud-based solution that empowers businesses to make smarter, faster decisions through rich data insights.
Why We Built It
Consumer activity has dramatically changed, particularly over the past couple of years. With COVID restrictions in place, the world saw a boom of e-commerce and "essential business" sales while foot traffic around major commercial centers significantly waned. 
The retail sector was challenged to think differently about how to achieve its goals, which sometimes even involved uprooting long-standing workflows and revenue models in order to adapt. Taking a data-driven approach to business strategy is a must, but it's often easier said than done. 
Data can be overwhelming and unactionable without the right tools, and businesses that wish to take advantage of it can struggle to derive meaningful insights. Analyzing disparate, corroborating data sets will yield the most valuable information, but it's not always possible, depending on the company's time or budget to recruit teams of data scientists and specialists. In summary, it's difficult to access, integrate, and manage disparate sources of data to make the most informed business decisions. 
With that in mind, we took a step back and asked ourselves, "What would an ideal solution look like?" 
We determined we needed to build something that was accurate, reliable, and consistent, even in the rapidly changing business landscape of recent history. We would need to combine disparate sets of mobility data into a single API to provide the most complete picture of consumer behavior. Finally, the solution would need to be accessible to the majority of audiences, regardless of training or technical proficiency.
The Outcome: Location Analytics
INRIX Location Analytics is a powerful new location intelligence solution that helps mid-size businesses and enterprises easily make data driven decisions to grow their business and maximize return on investment. INRIX has been a trusted name in the location intelligence space for more than 15 years, and this latest offering is based on the same depth and breadth of mobility data trusted by the majority of the site selection industry. 
We wanted this tool to be accessible to a wider range of users. Regardless of whether or not a business has a dedicated data science team on staff, Location Analytics provides fast, easy access to data and insights that is easy to use and doesn't require additional IT infrastructure.
Key Benefits
Comprehensive mobility insights for every location—Making informed business decisions requires you have access to the data that matters to you. Location Analytics eliminates the need for guesswork, providing in-depth information for the locations you care about, evaluating each of their key metrics, and automatically surfacing the insights you want. 
Easily find and compare the locations that matter to you—Whether you are looking for a new business location or interested in learning about business activity around specific locations, Location Analytics' powerful search function lets you find the locations you're interested in and compare them immediately. 
Save time and boost efficiency with easy data integration—Utilizing different platforms for viewing multiple data sources can be time consuming and increases the risk of errors. Location Analytics' powerful data integration capabilities make it easy to get a consolidated view of all your mobility data to produce deep, actionable insights. 
Focus on your business (not on technology)—Getting results from data science should be quick and affordable. Location Analytics is a fully hosted solution that takes the hassle of managing data, software, and IT infrastructure off your plate and lets you focus on what matters most, your business.
Top Features
Powerful search—Location Analytics comes pre-loaded with highly precise and relevant location context that saves time for your business and allows you to import your own locations on top.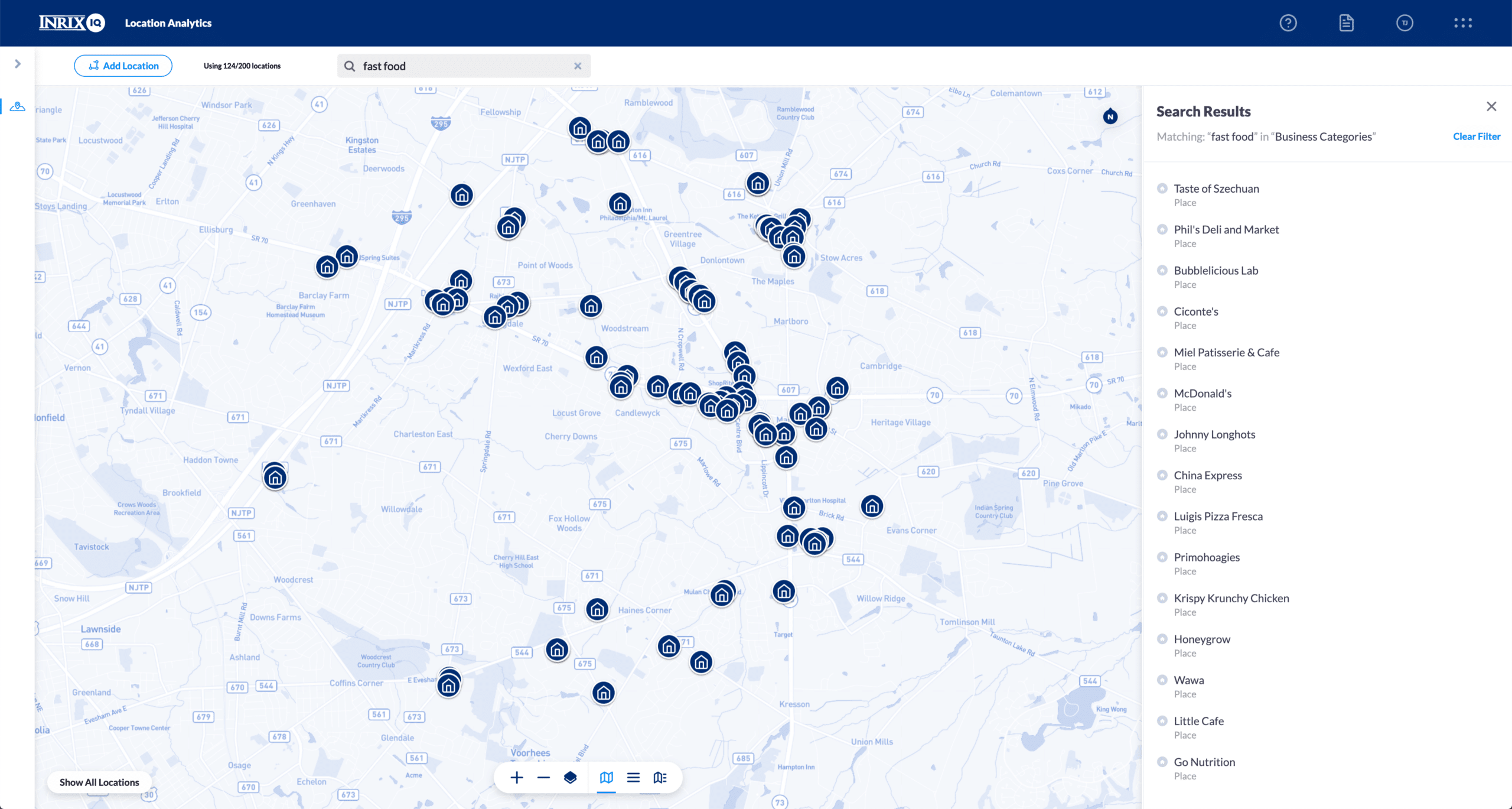 Instant insights—Selecting a location from the search results immediately displays nearby traffic volume information so you instantly get a sense for this location's activity.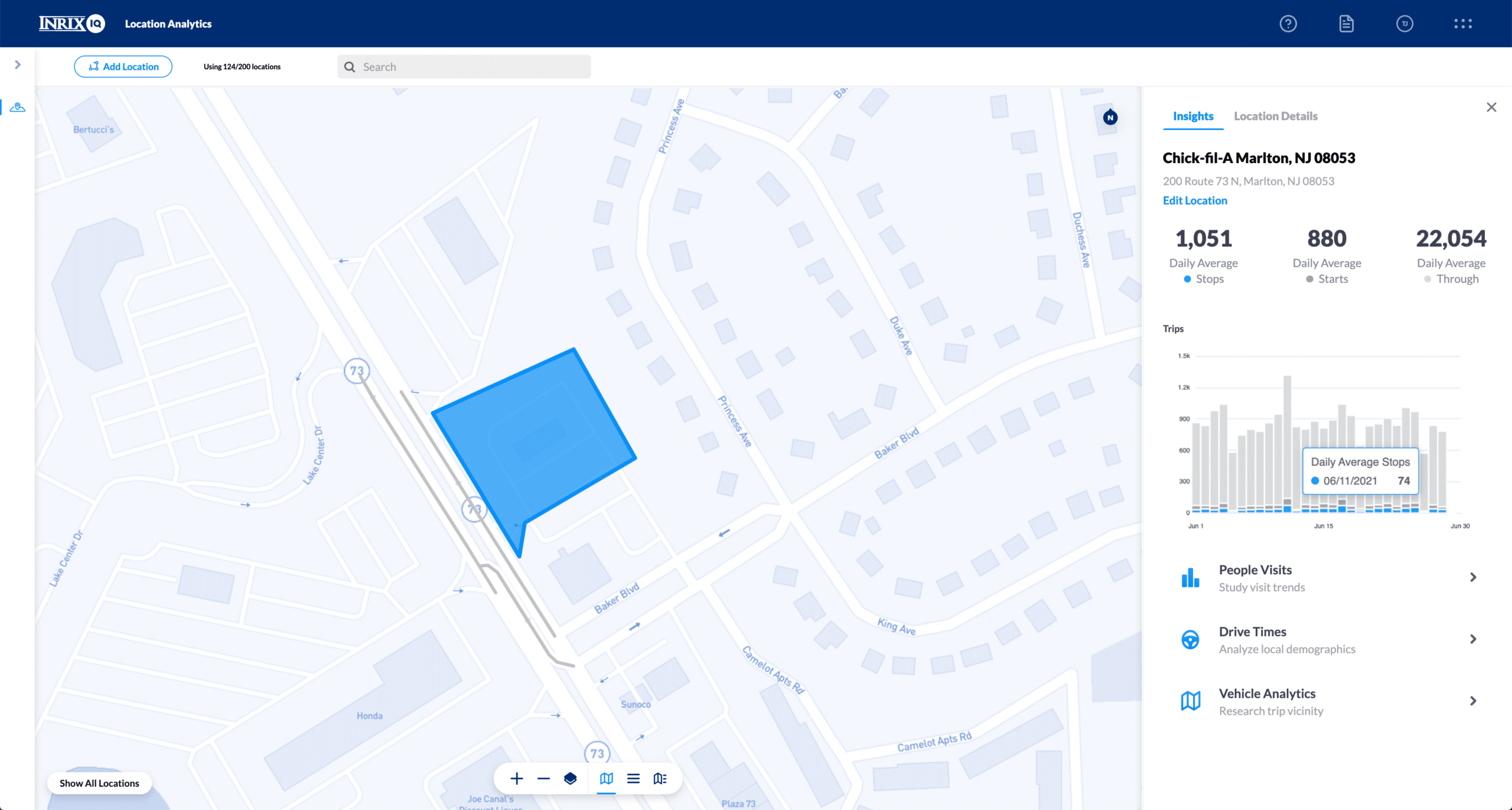 Vehicle analytics—Shows how many observed vehicles stopped and started inside the location boundary, how many went through, where they came from, and where they went.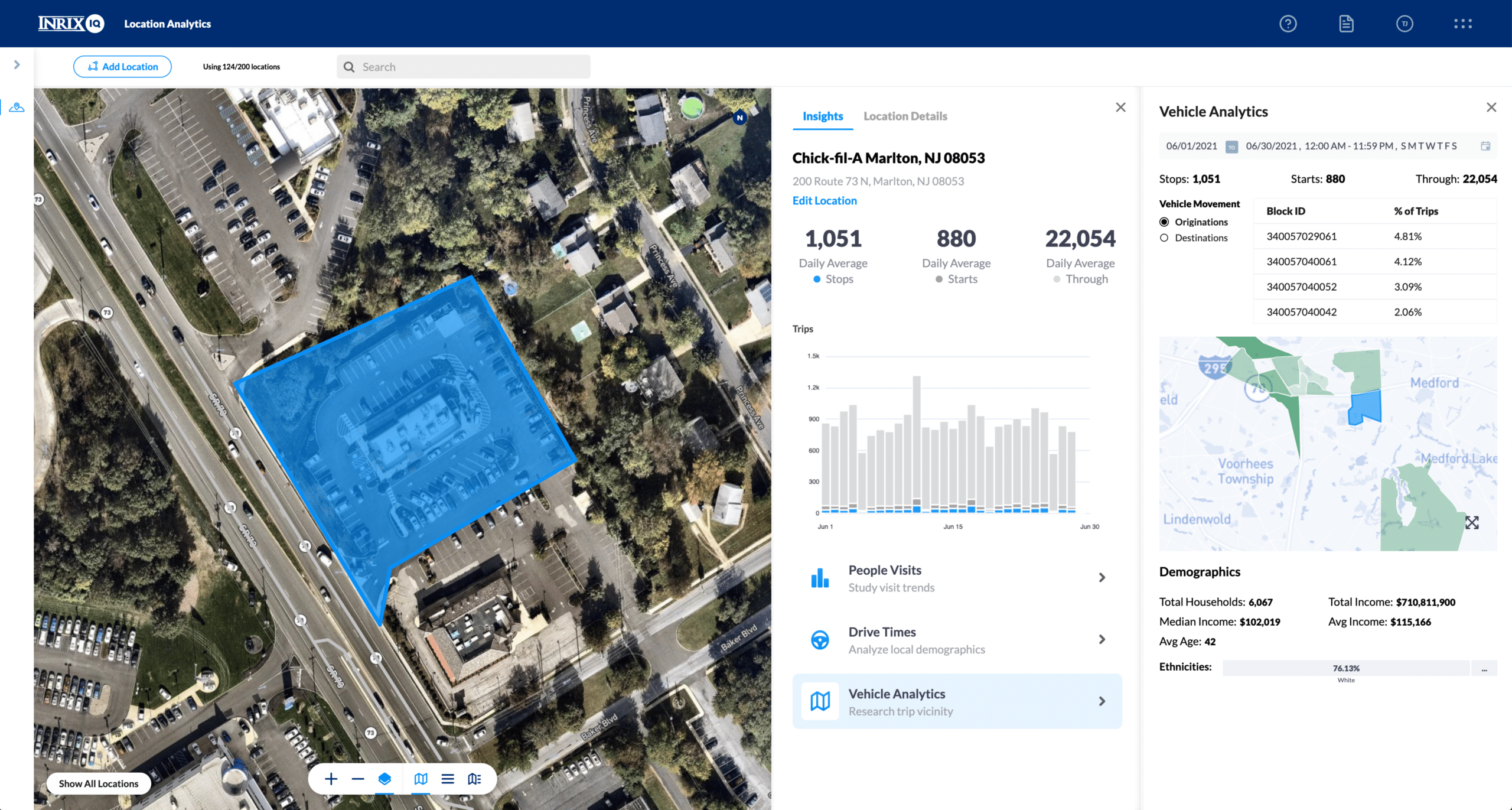 Road segment details—Provides volume traffic information (average daily volume or a specified day or time range) for any of the road segments that are nearby the location you are interested in so you can estimate that location's business potential. Compare all nearby road segments in an easy-to-read table. 
Drive times—Provides a polygon-based view of which census block groups are within a given drive time of the location. Know how many households does a specific drive time touch for any given day or time slice and what the demographics for these households are, including total households, total income, median income, average income, average age, and ethnicities. 
Location manager—Create your own custom locations (in addition to the locations already in the app) by defining location boundaries with an easy-to-use drawing tool, and add valuable metadata such as a title, description, ID, and category tags for quick reference.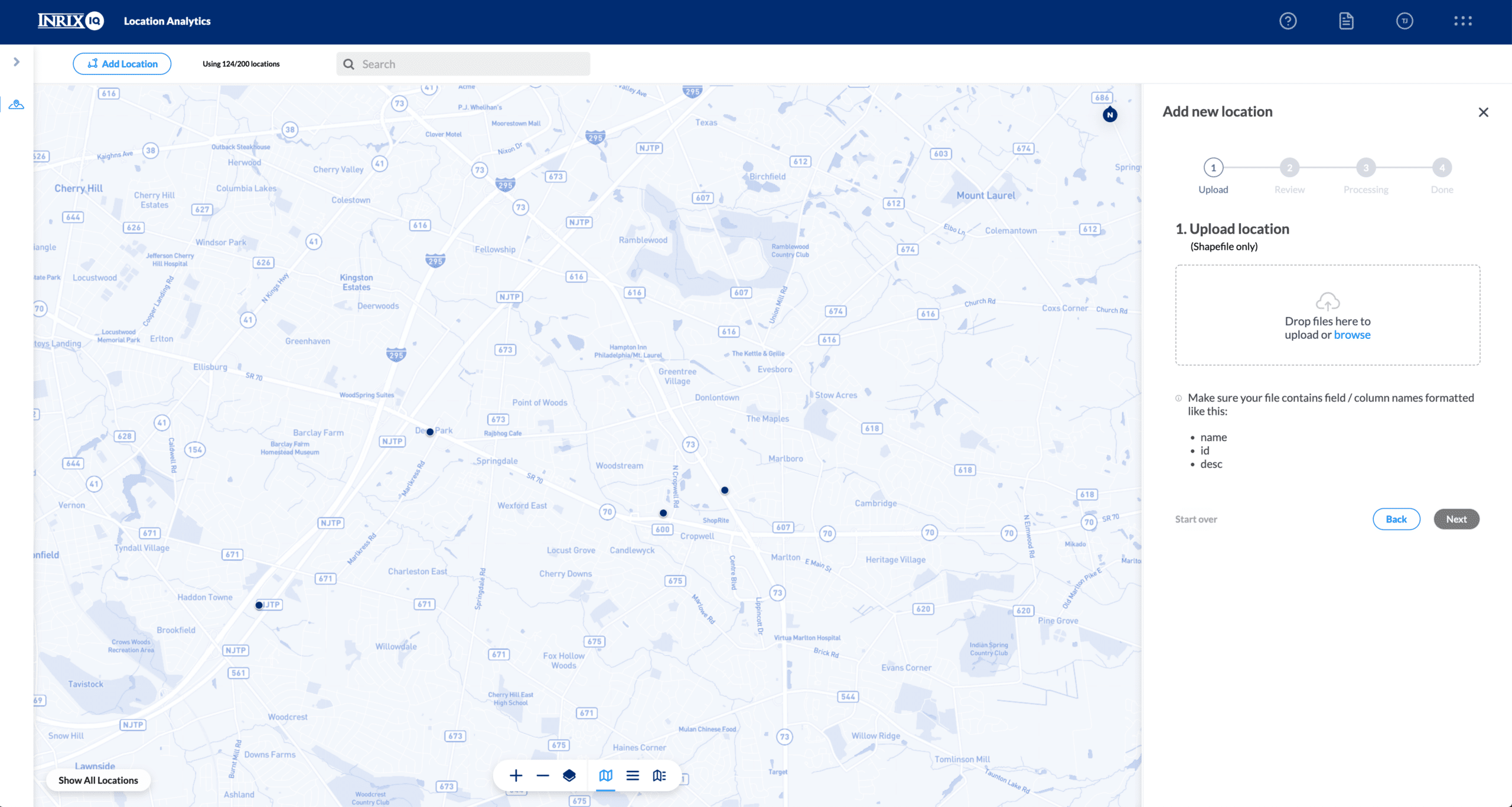 Use Cases
Quick service restaurant performs competitive analysis—A rapidly growing pizza chain based in Seattle is thinking about expanding and opening a new location in Bellevue, preferably on Bellevue Way or in the Crossroads shopping center (prime locations). They want to understand what competition (MOD, Domino's, Pagliacci…) looks like in these two areas so they can choose the best location. 
Travel plaza operational performance analysis—The landlord of a travel plaza on the NY thruway has a retail space that just opened up and wants to attract a new tenant. The landlord wants to evaluate what kind of business would be the best fit given the kind of traffic the plaza is getting and competitive information from the two nearest plazas. Is it a coffee shop (morning), a restaurant (evening), or a convenience store (all day)? 
Private equity casino investment analysis—A private equity firm is considering adding a casino property to their portfolio. They have pre-selected two casinos near the Nevada-California state line and are asking themselves which one is the better investment. They are looking for signals to estimate risks and opportunities for each casino and decide which one to invest in. 
Public works district trend analysis—Travel patterns have gone through changes during COVID, especially in downtown cores. The office of the mayor of a large city feels like they need to make some changes in some of the districts to better serve their constituents. They want to assess the commercial and social viability of the downtown core and need a clear picture of people and vehicles' movement before, during, and after COVID.
Conclusion
With the ongoing need for reliable, accurate data in the world of business, INRIX is proud to offer Location Analytics as a robust solution. Businesses and organizations that recognize the importance of utilizing data insights for critical strategic decisions will maintain steady growth and optimal performance. We can't wait for you to see for yourself!
Interested in seeing how data insights can help inform your next strategic business decision? Location Analytics is now available on INRIX IQ. Click here to request a free trial!