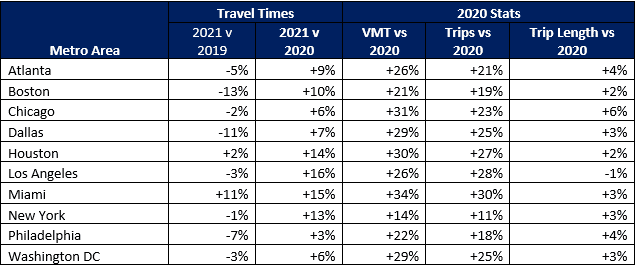 Labor Day Travel Strong in Most Metro's
Despite the COVID-19 Delta Variant, holiday travelers hit the road Labor Day weekend, seeing more traffic congestion than last year. Some people assumed that Labor Day weekend travel would perhaps even be lighter than last year. Yet the latest data from the Labor Day holiday shows people still have a strong desire to get out of town.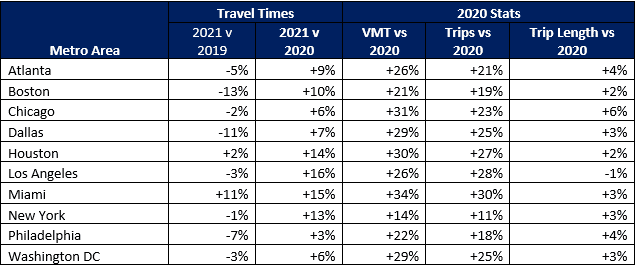 Travel was especially strong in Miami this Labor Day. Travel times were +11% higher than in pre-COVID 2019 and 15% higher than in 2020. Further, Miami saw a +34% increase in miles-traveled versus last year and saw a +30% increase in trips.
Boston still had a way to go when compared to pre-COVID 2019 levels, still down -13%, yet saw a +10% boost over 2020's Labor Day.
New York Lags Other Top Metros
New York saw relatively low increases in both VMT and Trips versus other metros, at +14% and +11%, respectfully. Looking at the top 100 metro's across the united states, VMT was +27% higher and there were +23% more trips taken this year, putting New York with the fourth-lowest gains in travel this holiday versus last year. New Orleans (unlisted) was the only metro area that saw a decrease, due to the effects of Hurricane Ida this year.
Overall, strong demand for travel this holiday continued a trend of increased holiday travel this year, despite COVID-19 spikes across many communities.