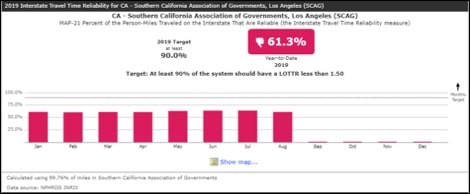 GUEST POST:
Gary Carlin, Director, Sales and Business Development Public Sector, Western Region – INRIX
"There are three types of lies — lies, damn lies, and statistics." – Benjamin Disraeli, British Politician
In today's big data-dominated world, transportation agencies must (or at least should) rely heavily on data, analytics and visualizations.
The United States Federal Highway Administration (FHWA), and state and local agencies use traffic data to assess travel reliability, congestion and emissions. FHWA's National Performance Management Research Data Set (NPMRDS) provides comprehensive and consistent data for passenger and commercial freight roadway performance across the National Highway System, as well as over 25 key Canadian and Mexican border crossings.
Beginning in July 2017, all state departments of transportation (DOT) and metropolitan planning organizations (MPO) started using INRIX travel time data to establish performance targets and report on progress. NPMRDS is used as the baseline to meet the newly established federal congestion and freight performance reporting regulation, and is freely available to all state DOTs and MPOs and. NPMRDS was followed up shortly thereafter by a new Pooled Fund Study (PFS) from AASHTO that sought to make using the data and complying with Federal reporting requirements easier for both DOTs and MPOs.
To date over 35 state DOTs and MPOs have joined the PFS including new members Caltrans, Texas DOT, Illinois DOT, Connecticut DOT, New Hampshire DOT as well as the Milwaukee (SWERPC) and Indianapolis MPOs. Membership to the PFS provides access to a variety of PM3 analytical and visualization tools that can be used for FHWA reporting requirements and other performance measurement applications such as creating Transportation Improvement Plans or Congestion Management Plans among other uses.
Annual AMPO Conference:
The annual Association of Metropolitan Planning Organizations (AMPO) will be held October 21-25, 2019 in Baltimore, MD. Please be sure to stop by the joint INRIX/CATT Lab booth to learn more the benefits of the Pooled Fund Study.