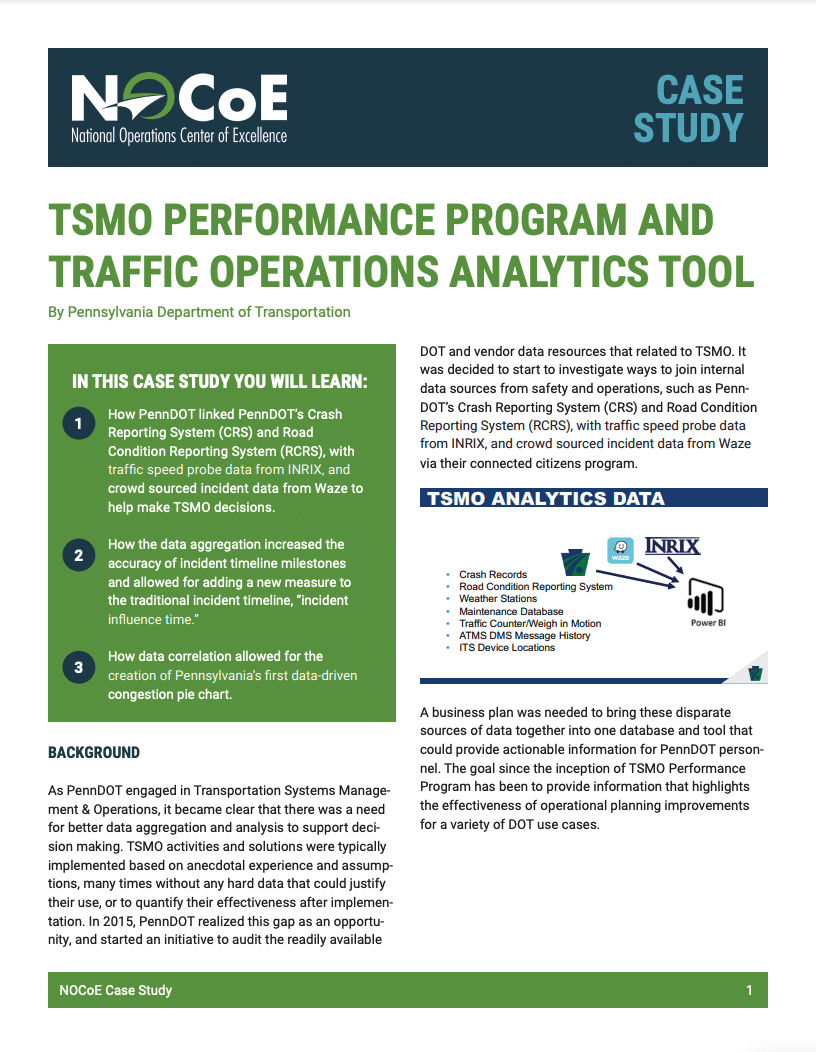 The National Operations Center of Excellence recently recognized Pennsylvania DOT's TSMO Performance Program and Traffic Analytics Tool as the Best TSMO Project in 2020. INRIX is proud to play a role in providing real-time speed and incident data as they developed the larger, award-winning TSMO strategy.
PennDOT tapped into multiple sources for data: PennDOT Crash Reporting System (CRS) Data, PennDOT Road Condition and Reporting Systems (RCRS), Waze Connected Citizen Incidents, and INRIX Congestion Events. Data from these four sources was integrated and normalized in PennDOT's Traffic Operations Analysis (TOA) tool.
The rich INRIX speed and congestion data combined with WAZE incidents brought the accuracy, granularity, and density to a new level. With this new infusion of data, PennDOT detected 87 percent of reportable crashes statewide, significantly more than TMC operators detected. They also detected incidents 35-50 percent more quickly. In short, it simplified the workflow of TMC operators to identify, manage, and mitigate incidents.
The new data not only increased the accuracy of incident timeline milestones, it also supported their new 'incident influence' concept. Incident influence is a realistic look at the impact of a crash by measuring the time it takes for a road to return to normal operations which can be hours after the original crash.
Out of this, they built a congestion pie chart, were able to quantify and qualify secondary crashes, which led to a new body of work and new projects to improve work zone safety and the public alert system.
Congratulations to PennDOT for building out this innovative software!
Download and read their full case study.