INRIX released its report on activity around COVID-related street closures last week. As part of that study, which used  anonymous GPS mobile app data to better understand utilization and user demographics of restricted streets, INRIX looked at specific types of streets programs in New York. The City's Open Streets implementation is one of the largest and most interesting cases we studied due to the size of the Open Street: Restaurant program.
COVID-19 has resulted in large reductions in people moving in and around (a term we call "activity") many downtowns/central business districts across the country. Manhattan, one of the most iconic downtowns, has seen some of the largest declines across the country as the City was one of the first COVID hotspots in the U.S.
In our report, we lightly touched on Open Street: Restaurants, understanding further analysis is needed due to specific time and day restrictions. Knowing the popularity of open restaurants, we dug deeper to find out more about this specific street type.
Our study found that restricted streets, in general, lagged the rest of the city in terms of "activity" since April. A large part of that is due to inactivity around Manhattan generally, as other boroughs have seen larger increases in activity as New York has re-emerged. Since Manhattan is a somewhat of a special case, its important to look at how Open Streets Restaurants (nearly 70% of which are in Manhattan) compare to Manhattan alone, versus the rest of the city.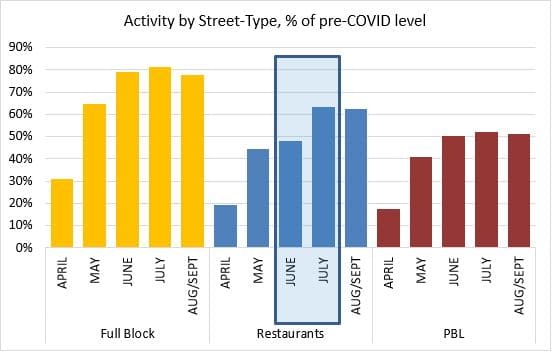 A significant 31% jump in activity near Open Restaurants occurred in July when open restaurants went into effect, while other street types in NYC saw a more modest 2-3% increase. More specifically, Open Restaurants in Manhattan grew 36% between June and July, while Manhattan saw a more modest 15% increase in activity. In other words, activity around Open Restaurants in Manhattan grew more than twice as fast as the rest of the borough.

In addition, Manhattan's activity growth around Open Restaurants between June to September was especially high on Weekends, seeing more than 70% gains in both day and night activity. While these activity gains are welcome, areas around Open Restaurants still continue to lag the rest of Manhattan by September.
Open Restaurant Streets varied in days and times of operation (some were open all week, some were open six days per week, five days per week, etc.) when the street is open to outdoor dining, however, the vast majority were either every day or open on weekends. By far, the largest gains were on open streets that were open the entire week. Even those that were open all week saw a larger weekend activity gain between June and September than those just open on weekends, perhaps due to the certainty that a weekly street closing brings.

Even some of the most active locations saw large variations in growth. For example, Amsterdam Ave. saw just six percent growth in weekend activity between June and September, yet was still the #3 most active weekend spot, while W 46th St saw a 130% weekend surge between June and September and ended #5. While this does reflect popularity, it also reflects the relatively low baseline of activity many of these areas had prior to July and the subsequent opening of streets for restaurants.
New York's activity continues to lag other cities, and much of the activity in Manhattan lags the rest of New York. A general upswing in activity along these streets is a good sign, especially on weekends. Weekend activity is typically leisure activity, a good sign that people are beginning to re-emerge from COVID-related shutdowns. Yet with the potential for more lockdowns and increases in COVID cases, and increasingly colder weeks ahead, it remains uncertain how the program will continue to take shape.