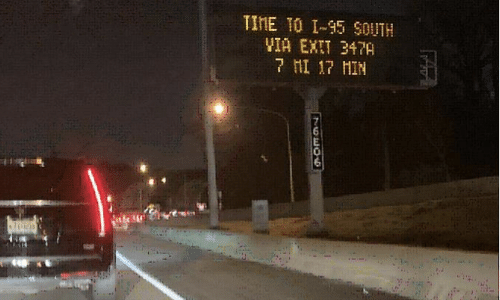 Just a few weeks ago, agencies across the Eastern United States were monitoring and managing Thanksgiving holiday traffic, detecting and responding to incidents, and providing detailed information to travelers via the myriad of ways now available in our increasingly mobile and connected society.  This new normal was anything but normal a decade ago.
2008 was a transformative year – in mobile devices with the opening of iPhone App Store – and for transportation system operations with the launch of the I-95 Corridor Coalition's Vehicle Probe Project (VPP).  The VPP, administered by the University of Maryland under the direction of Coalition and member agency staff, leveraged federal funding to task INRIX to provide real-time traffic for 2,500 centerline miles of interstate and limited access highway in six contiguous states, from New Jersey to North Carolina.  As the prime contractor for the VPP, INRIX launched a real-time traffic data feed and the i95.inrix.com traffic monitoring site, then both first of their kind innovations. Underscoring the innovation of VPP, general media coverage of launch was extensive, including in USA Today, and the front page of the Wall Street Journal.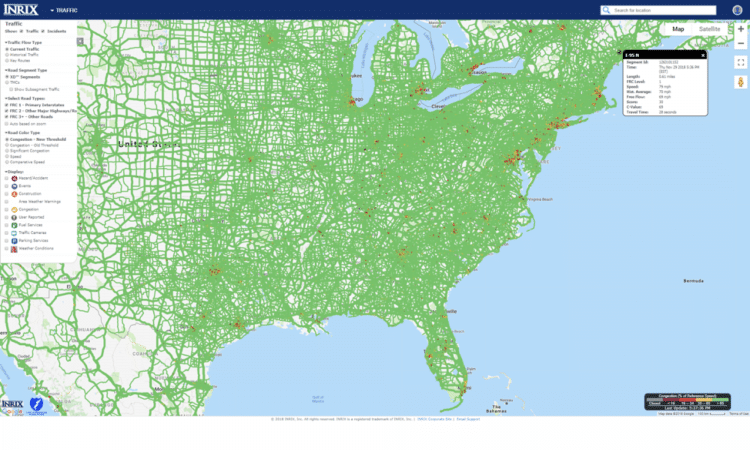 At launch the data had yet to be independently tested. The project was viewed by its sponsors – the Coalition and its participating member states – as an experiment to determine if privately sourced traffic data was "ready for prime time." The Coalition embarked upon the world's most extensive independent data validation effort under the original VPP contract, with more than 40 separate site tests spanning six years across 11 states. These tests verified the accuracy of the INRIX-supplied 'probe data' – first on freeways, then over time on arterial roadways where it became clear that INRIX probe data was in fact ready for prime time.
In 2014 the Coalition evolved the original project into 'VPP2' and continues to offer its members opportunities to access probe data under optimal pre-negotiated services, licensing terms and fees. Fast forward to 2018 – what a difference a decade makes! Across the Coalition region, INRIX now covers nearly 200,000 centerline miles of roads in real-time (of nearly 700,000 miles throughout the United States). Further, every state DOT and Metropolitan Planning Organization (and many other types of agencies) in the U.S. now use probe data that was first proven useful and accurate by the Coalition.
During the early days of the VPP, the Coalition and UMD's CATT Lab pioneered leveraging archived probe vehicle data for planning, project assessment, and performance reporting through the creation of what is now known as the Probe Data Analytics (PDA) Suite, demonstrating that while the initial impetus for VPP was real-time applications, the underlying data is also highly useful in planning and other off-line applications. In fact, probe data supplied by INRIX under FHWA's NPMRDS project is the primary data source for federally required system and freight performance metrics target-setting and reporting.
The VPP has achieved many 'industry firsts' since 2008 (see list below). Today, every winter storm, every evacuation, every holiday, every major incident or work zone that effects the east coast is better managed thanks to the VPP's architects willing to take a risk more than a decade ago.  Their decisions have subsequently transformed the state-of-the-practice in transportation system operations and planning.
INRIX is proud and thankful to work with the Coalition, its member agencies, and UMD in supporting improved operations, information sharing, planning and performance assessment and looks forward to continuing to be part of more industry-firsts over the next decade.
Notable VPP Industry Firsts:
Network Monitoring

Demonstrating the ability to monitor speed/congestion of an entire highway network at a fraction of the cost of traditional detection
Creating consistent and seamless speed/congestion across and between states, regions, and agencies
Introducing a multi-state traffic monitoring web site, now nationwide, with only a browser and credentials required for access

Contracting and Project Management

Establishing comprehensive requirements for privately sourced real-time traffic data, including conducting a world leading validation program to test and ensure data quality
Implementing a 'pay-for-performance' contract, tying payments to validated data quality and availability
Establishing a consistent and publicly available data use agreement giving maximum flexibility to agencies to use, store and re-use data for their purposes

Traveler Information Applications

Using private data to generate travel times on dynamic messages signs for an entire state network