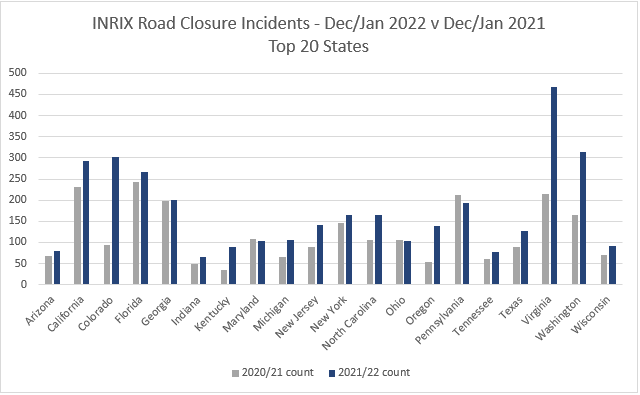 Winter weather has struck again. Across the country, travelers saw canceled flights and blocked roadways as temperatures dropped around the Christmas & New Years holidays. To make matters worse, the Omicron variant spike reduced workforces for most modes of travel, increasing delays and reducing the ability of transportation agencies to clear roadways. Nationally, a snowplow driver shortage exacerbated weather-related closures – limiting key trucking routes and leaving store shelves in many areas bare.
INRIX Incident data reveals the impact weather had the road network. Nationally, INRIX recorded a 24% increase in road closure events between December 20, 2021 and January 9, 2022 versus the same time period in 2020-21. California, Colorado, Florida, Virginia and Washington states led the country, with winter weather severely impacting all but Florida.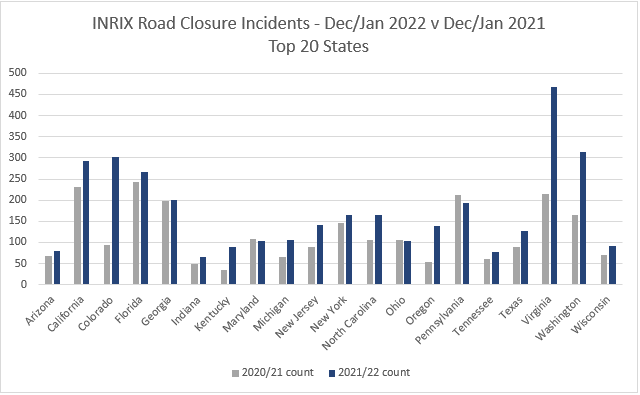 But they weren't alone in feeling the impact of weather:
The wild winter weather has contributed to an already stressful holiday season. Omicron case increases, COVID-related mandates, school closures, supply-chain/port disruptions, inflation, airline cancellations and fuel price hikes continue to weigh heavily on the traveling public.
INRIX greatly appreciates the essential work Departments of Transportation workers are doing to keep our roadways clear during this extraordinarily difficult time.