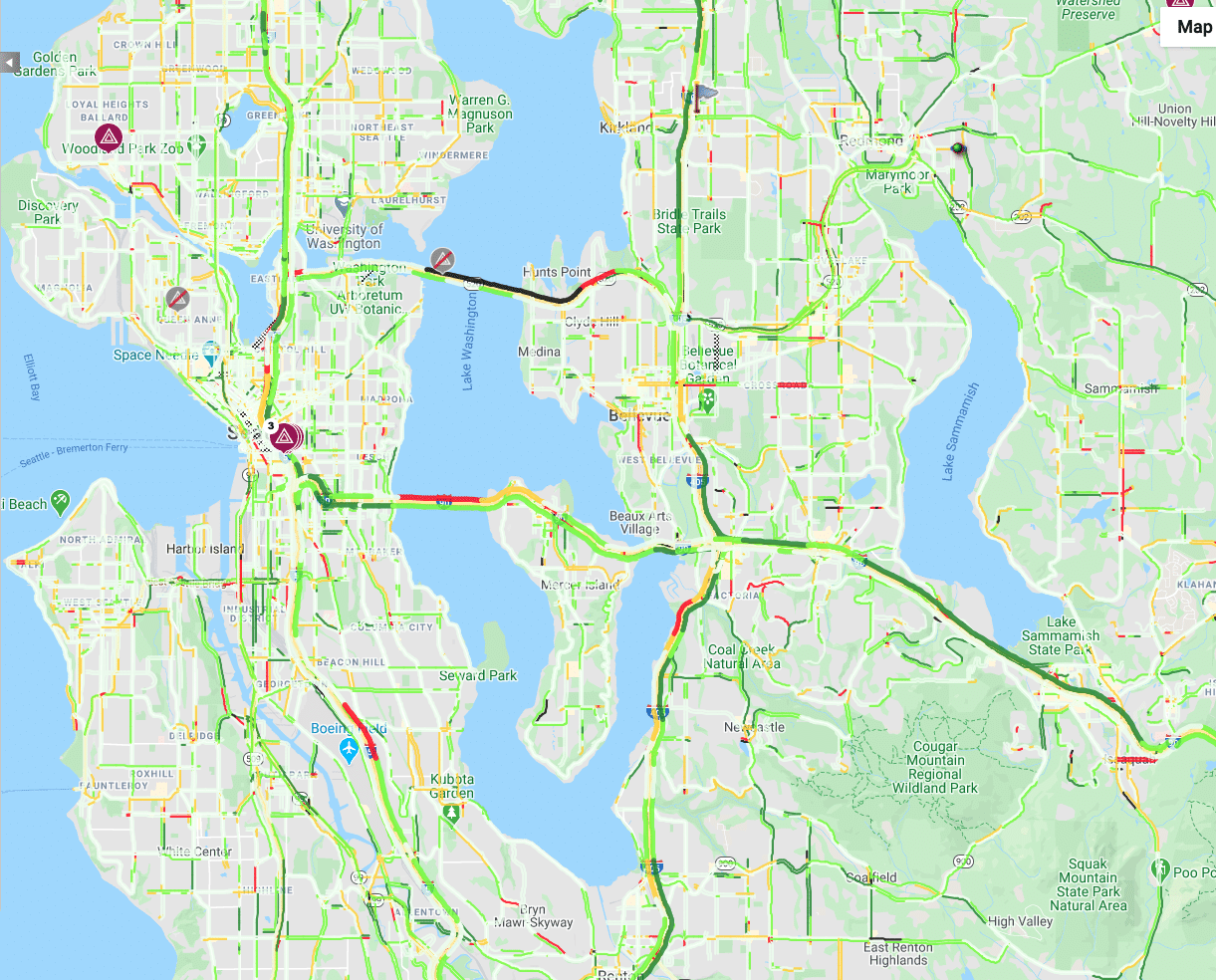 With the outbreak of Coronavirus in Kirkland, a suburb of Seattle, several new developments have taken shape in the area:
King County health officials have now recommended that companies actively encourage their employees to work from home to help contain the spread of the virus.
Microsoft, Amazon and other companies such as Facebook, Tableau and Google in the last 24 hours have decided to follow the recommendation of King County and encourage their employees to work from home.
Although today marked the first day of telecommuting for these major employers in the Seattle metro, a change in commuting behaviors began earlier the week with the closure of several school districts and workers beginning to change their behavior to avoid spread. Highways were already experiencing major performance improvements on Monday, with cars traveling 4-5 MPH faster than average in the morning and approximately 9 MPH in the evening.
| | | | | | |
| --- | --- | --- | --- | --- | --- |
| Major Roadways | Metrics | 7:00-8:00am | 8:00-0:00am | 5:00-6:00pm | 6:00-7:00pm |
| Before | MPH | 44 | 42 | 41 | 50 |
| After | MPH | 49 | 46 | 50 | 59 |
| Difference | MPH Change | 5 | 4 | 9 | 9 |
| Difference | Percent Change | 12% | 10% | 23% | 19% |
Seattle Metro on Thursday at 7:30 AM
At 7:30 AM average travel speeds were more than 10 MPH faster on the major highways in the Seattle Metropolitan area, with the greatest improvements unsurprisingly occurring on I-5 and I-405 which run through Seattle and Bellevue. These are two of the most heavily trafficked corridors to reach Amazon's headquarters in South Lake Union and Microsoft's offices in Redmond. Both cross-lake routes, I-90 and SR-520 also showed significant increases in average travel speeds. Light green corresponds to an improvement in travel speeds of 5-10 MPH, while dark green corresponds to average speeds greater than 10 MPH. Based upon the trend line established Monday, drivers were witnessing free flow conditions during peak hours, or speed improvements of 15-20 MPH.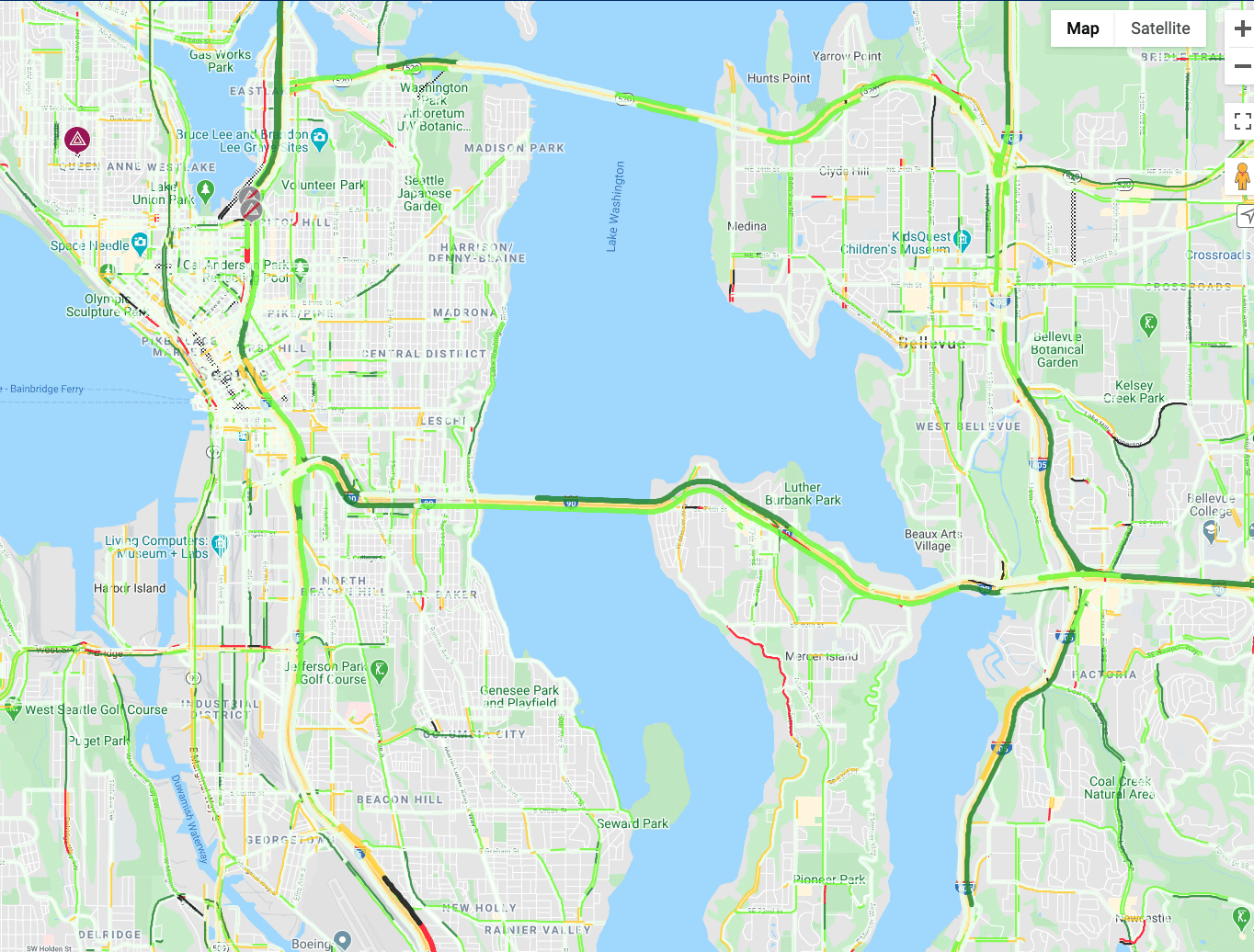 Seattle Metro on Thursday at 8:30 AM
Average speeds continued to remain well above 'normal' overall throughout the region. However, an incident on SR-520 Westbound led to delays higher than average. Even when accounting for this incident average speeds on major roadways were still more than 10 MPH faster than during a typical Thursday Morning Commute.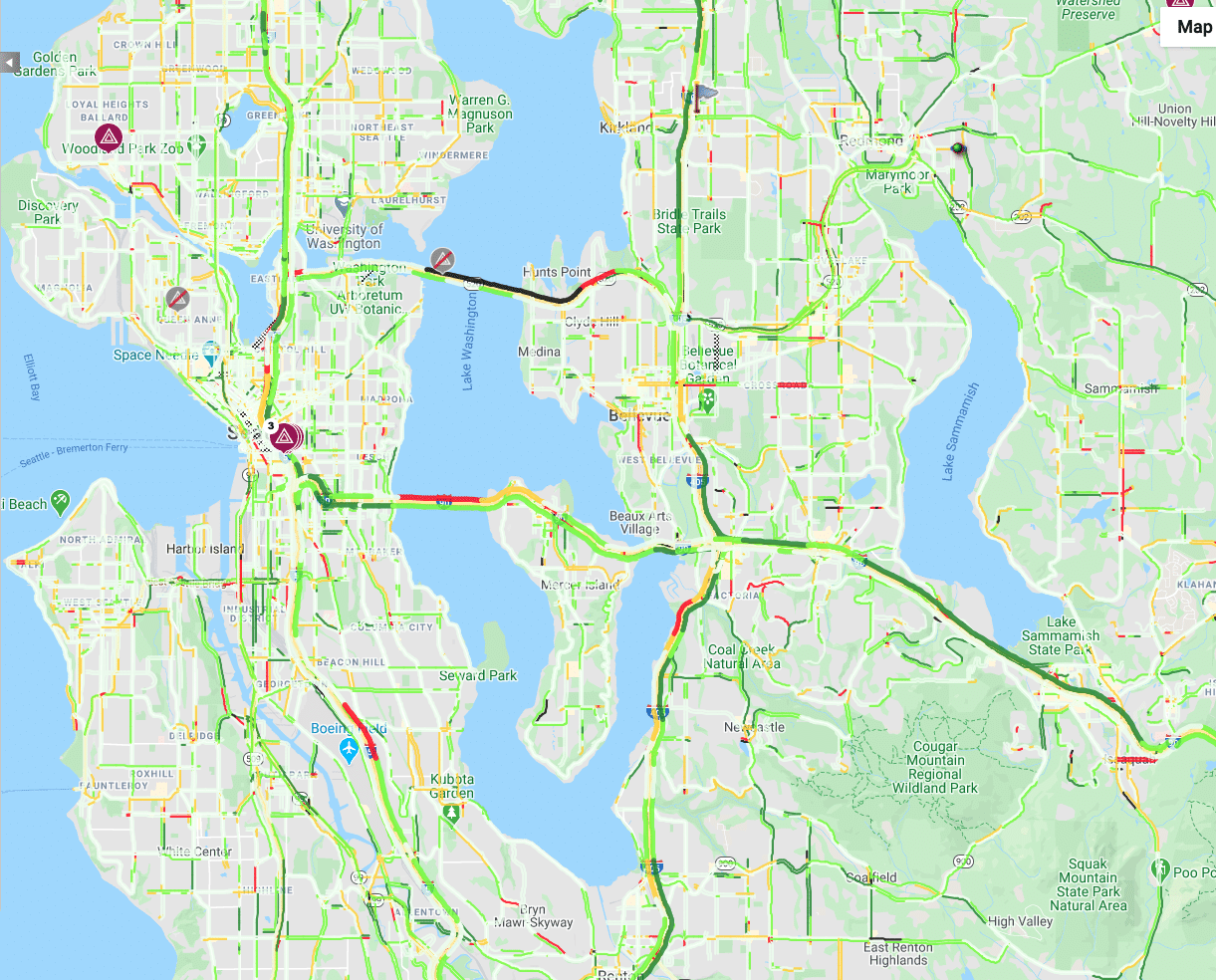 Overall, the shift to telecommuting by the Seattle area's largest employers has had a major impact in average travel speeds with drivers experiencing speeds greater than 10 MPH faster than normal. As precautionary measures continue to be taken, and likely more widely implemented throughout the region, it is likely major time savings for drivers will persist. Long-run, the question will be whether these dramatic shifts will have any residual impact on commuter and business behavior.
Based upon early returns of traffic data for Thursday, it appears travel speeds have increased by 50-100% with work from home policies. As the data processes, INRIX Research will refine these initial findings.