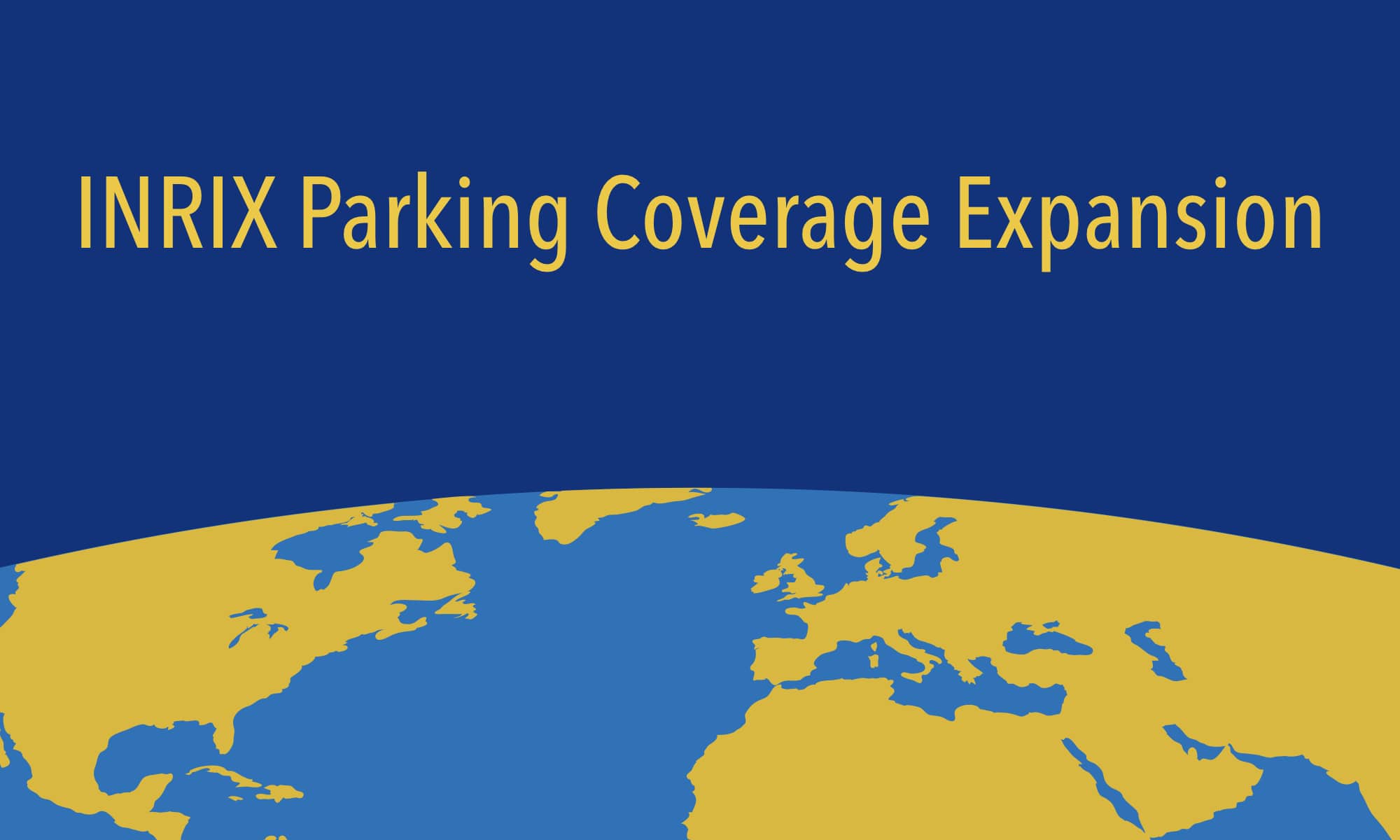 At INRIX, our mission is to ensure that drivers all over the world have the best information possible to help them get from point-A to point-B. Since 2017, our data team has worked hard to drastically increase the size and quality of INRIX Parking data coverage, which now spans more than 15,100 cities in 88 countries.
Massive Expansion of Industry-Leading On-Street Parking Database:
In 2017, INRIX introduced the industry's first real-time on-street parking service in a connected car which uses big data and machine learning to predict the availability of parking spaces. At launch, it was available in 16 German and U.S. cities. Over the past year, we've expanded INRIX On-Street Parking coverage to 339 cities in 56 countries spread across Europe, North America, South America, and Asia.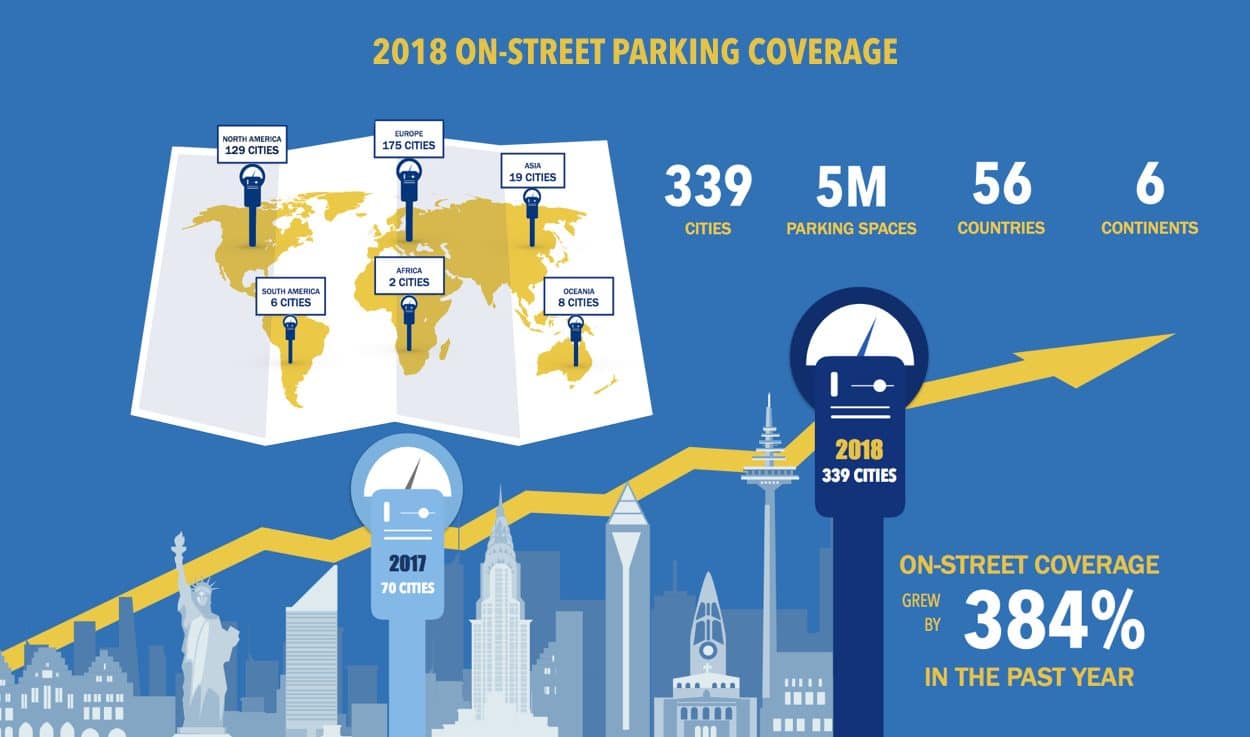 INRIX added tier 1 on-street coverage in 6 new countries, including the United Kingdom, France, Spain, Sweden, Norway, and Russia while also increasing our footprint in existing. Overall, we added on-street parking information in 48 new countries, covering 269 new cities.
INRIX Doubles Down on Off-Street Parking Coverage:
In an effort to give drivers more parking options than ever before we doubled the size of INRIX Off-Street Parking, adding more than 100,000 new lots.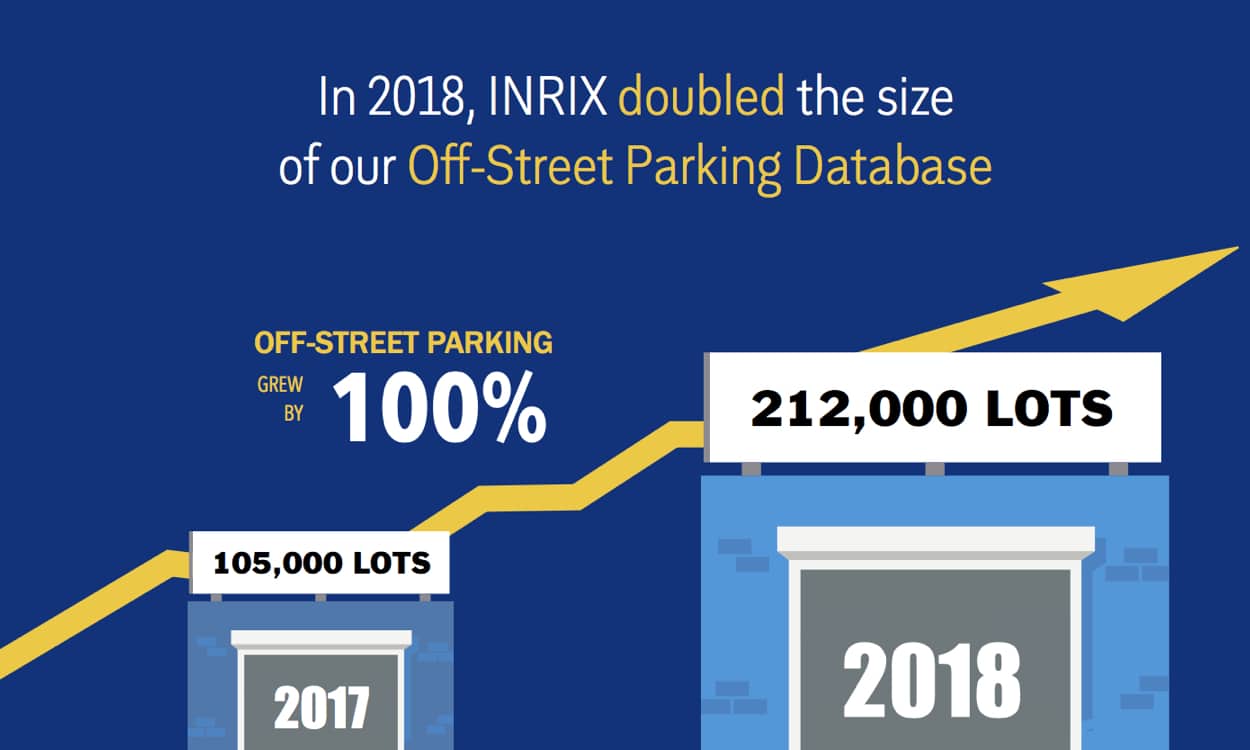 INRIX collects information on more than 90 lot attributes, including critical information like entrance points, rates, hours of operation, restrictions, and amenities provided. Drivers have many different parking preferences but INRIX can help each individual find the perfect spot for their needs. Whether you need cheap airport parking with complimentary shuttle service or a location that provides EV charging – INRIX Parking has you covered with robust data on more than 212,000 parking locations in 15,140 cities across 88 countries.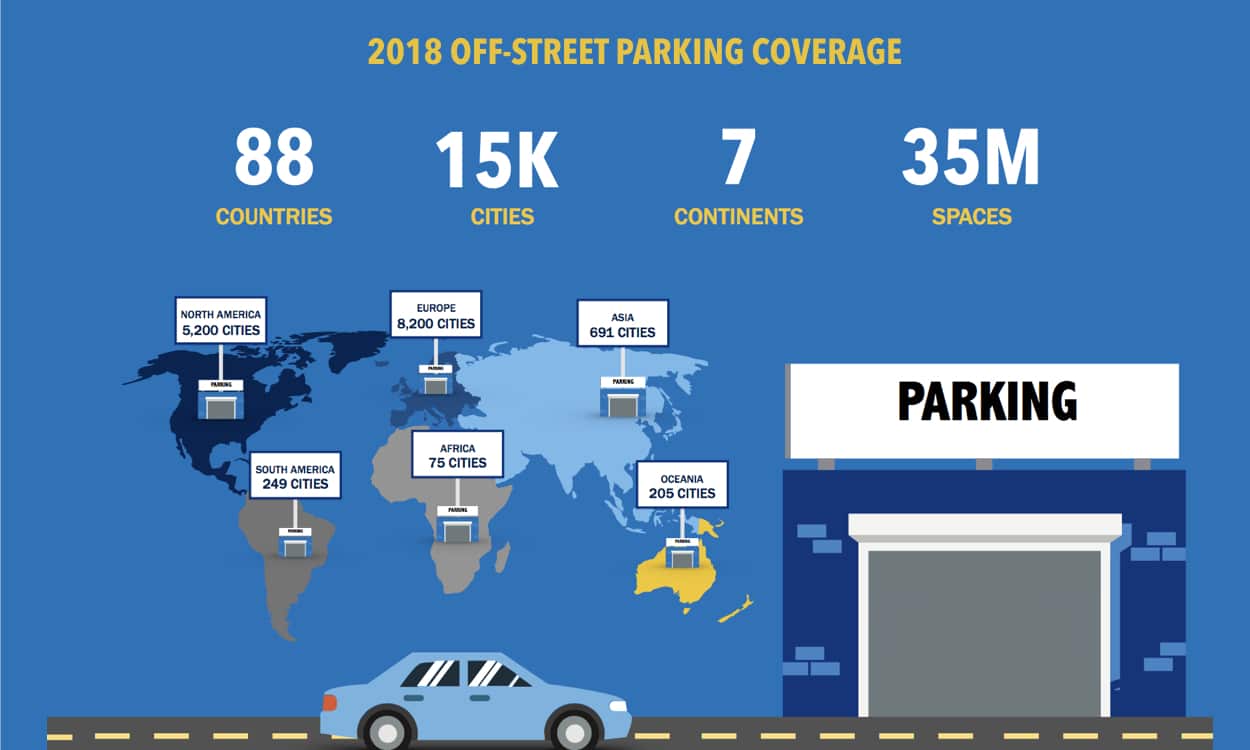 Our parking research found that 90% of drivers want dynamic real-time parking availability information, making it an important feature for automakers and developers who want to add parking to their navigation services. In order for parking data to be truly useful to drivers, there must be robust dynamic coverage to communicate not only where parking exists, but where parking is currently available in real-time.
INRIX provides dynamic off-street parking occupancy predictions using big data, machine learning, and sophisticated algorithms to help drivers avoid overcrowded parking lots. Dynamic off-street parking occupancy predictions are now available for a majority of lots in all cities where we have coverage.
In-Field Team Exclusive Partnerships Ensure Accuracy
Last year, our street team has walked more than 86,000 km, equal to walking around the planet Earth– TWICE!
To ensure we have the highest quality and most reliable parking data we have over 100 team members that work to collect data remotely and on-the-street. Street team members literally walk an entire city to collect new parking data and verify existing locations.
INRIX receives parking data from over 300 API integrations, as well as ​our exclusive relationships with large parking operators like APCOA, ABM, Colonial, and ICON. Our parking management dashboard is used by cities and operators to update their parking information instantly which helps INRIX keep our data fresh.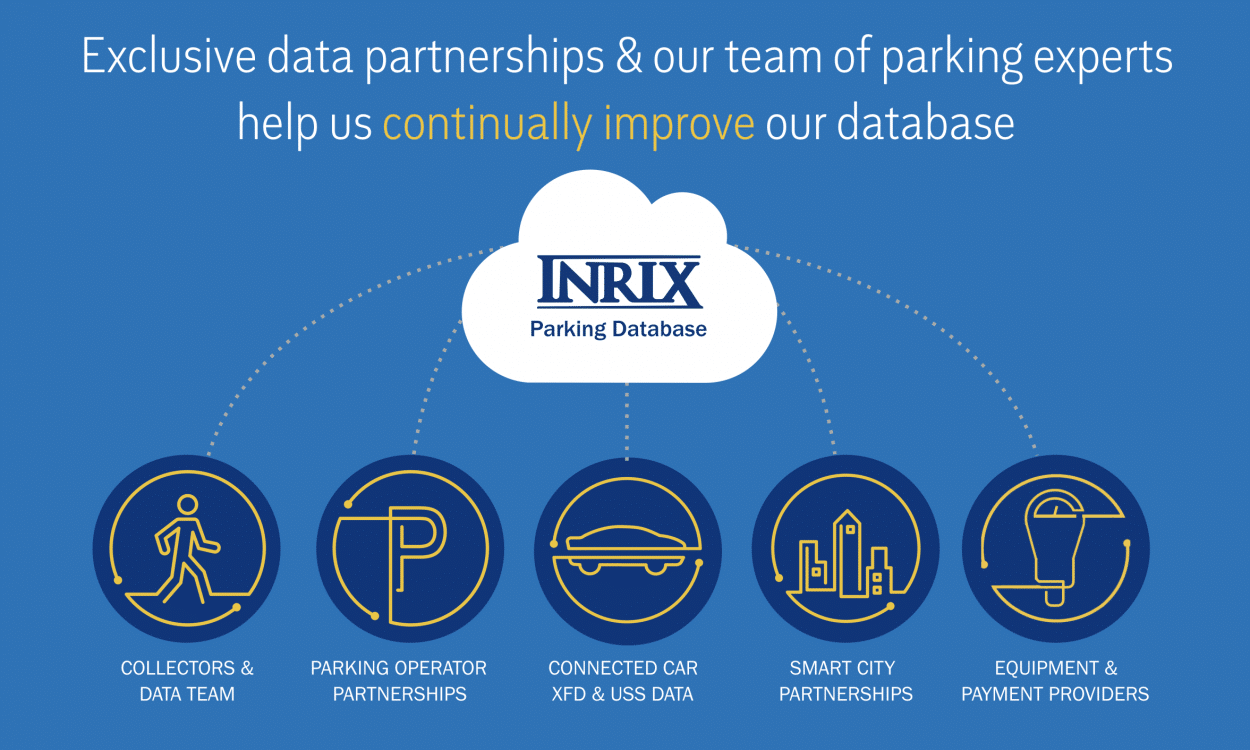 For example, our recently announced our partnership with APCOA Parking Group, the largest European parking operator, to exchange parking information, provides INRIX with access to information from 1.4 million parking spaces at over 9,000 locations in 13 countries. This data feeds into the INRIX Off-Street Parking service and gives European drivers the best possible parking experience.
We also work with a wide variety of parking payment companies like Parkmobile, PayByPhone, SpotHero, cities like Dallas, Dubai, and Miami Beach, and hundreds of parking operators like Citizens, Ace Parking, ICON, and ABM to aggregate and refine our data into a seamless parking solution for drivers.
Additionally, INRIX employs hundreds of data collectors around the world who take random samples to audit our quality levels. By testing the accuracy of key attributes like availability, rates and hours of operation, we can rank cities based on current quality levels and flag areas where we might need to make some updates.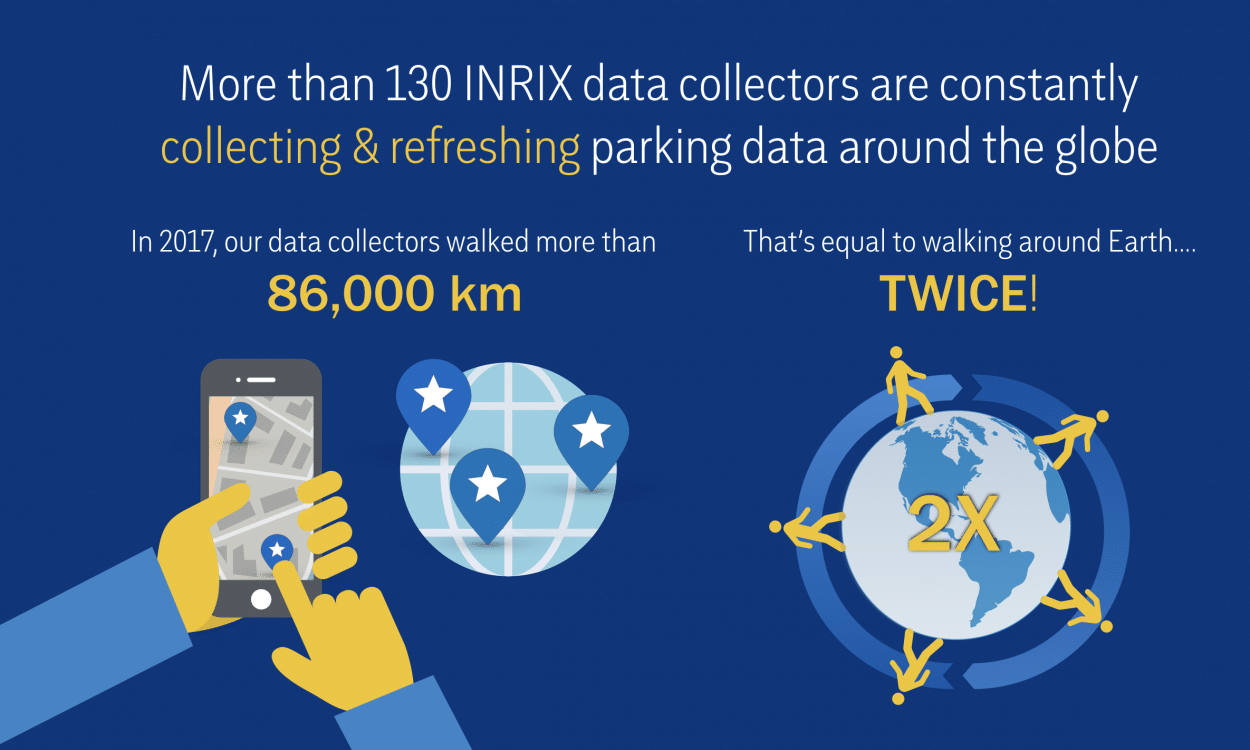 High Quality Parking Information to Ensure Driver Satisfaction:
INRIX is the only parking provider on the market that has been Automotive SPICE® certified by a 3rd party, demonstrating our commitment to quality.
INRIX uses the most stringent quality metrics in the industry to ensure INRIX Parking has the most accurate parking data available. Our on- and off-street data team is the largest in the industry and works to ensure our parking data is up-to-date. The INRIX Quality Team uses standardized KPI metrics to benchmark the quality of our product, then verifies their findings with regular ground truth tests and machine learning algorithms help us ensure our products meet the needs and quality automakers are looking for.
Parking data is verified using API data feeds, phone inquiries, ground truth testing, information from cities and parking lot operators, input by clients on our operator dashboard, street-level & satellite imagery, and ParkMe app user updates​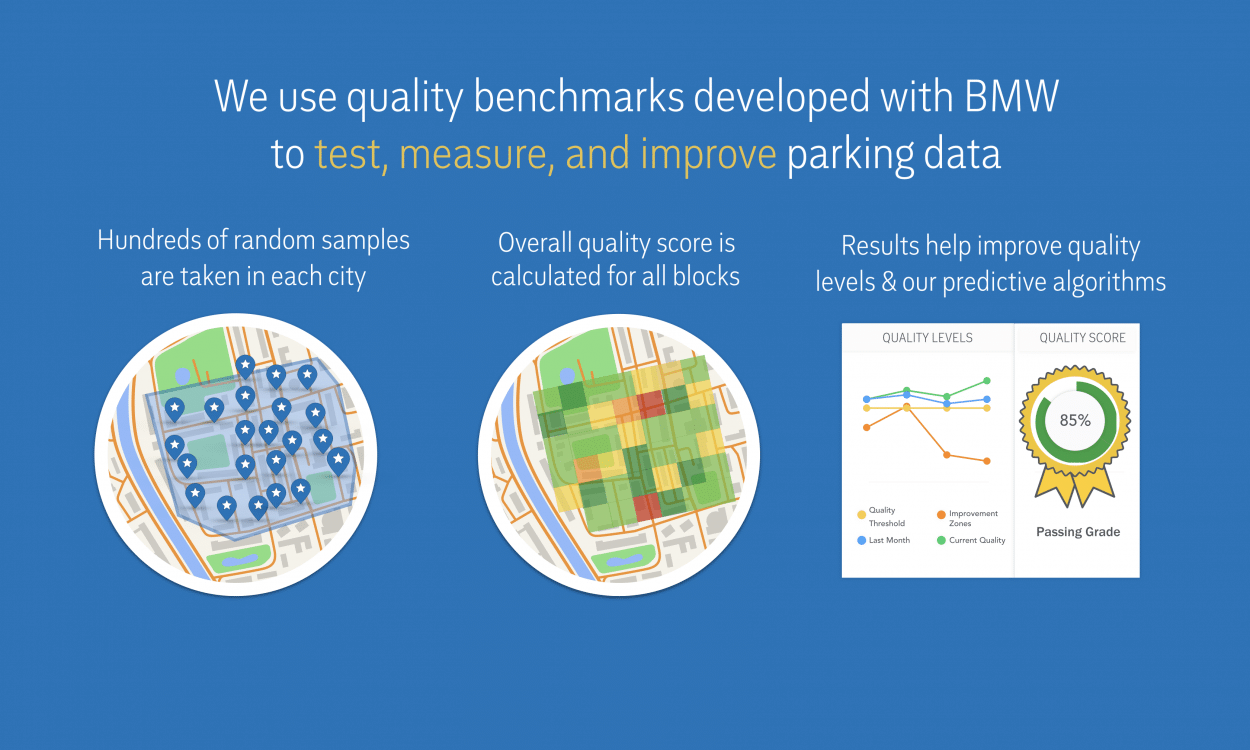 Sophisticated data science and machine learning are used to identify the decay of lots and focus resources on specific areas of need​ to ensure that all lots and blocks are frequently updated and remain accurate.
Unfortunately parking difficulties can't be solved overnight but INRIX is working hard to improve the experience – both in coverage and quality – for drivers all over the world.
Check out our INRIX Parking Coverage Infographic for more information or reach out to us busdev@inrix.com
Reach out or visit our INRIX Parking API documentation page if you are interested in licensing the world's most comprehensive parking database.