Find out why hedge funds, financial institutions and investors are increasingly relying on alternative data like location intelligence in these times of uncertainty.
The Rise of Alternative Data & Location Intelligence
Finance professionals have long used data to limit the risks of their investments. Over the last few decades, that data has come in the form of quarterly earnings, shareholder letters, SEC filings, customer credit scores, press releases, and more. But these traditional data sources alone are no longer sufficient to make accurate investment and trade decisions.
Increasingly, the finance industry is embracing alternative data sources. In their joint report Casting the Net, AIMA and SS&C found that 53% of all surveyed hedge fund managers were already using alternative data. They use alt data in a wide variety of ways: to outperform index funds, optimize portfolio allocations, manage risk, source investment opportunities, and more.
Two powerful forces drive the adoption of alt data. Firstly, the emergence of big data. In their 2018 report, the IDC estimated that the global datasphere would grow from 33 zettabytes in 2018 to 175 zettabytes by 2025. To put this in perspective, one zettabyte is a trillion gigabytes. Combine this with machine learning algorithms capable of crunching all this data and you have something that can give finance professionals the edge they're looking for.
What is Alternative Data?
According to Krishna Nathan, CIO of S&P Global, "alternative data draws from non-traditional data sources so that when you apply analytics to the data, they yield additional insights that complement the information you receive from traditional sources".
Alternative data comes in many forms, from web crawled data to social media sentiment to even weather patterns. One of the more reliable and useful types of alternative data is location intelligence (LI). Everything happens somewhere. By understanding the flow of traffic and people location intelligence can give you unique insights into the health of an economy, an industry, and even an individual company.
What is Location Intelligence?
Location intelligence isn't just raw data. It means gathering, analyzing, and transforming many sources of geospatial data into a collection of insights to better understand the movement of goods and people to solve a variety of business challenges. Examples of geospatial data sources are GPS or Probe data to track vehicles or cell tower data to anonymously track smartphones.

Location intelligence is equally useful on many different levels of an economy. That's why it has so many potential use cases: the federal government uses LI to understand which parts of the country need economic stimuli, transportation planners use LI to understand how they can alleviate congestion in their cities, financial services use LI to determine where they should open a new shop, and so on.
What Types of Location Based Data Can Help Investors and Financial Analysts?
There are many different types of location based data that can be used to provide insights into economic trends but 2 of the more powerful ones are Trips Insights and Visits Insights. 
Trips allow you to understand the flow of traffic around the world. A measure such as vehicle miles traveled gives you insight into the general health of an economy, while the data around passenger trips, freight, and local fleet trips give you insights into the health of various industries and the shipment of goods.
Visits help you understand the footfall traffic of a particular area. This can be a shopping mall, a cinema complex, or even a single store. Depending on your area of focus in finance, this can help you decide whether to invest in an IPO, how much competition a brand faces, whether to allocate more money to REITs in your portfolio and more.
How Can Finance Professionals Use Location Intelligence?
Location intelligence gives you a holistic overview of an economy, a state, a region, a city, and a company. While it shouldn't be used on its own, it is a powerful complement to the data sources you already use that can give you the financial or operational alpha you're looking for. 
For example, if you're considering investing in a manufacturing company's IPO, but traffic to their factories has been decreasing over time, would you still invest? At the very least, you would reconsider.
Here are a few more examples but there are endless ways that location intelligence can be used to analyze industries and uncover hidden market trends:
Analyze Manufacturing Activity:


Location intelligence can help you monitoring employment at manufacturing plants to forecast whether the stock of the companies could go up if production increases or down if the number of workers declines

Monitor Natural Resource Mining:


Location intelligence can also provide insights into the number of people at mining facilities and quarries to determine if production is increasing and if that is reflected in the current stock price

Understand Buyer Behavior:


LI also gives you the power to compare the activity in retail stocks with the foot-traffic of shoppers at retail stores. If share prices are down but store traffic is up, portfolio managers might use that as a reason to increase their holdings, to gain returns if the share price goes up when same-store sales figures are released.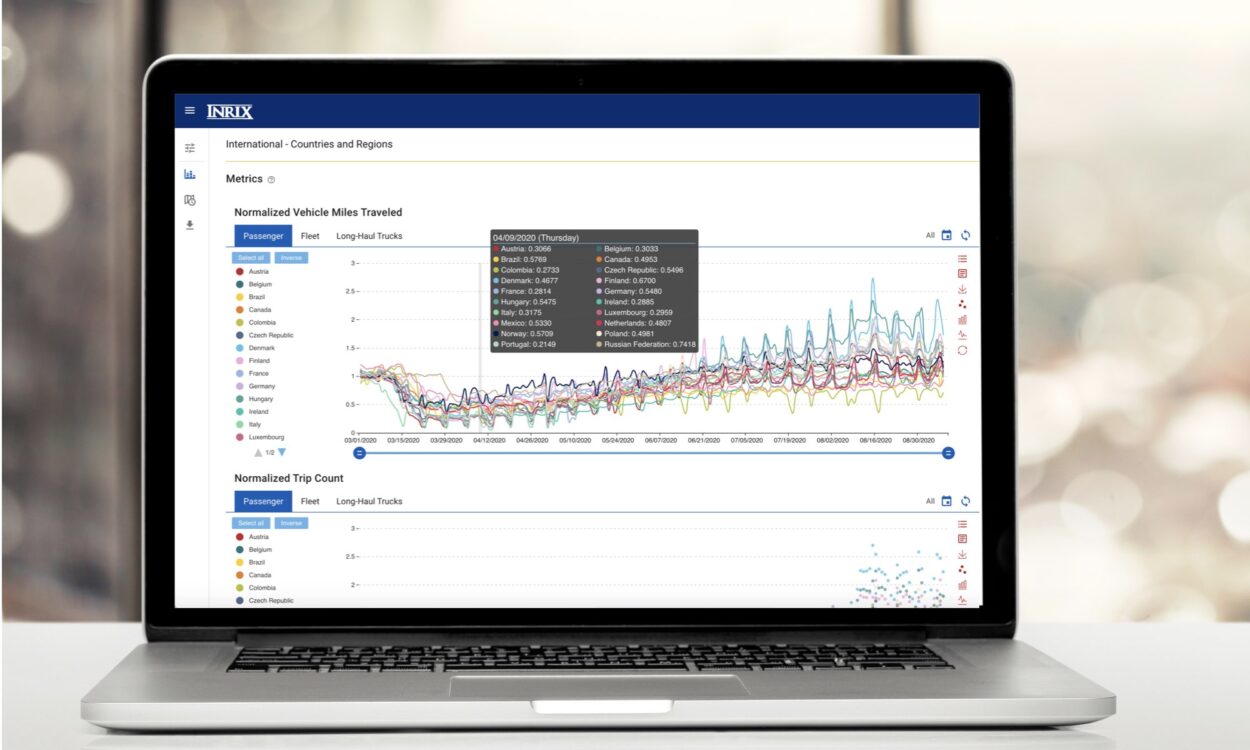 (ABOVE: INRIX Trip Trends helps investors quickly analyze, monitor, and measure transportation trends to gain insights into economic recovery)
The good news is that many parking companies are already seeing a resurgence as stay-at-home orders are being lifted and now their businesses are better positioned to provide a safer, more frictionless parking experience in the post-coronavirus era.
INRIX is Helping Finance Professionals Take Advantage of Location Intelligence
INRIX provides tools that present location-based data and insights in an intuitive and easy-to-use way. Our tools make it easy to visualize relevant geospatial data on a map while also giving you the ability to generate relevant reports with location analytics.
We can help you uncover trends and business opportunities that traditional data sources or unstructured alternative data sources miss.
Get this free ebook to learn what location intelligence (LI) is and how it can financial professionals make better investment and trade decisions.
To learn more about our powerful location intelligence solutions can help you make smarter trade and investment decisions visit: https://inrix.com/industries/financial-services/