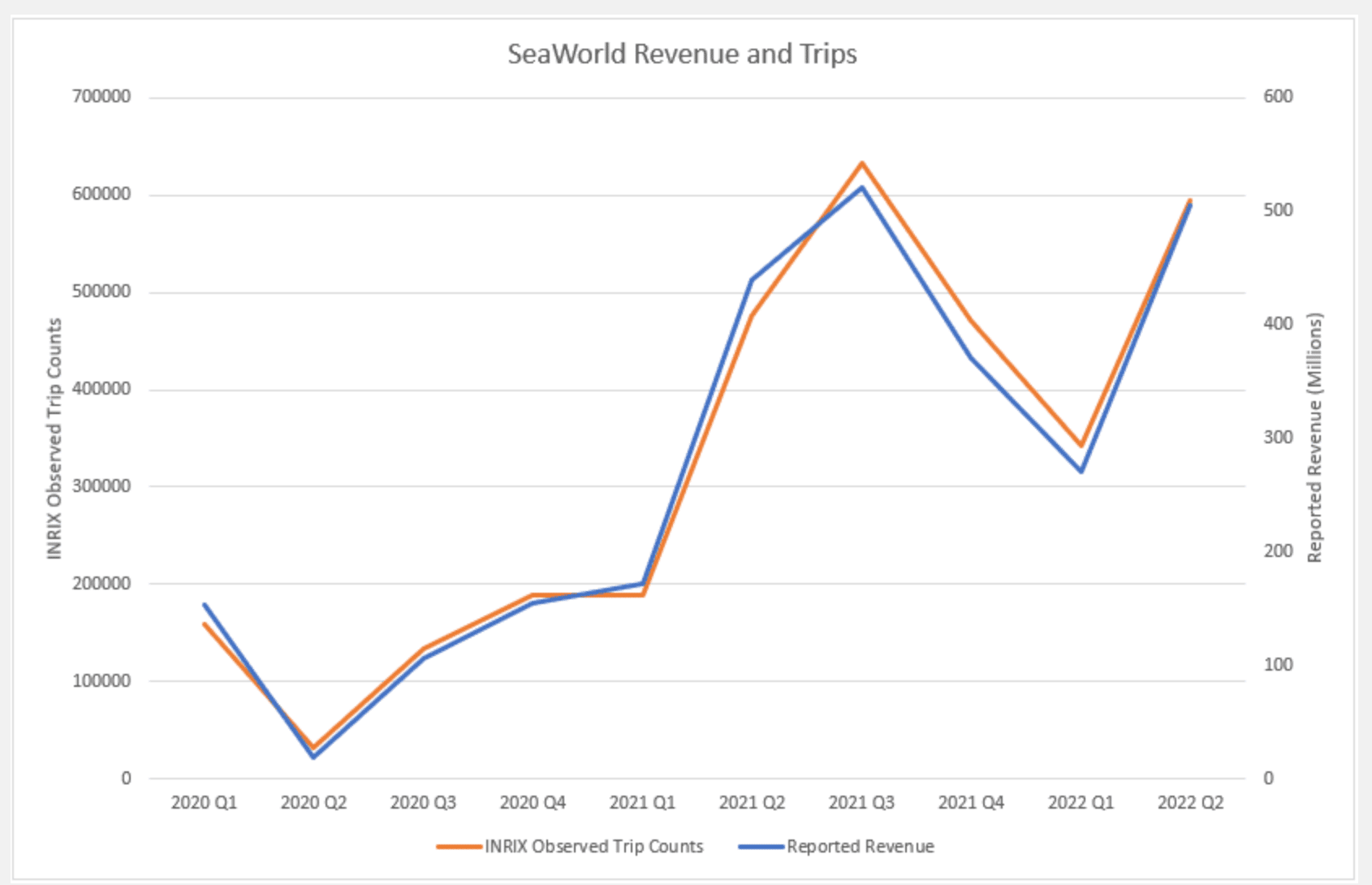 Guest Post by Phil DeFrancesco, Head of Product – Financial Services, INRIX
As the former Head of Trading for one of the world's largest hedge funds, I understand the importance and difficulty of identifying ways to gain an edge over my competitors when picking stocks. This "edge" also needs to be concise, repeatable, and not disruptive to my current workflow – and Alternative Data provides an opportunity to gain such an edge.
It's not surprising that the Alternative Data industry is projected to grow as these datasets present a different lens to analyze investments. According to Grandview Research, Alt Data will grow at ~50% CAGR over the next 5 years. More importantly, this is why I am excited to introduce a brand-new solution that we are bringing to market within one of the hottest Alternative Data industries, Geolocation.
Geolocation analyses typically includes dispersed locations such as retail stores, manufacturing facilities, sea/airports, hotels, theme parks. Analyzing companies – public or private –can be tedious, since every single location for a specific brand needs to be identified, geofenced, and then processed. At INRIX, we look to take that burden off our clients' hands.
With the introduction of INRIX Trips Plus, smart investors now have access to connected vehicle and mobile device data to help identify trading opportunities. Understanding passenger or fleet activity around key places has shown high correlations to important KPIs such as revenue, inventory movement, and manufacturing.
To help simplify how our clients can access this valuable connected vehicle and mobile data from their location/brand of choice, INRIX has joined forces with SafeGraph, a leader in global point-of-interest (POI) data. This partnership will enhance INRIX's robust passenger and fleet connected-vehicle dataset by incorporating SafeGraph's U.S. POI data directly into our database along with hundreds of US tickers and 7,100+ brands, as well as CUSIPs and ISINs. Analyzing geolocation data has never been easier!
Trips Plus with SafeGraph Places helps clients simply identify which companies or locations they would like to analyze. For example, a potential investor wants to analyze passenger car activity across the entire TJ Maxx brand (ticker: TJX). Sounds simple enough, but it is not that straightforward. This publicly traded company consists of 3,400+ locations across the U.S. spread out over multiple brands (ie. TJ Maxx, Marshalls, HomeGoods, etc.). With Trips Places' tickerized solution, investors can now be done with the proverbial click of a button.
There are literally thousands of use cases! Some other examples include tracking vehicle traffic at hotels, casinos, theme parks, or even ski resorts. How about monitoring truck activity around manufacturing facilities, warehouses, distribution centers, seaports, airports, etc. Other popular searches are FedEx warehouses, Amazon distribution centers, Six Flags theme parks, Caterpillar manufacturing facilities, McDonald drive-thru's, privately owned car washes…the opportunities are endless!
For example, the charts below reveal that INRIX trip counts follow closely with reported revenue of Six Flags and SeaWorld since 2020.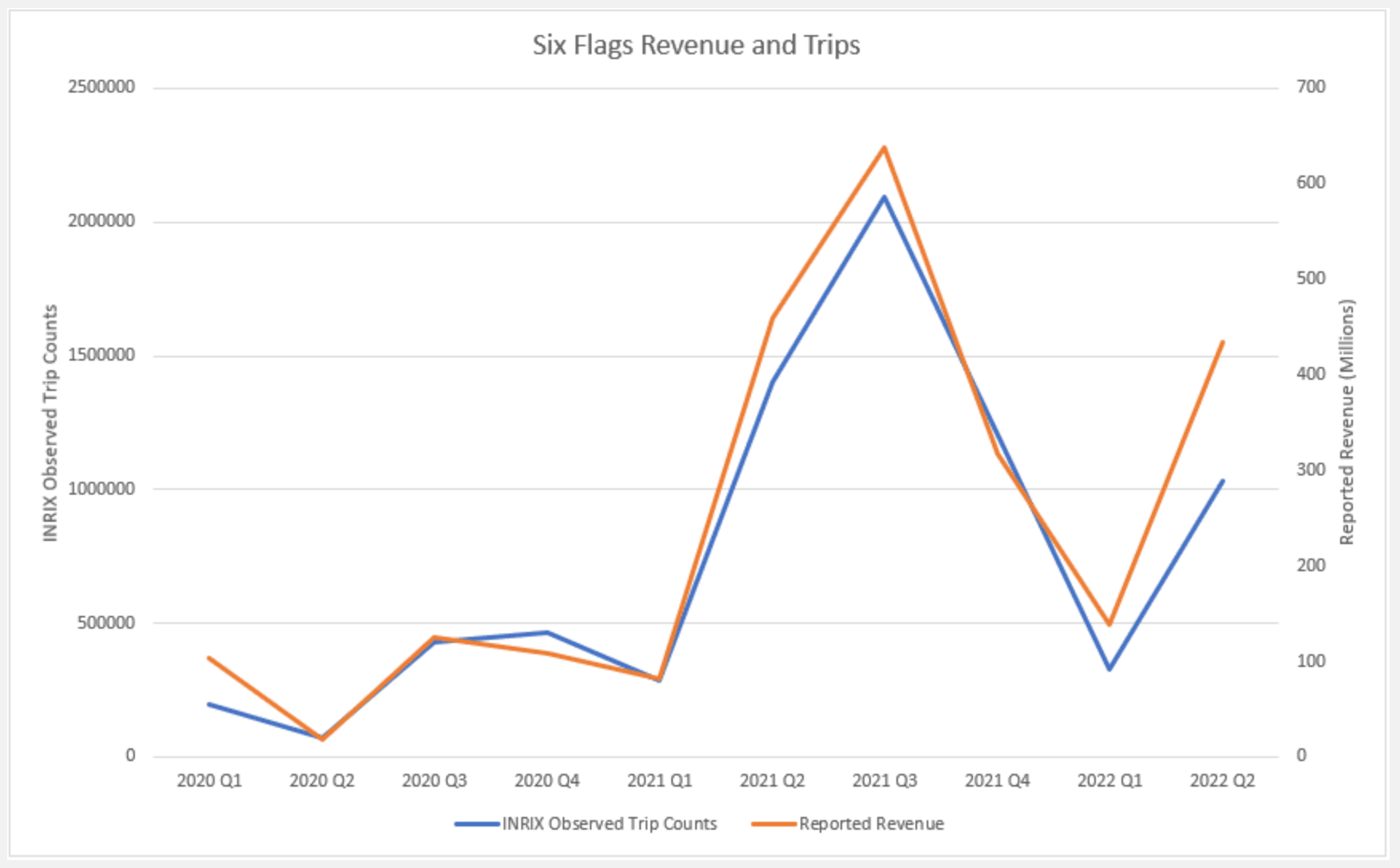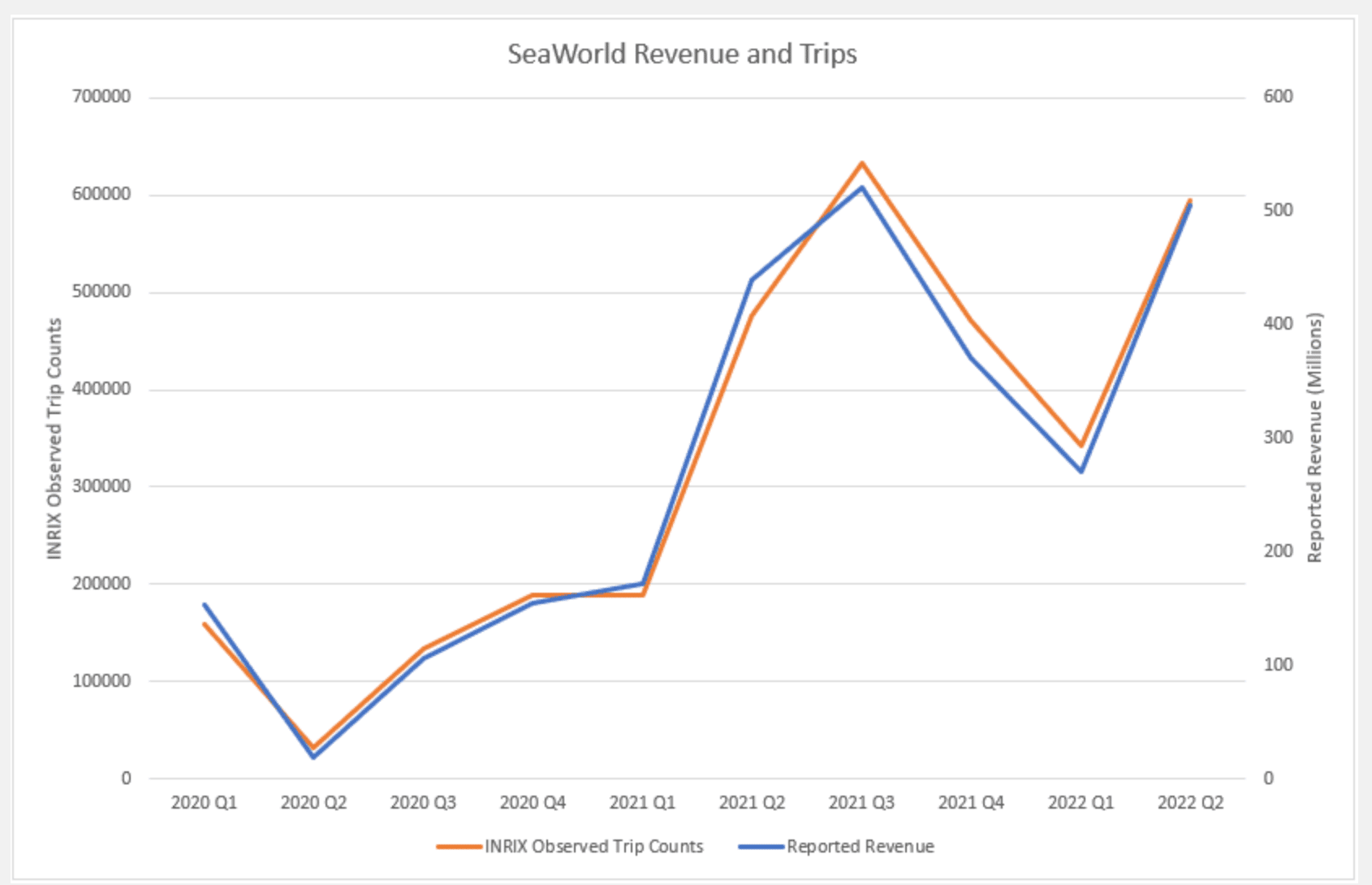 With the nearly 12 million POIs now in our database, incorporated with hundreds of millions of passenger, fleet, and mobile datapoints ingested daily (~14% of all US vehicle miles traveled), Trips Plus will certainly look to revolutionize the Geolocation alternative data industry.
Email us at FinServ@INRIX.com to find out more on how Trips Plus can work for you. If you're attending NeuData's New York Data Summit on December 1, stop by the INRIX table to learn more.