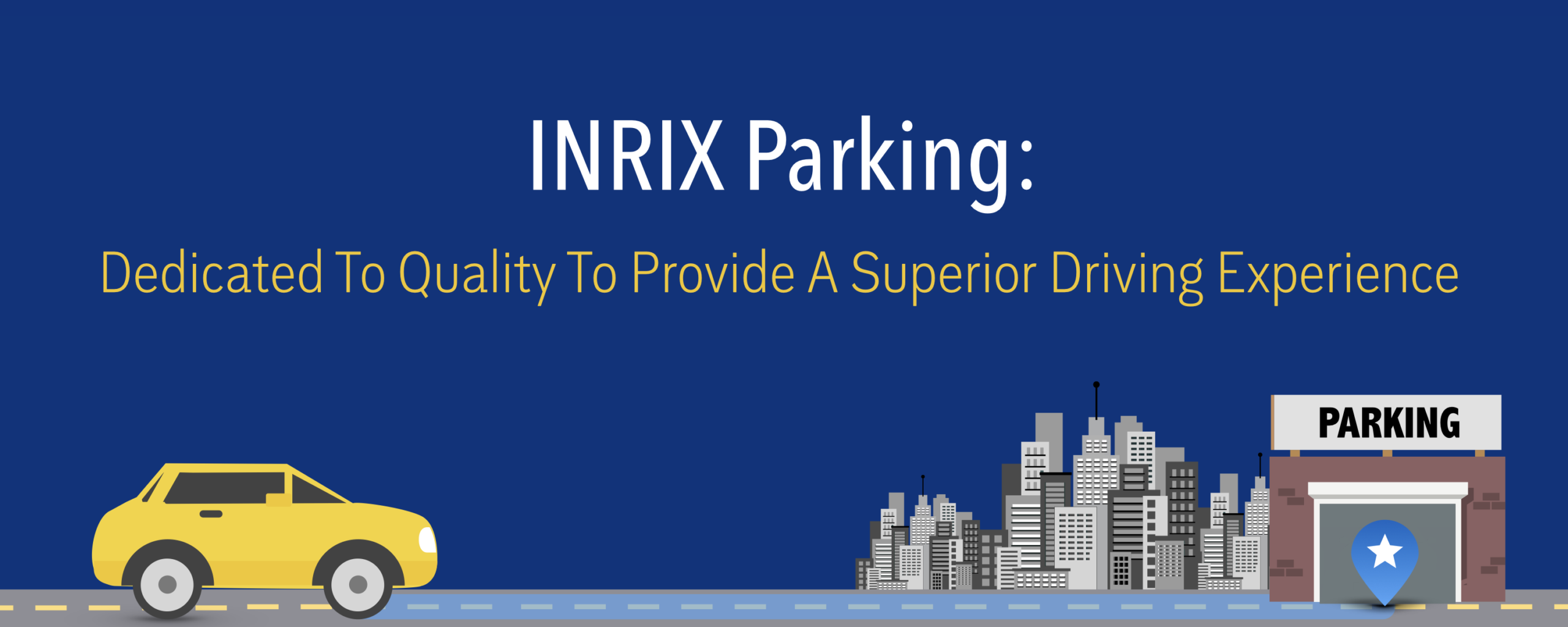 The parking industry is as old as the car itself, and generates more than $100 billion globally. Despite some consolidation and technological enhancements in recent years, the industry remains highly fragmented, posing challenges and significant barriers for those looking to integrate parking into their platforms.
INRIX is the largest aggregator and distributor of parking information, with comprehensive data on over 212,000 locations in more than 15,000 cities spanning 88 countries. We pride ourselves on building and maintaining high quality products – and parking data is no exception. With over 8 years of experience, we believe we have mastered the art of building the highest quality parking database and we are continually learning and improving our methods. The following post highlights some of the most critical areas that have been key to our success.
Data Standardization:
Not surprisingly, the highly fragmented parking industry has very little standardization. Parking data varies from lot to lot, city to city, and country to country. INRIX focuses on collecting data on hundreds of key attributes that we've identified as having the most value for drivers who are searching for parking. This includes basic parking information (in the industry we call it 'static data') like hours of operation, payment types accepted, and entrance points. We also collect 'dynamic' information such as occupancy and transaction data to that is used to help drivers find open spots with our real-time availability service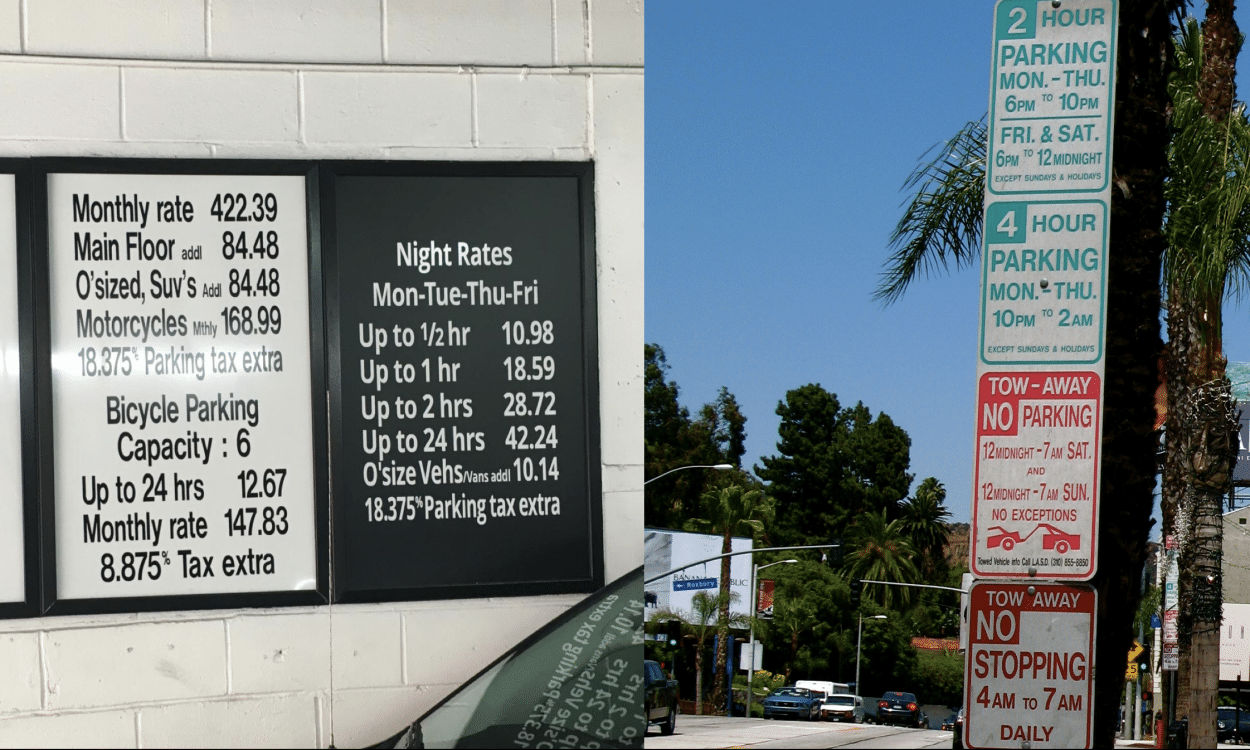 Parking signage can be very confusing for drivers to understand, but all the data that INRIX collects is entered into our database in a standardized format, allowing rate and restriction information to easily be parsed and sorted. By standardizing parking information, INRIX not only makes it easy for drivers to compare parking options but also makes it easy for automakers and developers to ingest our data via the INRIX Parking API.
The INRIX Rate & Restriction Calculator uses natural language processing tools to simplify parking signs into easy to understand answers like "can I park here for 3 hours" and "how much will that cost?".
Data Partnerships With Parking Industry, Cities, & Automakers:
When collecting data from an industry as fragmented as parking, it is important to work directly with the parking companies to ensure a constant flow of fresh data. INRIX already partners with some of the largest parking companies in the world, such as  Citizens Parking in North America and APCOA in Europe, to set up direct data feeds. There are thousands of parking management companies, so partnering with major parking operators along with smaller regional ones makes it easier for us to fill in the gaps with our fleet of global data collectors.
In addition, INRIX partners with a variety of parking equipment makers, payment providers, automakers and cities to collect massive amounts of Big Data that is used to predict which streets/lots will have available parking. Because parking equipment and payments don't typically cover an entire city, INRIX uses probe data, machine learning and predictive algorithms to expand our coverage footprint.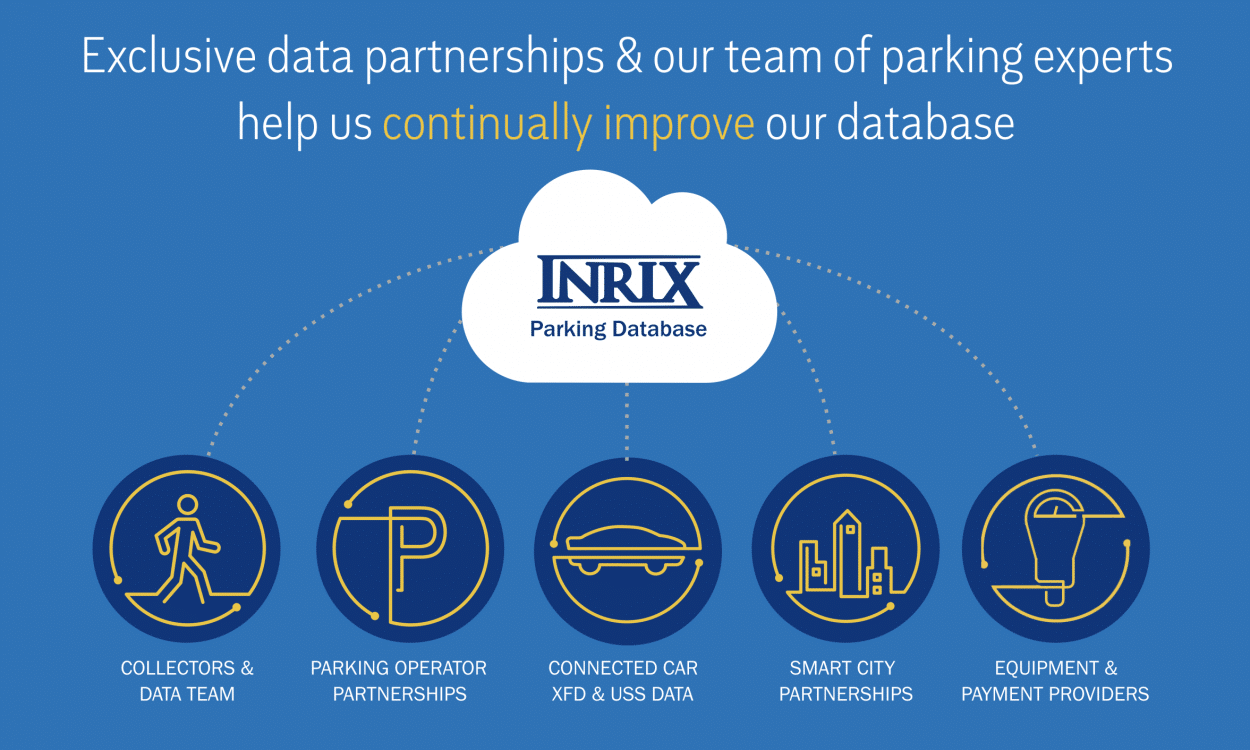 Innovative Technology To Collect & Improve Data:
INRIX is constantly working to develop new technologies to get more raw data to enhance the quality of our products. For example, we recently launched our Ultrasonic Sensor Parking Availability Technology which gives us the ability to collect parking data directly from a connected car's sensors. As a car moves down a street, ultrasonic sensors transmit sound waves and collect data on parked cars and empty spaces. This data is then sent anonymously to the cloud to be analyzed and combined with our existing parking availability prediction engine to determine block-by-block occupancy levels.
Other parking data sources can be unreliable and are expensive to maintain, but by pulling real-time information spot by spot from cars, INRIX is able to improve accuracy and provide a scalable parking solution for automakers and cities.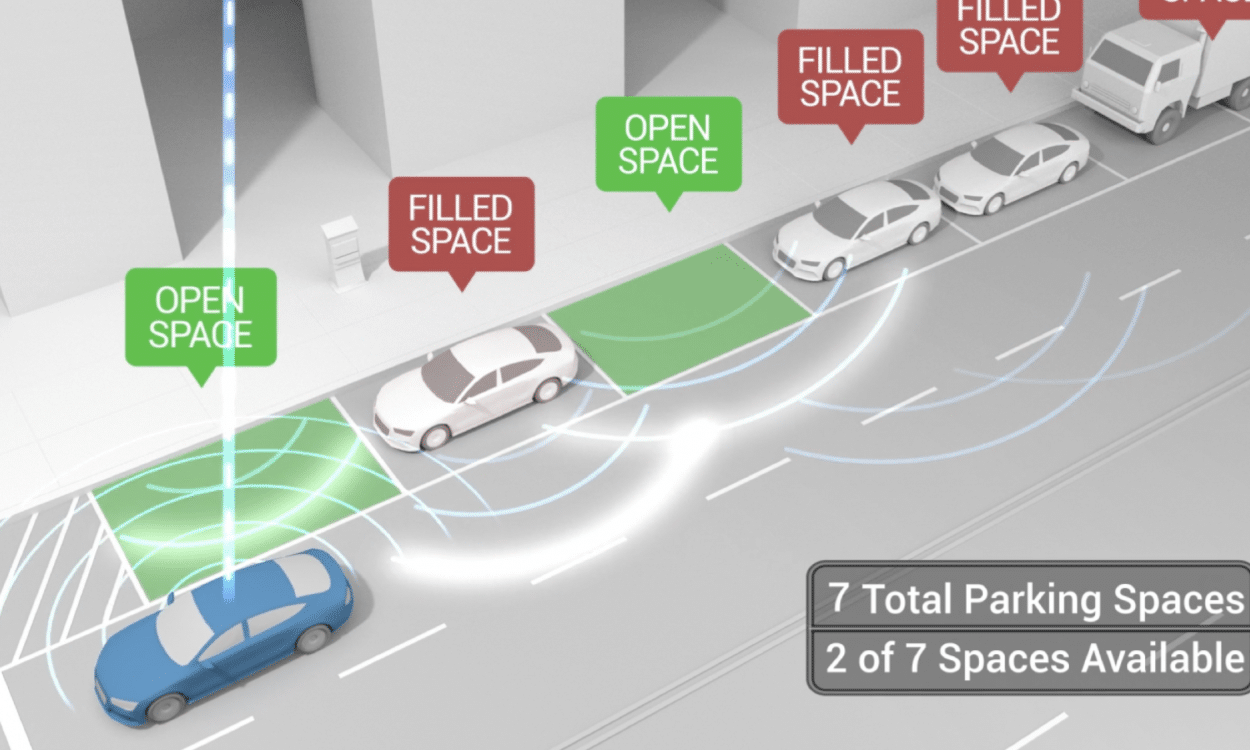 Highly Skilled Data Team Continuously Collecting Data:
At INRIX, we have a highly specialized team of true parking experts that includes data collectors, database managers, data scientists, engineers, and business development executives. Each team member serves a valuable role, contributing to building and maintaining the world's best parking database. Our understanding of the global parking industry helps us navigate this complex eco-system to bring the world of parking to drivers through a complete, end-to-end solution.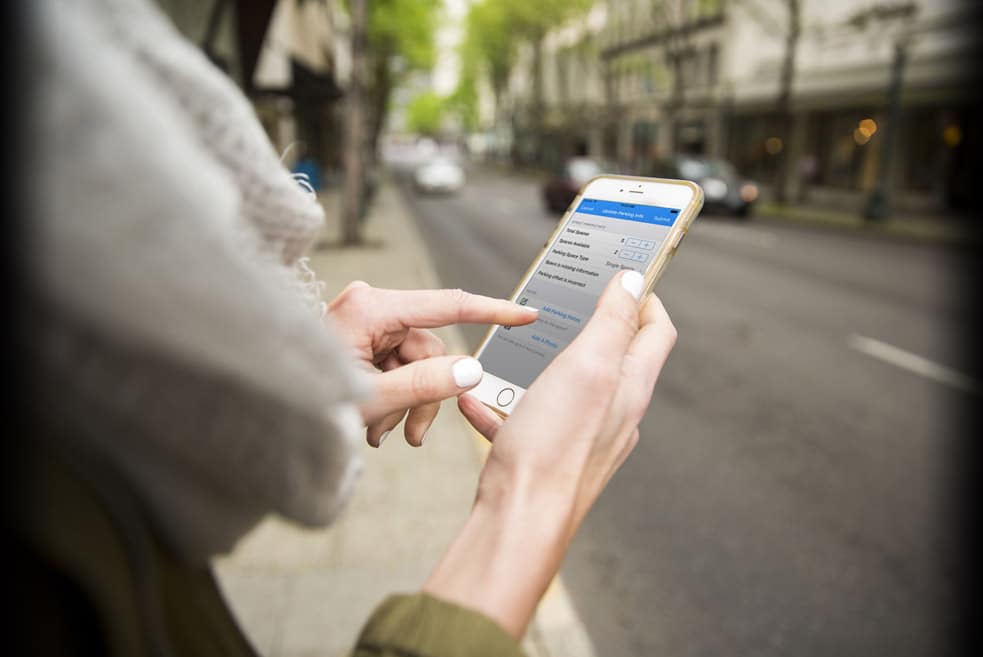 Due to the shifting dynamics of cities, parking data is constantly changing. For example, a real-estate developer might convert a plot of land it owns into a parking lot for the short-term while waiting for the most lucrative time to build. Construction might temporarily make street parking unavailable. Cities and private parking operators are also constantly changing parking rates depending on supply and demand. For all these reasons, its essential for INRIX to send our data collection team out to constantly update our data.
To ensure we have the highest quality and most reliable parking data we have over 130 team members that collect data remotely and on-the-street. Street team members literally walk an entire city to collect new parking data and verify existing locations.
Last year our street team walked more than 86,000 km, equal to walking around the planet Earth– TWICE!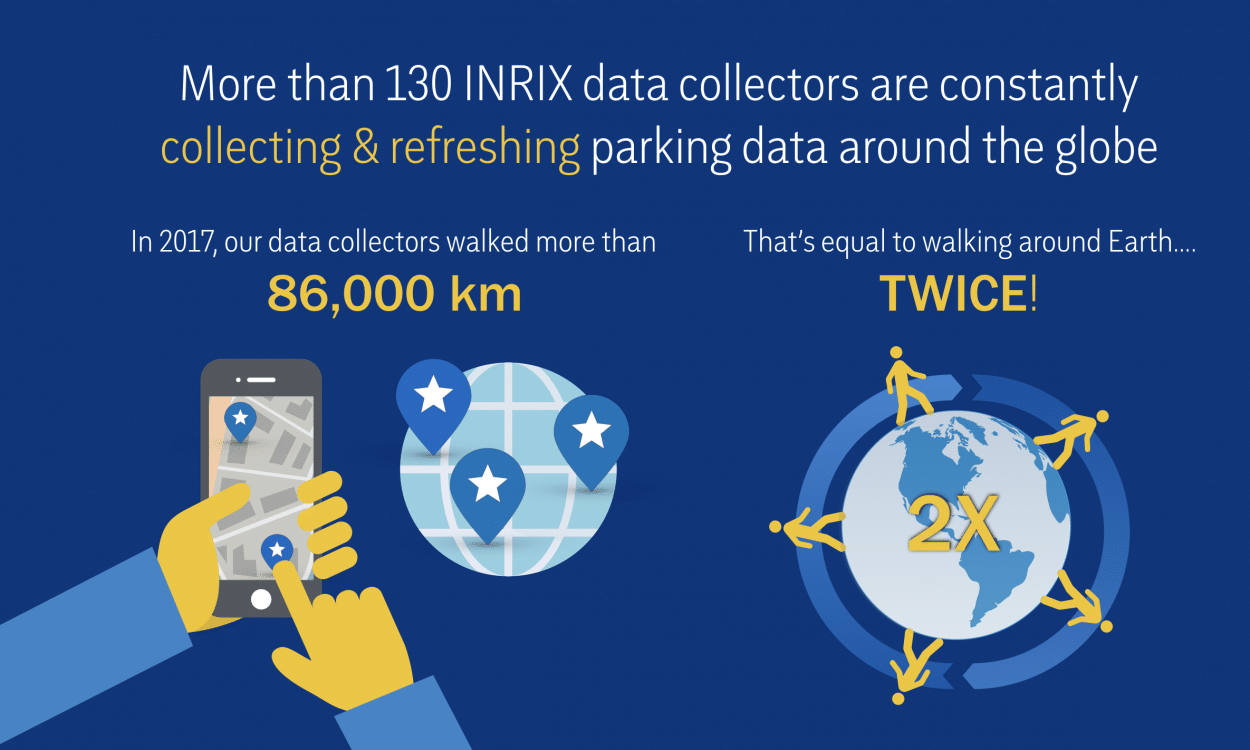 Internal Quality Benchmarks And Key Performance Indicators:
Internal benchmarking is essential for evaluation and improvement which is why we developed a parking-specific quality metric called Q-Park in cooperation with BMW. This robust quality metric helps us constantly evaluate and improve the quality of our parking data. INRIX employs hundreds of data collectors around the world who also take random samples to help us audit our quality levels. By testing the accuracy of key attributes like availability, rates, and hours of operation, we can rank cities based on their current quality levels and flag areas where we might need to make some updates.