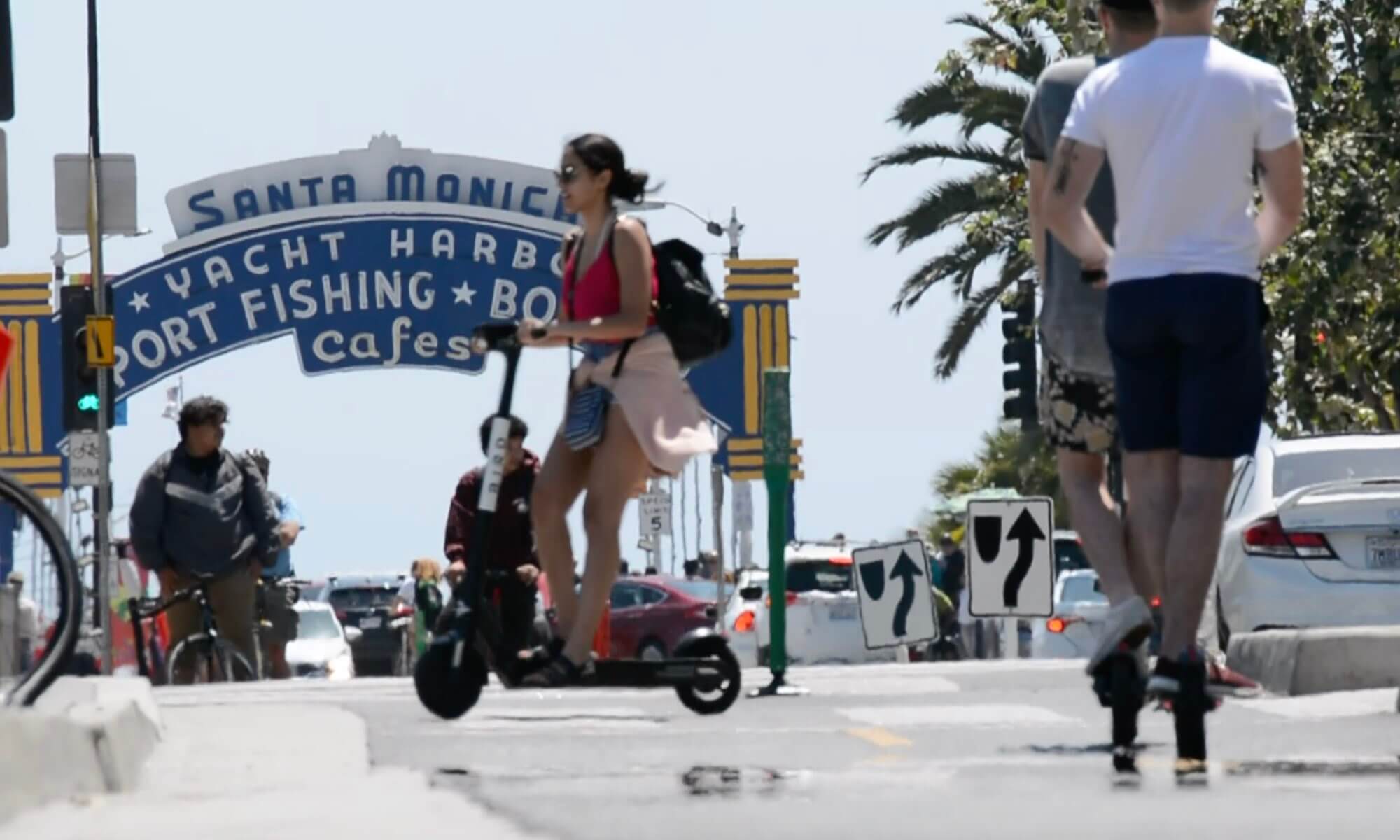 Today, cities need an easy way to integrate, manage, and communicate with new transportation trends and technologies. That's why we created INRIX Road Rules™— to help cities manage the evolving mobility needs of the 21st century.
New Mobility Brings New Challenges
For the past 100 years, cities have relied on signs and paint to communicate with road users. But the mobility technologies and users of the 21st century require digital assets and communication as well.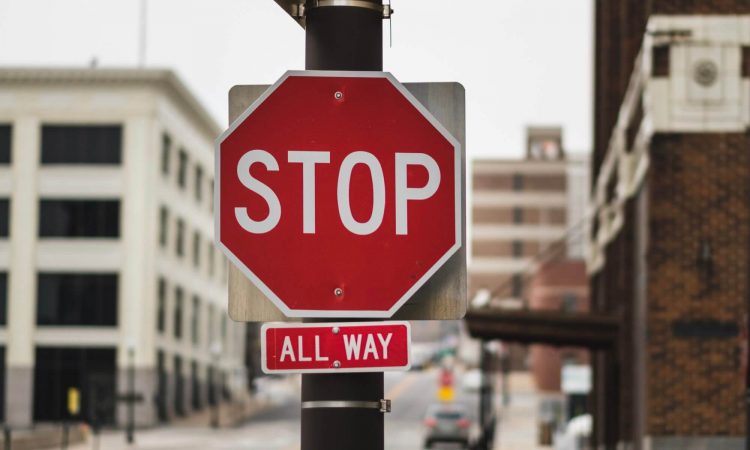 The multitude of new mobility options can help to create a more diverse, convenient, and accessible transportation network that can also reduce emissions and congestion; however, they also pose significant challenges. Society has accepted these emerging services as the new normal but has left cities feeling increasing overwhelmed, unprepared and ill-equipped.
INRIX Road Rules is Putting Cities Back in the Driver's Seat for Managing Transportation
For more than a decade INRIX has played a critical role in connecting cities with cars and now, with Road Rules, we're helping them connect with the transportation options of the future.
INRIX Road Rules is the first complete tool for cities and road authorities to easily digitize, manage and communicate the rules of their roadways, curbs, and sidewalks. By bridging the data gap between cities and mobility providers, Road Rules helps cities address the evolving mobility issues of today and tomorrow.
A Complete Solution to Help Cities Manage All Their Mobility Information in One Place
Historically, cities have maintained records of the rules, using multiple different sources, formats, and solutions. This has led to often fragmented data that isn't easily shared, updated, and visualized. INRIX Road Rules offers the only one-stop shop for cities to centralize all of their mobility data.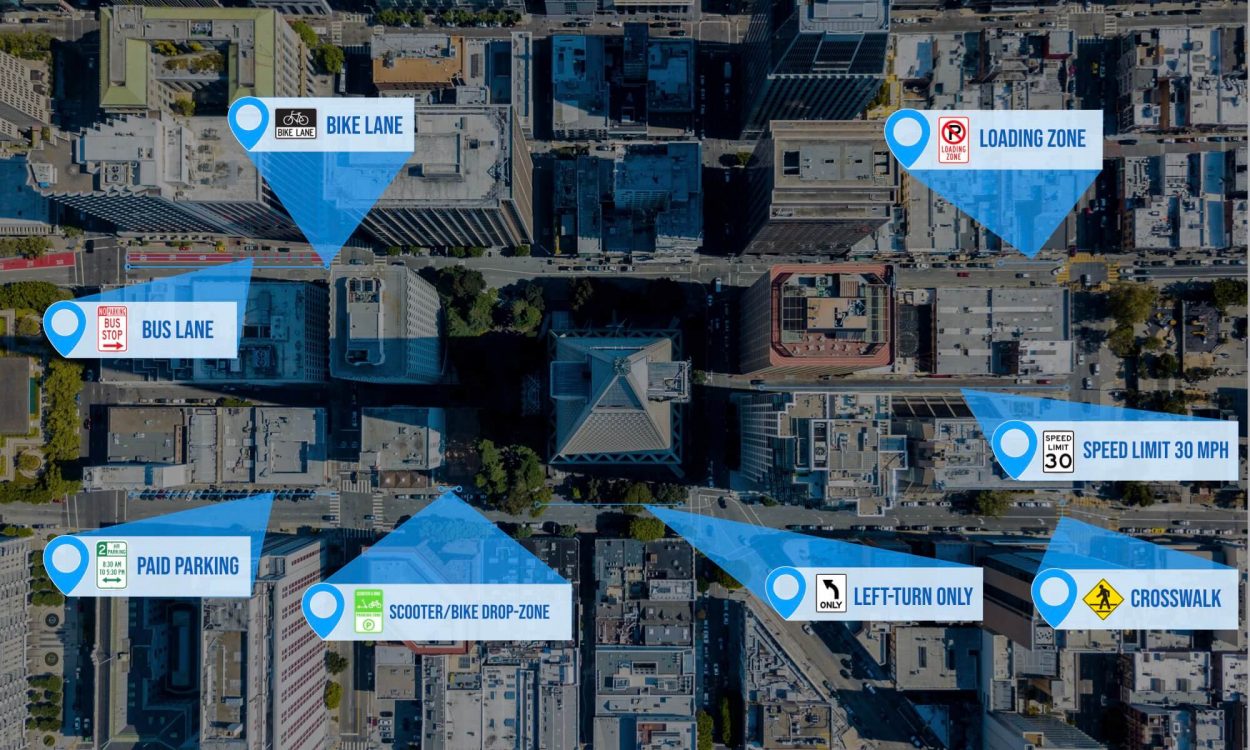 By providing cities with a single platform to digitize, manage, and store their mobility data in one place, we are making it easy to give constituents and third-party mobility providers a comprehensive data set to travel with ease.
Whether it's adding loading zones for rideshare and delivery drivers, bike/scooter drop-zones for pedestrians, or stop requirements for automated driving systems, INRIX has cities covered!
No other platform gives cities the ability to add such a wide variety of rules that extend beyond the road– covering curb and sidewalk use cases like:
Transportation Network Company (e.g. Uber, Lyft, Via and others) pickup/dropoff zones
Bikeshare locations
Parking restrictions
Dockless Bike/Scooter drop-zones
City infrastructure such as fire hydrants, EV charging, etc.
Turn lanes and restrictions
Simple & Easy To Use
Unlike other intelligent mobility solutions that leverage computer vision, augmented reality, and machine learning to build an understanding of the rules of the road— INRIX Road Rules provides a simple, scalable, ground truth and comprehensive digitization solution that is more precise and preserves the historical role of a road authority setting, communicating and managing rules.
With a few clicks, any authorized city employee can easily add, validate and share a wide variety of road, curb, and sidewalk information. With INRIX, digitization takes days or weeks instead of months or years.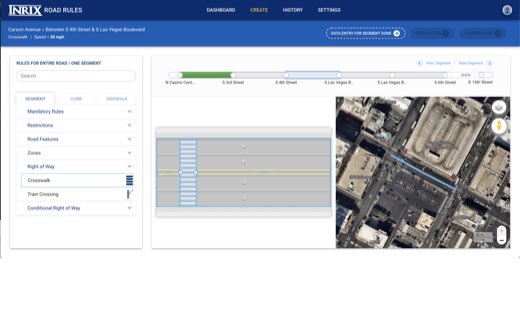 INRIX Road Rules provides cities with a simple, intuitive cloud-based platform to quickly and accurately digitize all the important rules of the road. Users don't have to be GIS professionals to digitize transportation information — Road Rules' easy-to-use interface makes it a breeze for any city employee to create a digital rules layer with a few clicks.
Our streamlined design makes it fast and easy to add a wide variety of road assets and handle complicated uses cases like:
Variable Rules (time of day, day of week)
Complex Traffic Patterns
Sidewalk Assets
Open & Standardized Data Format Makes It Easy To Share
INRIX Road Rules leverages the SharedStreets open data specification to provide a truly open and interoperable referencing system.
Information can easily be shared between platforms, companies, departments, agencies, and even across cities— encouraging cross-collaboration and innovation. For example, rules data can be combined with TNC reported data to understand (and better strategize) dedicated pickup and drop off areas.
It also can help cities ensure better compliance from mobility providers by providing a standardized data set of regulations that can easily be understood and consumed by all roadway users.
Bridging the Digital Divide to Encourage Innovation & Safe, Efficient Deployment
Road Rules helps cities stay ahead of the curve in the rapidly evolving transportation space by giving them a platform to share critical data directly with AV Operators, mobility providers, and the public.
Having a digital record of mobility rules enables innovation across the board:
Helps citizens take advantage of new mobility options to navigate their cities safer and more efficiently
Helps mobility providers deploy new products and services faster, more efficiently, and in accordance with regulations
Ensures AV Operators can safely deploy new products and services to progress transportation
Provides a foundational layer for cities, helping them speed up the rollout of future transportation systems
INRIX is Helping Cities Manage Mobility Today & Prepare for Tomorrow
It's an exciting time, but cities can't afford to sit back and be spectators. Together, we can make sure the mobility revolution benefits everyone.
At the launch of our new and improved version 2.0, more than a dozen cities and mobility providers have signed on to support INRIX Road Rules.
Contact us to find out how INRIX Road Rules can help you manage the evolving mobility issues of today and tomorrow to ensure more safe and equitable mobility for the world.
Check out our INRIX Road Rules Webinar to see this exciting new product in action and to learn how you can become a partner.