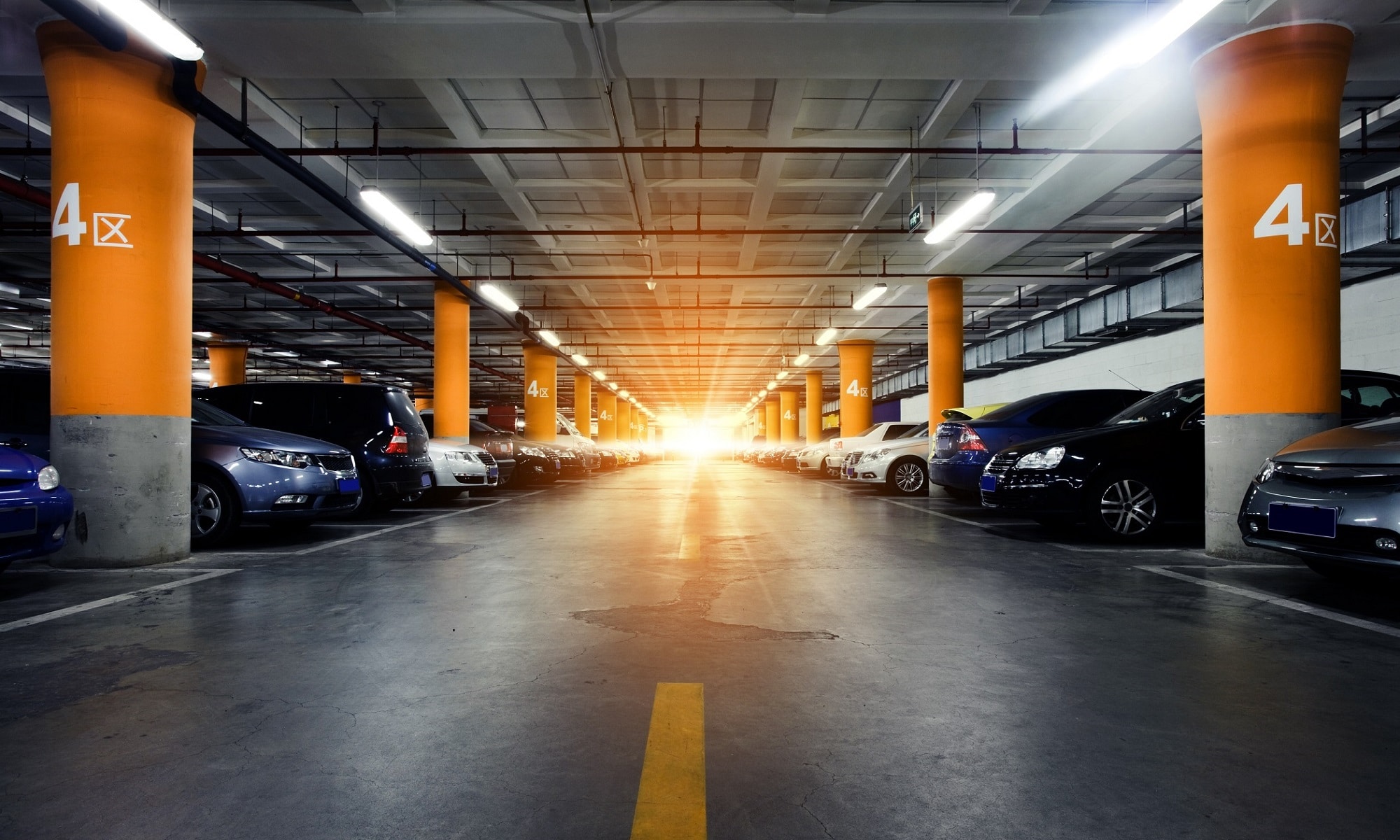 Today, INRIX Research launched the first ever study to quantify the economic and non-economic costs of parking pain. The study combined data from the INRIX Parking database of 100,000 locations across 8,700 cities in more than 100 countries, with results from a large-scale survey of nearly 18,000 drivers in 30 cities across the US, UK and Germany.
Our research found that the total economic impact of parking pain in the UK is more than £30 billion a year. It's also a universal problem, costing drivers in the US and Germany dearly as well at $96 billion and €45 billion respectively.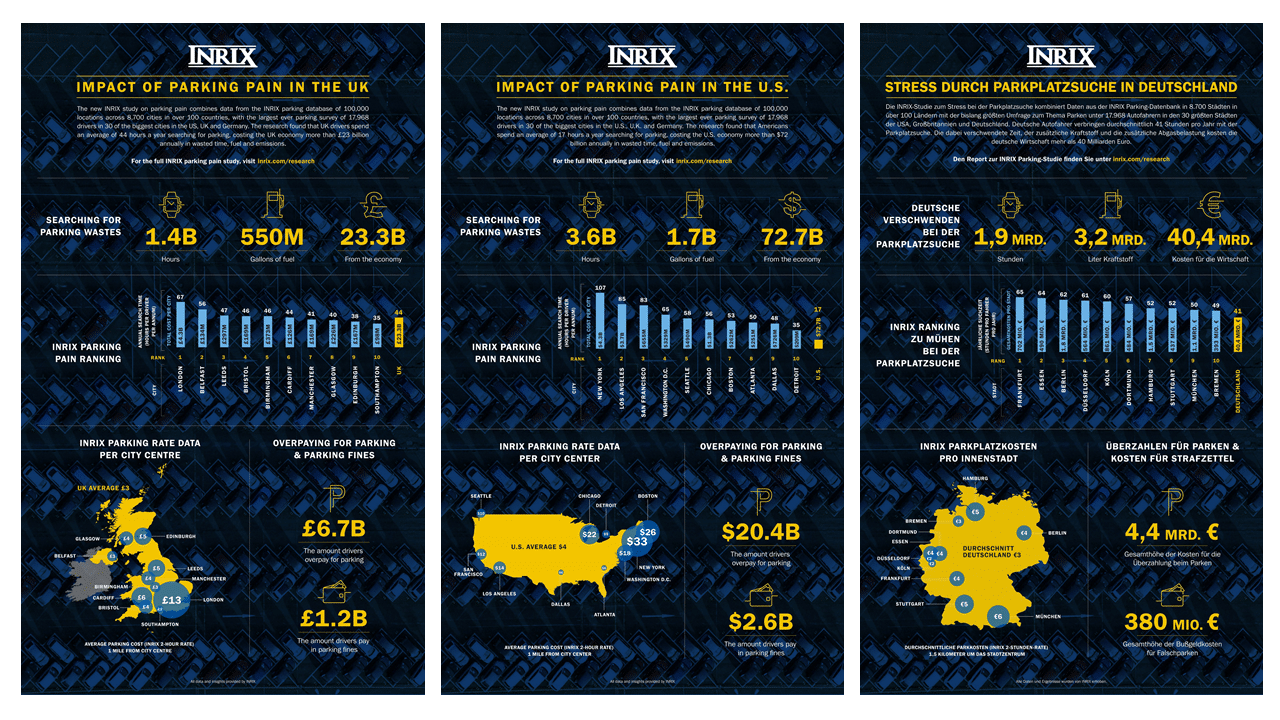 It's clear that parking is causing considerable pain, but what's the underlying problem? While 71% of UK drivers said there isn't enough parking available, occupancy for spaces in the UK can be as low as 50%. We have an information problem more than a parking problem. A problem that technology can help fix.
Today most drivers rely on real-time traffic information integrated into vehicle navigation systems to provide realistic journey times and optimised routes to their destinations. Real-time information, like traffic, now plays a critical role in the driving experience. However, parking, an important part of the navigation puzzle, is largely being missed out today. When considering the total journey time, we're not only talking about the drive, but also finding and paying for parking when we arrive at a destination.
The problem is that today, parking isn't optimised for most drivers. The majority of drivers navigate to their destination without knowing where parking is available when they get there. When they arrive, they waste time hunting for a space to park while getting stuck in – and contributing to – congestion. If they're lucky enough to find a space, they overpay for parking in case they overrun, and if they do overrun they receive a parking ticket.
Yet drivers know what they want. Of the 7,035 UK motorists who responded to the survey:
• 90% want real-time parking availability
• 88% want to search for the cheapest or closest parking spots
• 87% want to be able to navigate directly to the parking spot
• 80% want to be able to reserve a spot in advance
• 71% want to be able to pay in advance
• 74% want this technology integrated into their navigation system, two-thirds of which want this in the car's head unit.
There is a clear demand for solutions and those solutions already exists. INRIX Parking is the industry-leading innovator in the smart parking space, launching the industry's first real-time off-street availability parking service in 2013, followed by the first (in-car) integrated on-street parking solution in June 2015. INRIX showcased the industry's first real-time on-street parking service available in a connected car, which uses historical and up-to-the-minute parking data to predict the availability of parking spaces, with the launch of the latest BMW 5 Series.
For drivers that prefer to use a smartphone navigation app, INRIX has been providing parking information to Waze since 2016 to help Wazers around the world find and navigate to available lots near their destination. In addition to BMW and Waze, INRIX also provides parking information and services to organizations such as Lexus, Mercedes-Benz, Toyota, Microsoft Bing as well as transport agencies around the world. Partnerships with PaybyPhone, Parkmobile, SpotHero, Parking Panda and ParkU provide drivers with payment options in hundreds of cities across the US, UK Germany and France whenever they are using an INRIX-powered parking solution.
Our latest research offers good news for cities and infrastructure owners. Drivers' behaviour could be modified if they had information on parking availability. More than half of drivers were less likely to drive if they knew that parking was not available, while 71 percent of motorists were more likely to drive if they knew that parking was available. Our partnership with General Growth Properties (GGP), an S&P-500 retail real estate company, proves this point. INRIX developed a new tool that uses historical and real-time data to accurately predict parking availability at 97 GGP retail properties. The ability to reach millions of drivers by seamlessly integrating parking information into connected cars and mobile apps is levelling the playing field between e-commerce and the more traditional shopping experience, increasing footfall and customer satisfaction.
So, today's research is a double-edged sword. Parking pain is a real, large and universal burden for drivers. But solutions exist and as technology adoption grows more and more drivers, businesses and entire cities will realise the benefits of seamless, end-to-end, navigation and parking.